4.06am BST
04:06
New Zealand: man with Covid-19 absconds from quarantine for supermarket 'dash'
The Guardian's Eleanor Ainge Roy reports from Queenstown with Charlotte Graham-McLay in Auckland:
Here's the full story on a man in compulsory isolation in New Zealand who has absconded from a quarantine hotel to make a late-night "spur-of-the-moment" dash to the supermarket – before testing positive for Covid-19 the following day:
About 30,000 people have passed through quarantine hotels in Auckland since New Zealand closed its borders but in recent weeks a number of guests have made bids for freedom.
Over the weekend a woman leapt over from a hedge to escape her two-week quarantine. Later she got lost and asked a passing policeman for directions back to her hotel.
The latest case saw a 32-year-old man leave Auckland's Stamford Plaza hotel, bypass security guards and walk to a local Countdown supermarket. The man had been smoking in a fenced area when he escaped and was apparently mistaken for a contractor by security staff, said Air Commodore Darryn Webb, who is in charge of managed isolation and quarantine.
"Security attempted to follow the man but were unsuccessful in locating him," Webb said.
"Police were called immediately, and enquiries were underway to locate the man including reviewing CCTV footage and undertaking substantial area searches before he returned to the facility where he was then interviewed by police."
Webb said the man would be charged with breaking newly introduced quarantine legislation, while the supermarket he visited had been closed.
3.56am BST
03:56
The Netherlands will be at the centre of upcoming talks over European spending on the coronavirus crisis, driven by a mix of traditional Calvinist frugality and political reality, experts say.
As part of the "frugal four" along with Austria, Denmark and Sweden, the Dutch have enraged many in the EU by putting the brakes on a €750bn (US$850bn) rescue package for the worst-hit countries.
Over the past decade the Netherlands has graduated from Germany's thrifty henchman to the loudest voice among northern European penny-pinchers fighting supposed southern profligacy.
Dutch Finance minister Wopke Hoekstra takes part in a plenary session at the Senate on the support measures for Dutch airline KLM, on 7 July 2020 in The Hague. Photograph: Bart Maat/ANP/./.
The key role played by the Dutch is underscored by leaders lining up to meet Prime Minister Mark Rutte to break the impasse and reach a deal at a crucial EU summit next week.
The Dutch position that has been harshly criticised has deep cultural and historical roots, analysts say.
"It really has to do with our cultural background. We're a nation of preachers and salesmen, as they always say," said Jos Versteeg, an analyst at Amsterdam-based InsingerGilissen private bank.
"In the north it has all to do with Calvinism and Protestantism – live a sober life, don't show your wealth. In the south (of Europe) there is a different culture," he told ..
3.37am BST
03:37
Victoria reports 134 new coronavirus cases as NSW warns of border region restrictions
The full story on the latest from the Australian state of Victoria now:
Victoria has recorded 134 new cases of Covid-19, with the source of 123 still under investigation, as state police launched a renewed focus on ensuring those who breach public health orders face consequences.
After the New South Wales-Victoria border closed at midnight on Tuesday, the NSW premier, Gladys Berejiklian, warned the risk of contagion spreading into her state was "very high" and said even tougher border restrictions might be implemented targeting those living in border communities such as Albury.
Berejiklian said people living in towns near the border, such as Wagga, should not visit places closer to Victoria, and asked people in border towns not to move outside them unless "absolutely necessary".
The Victorian police commissioner, Shane Patton, said on Wednesday morning police would dramatically increase their presence in and around metropolitan Melbourne, which will be under lockdown for six weeks from midnight. Police would focus on 32 local government areas under stage-three restrictions, which mean people can leave their homes only for exercise, work and school, groceries, and essential services such as childcare and healthcare.
3.29am BST
03:29
The dollar held onto gains on Wednesday as a resurgence of the coronavirus in the United States and the return of lockdowns in some countries boosted safe-haven demand for the US currency, . reports.
Risk sentiment was also undermined after Federal Reserve officials expressed concern that rising coronavirus cases could harm economic growth just as stimulus measures start to expire.
The yuan fell slightly against the dollar, halting a two-day rally, after the Chinese central bank's daily midpoint for the currency was set at a weaker than expected level.
Other Asian currencies straddled narrow ranges as a resurgence of coronavirus cases threatened a return of lockdown restrictions, leaving investors fretting about the mounting economic costs of the pandemic.
"The mood changes day by day, but the dollar looks to be supported for now as investors turn more cautious about the virus," said Yukio Ishizuki, foreign exchange strategist at Daiwa Securities.
The dollar traded at 107.67 yen in Asia on Wednesday following a 0.3% gain on Tuesday.
Against the euro, the dollar was quoted at $1.1274, also holding to a 0.3% gain from the previous session.
The greenback bought 0.9429 Swiss franc, little changed on the day.
Sterling changed hands at $1.2549 and was quoted at 89.86 pence per euro.
The pound was near three-week highs against both the greenback and the common currency after British Prime Minister Boris Johnson reiterated his commitment to reaching an early trade deal with the European Union.
3.16am BST
03:16
Britain to reveal post-coronavirus recovery plan
Britain will Wednesday unveil a mini-budget to kickstart the UK economy, hoping costly infrastructure investment will help build its way out of the crisis caused by the coronavirus outbreak, . reports.
Prime Minister Boris Johnson has vowed to "build, build, build" in an "infrastructure revolution" for schools, affordable housing, road maintenance and public transport.
Finance minister Rishi Sunak is due to deliver his spending plans at 1130 GMT, having already flagged £3 billion (US$3.7 billion, €3.3bn) of green investment.
The chancellor of the exchequer will offer £2 billion ($2.5bn, €2.2bn) in grants for households to insulate homes and make them more energy efficient. A further £1 billion ($1.25bn, €1bn) is being provided for public sector buildings, including hospitals.
Britain has had more than 44,000 deaths in the outbreak – the highest in Europe – heaping pressure on the government for its handling of the crisis.
2.50am BST
02:50
New Zealand opposition MP who leaked details of Covid-19 patients steps down
Charlotte Graham-McLay reports for the Guardian:
An opposition MP in New Zealand has announced he will not stand at September's election after he confessed to leaking private details about all of the country's active Covid-19 cases to several news outlets.
The leak by Hamish Walker, a member of parliament for the centre-right National party, as well as the revelations that the personal information had in turn been provided to him by a former National party president, dealt a blow to an opposition trying to make a comeback in the polls ahead of September's election against the widely popular prime minister Jacinda Ardern.
"I sincerely apologise for my actions. I will be making no further comment," Walker said in a written statement on Wednesday, which was sent to news outlets at the same time members of his party's board were due to meet about his future.
2.36am BST
02:36
Japanese Economy Minister Yasutoshi Nishimura reiterated on Wednesday there is no need to declare a new state of emergency for the coronavirus despite rising infections, as serious cases remained low and there was no strain on the medical system.
But, he noted an increase in the number of untraceable cases and cases among older people, saying: "It is necessary to respond with a sense of crisis."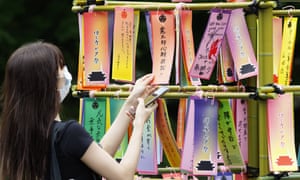 A woman wearing a face mask hangs a wish card on a bamboo branch as part of the Tanabata festival in Zojoji Temple in Tokyo, Japan, 7 July 2020. Photograph: Rodrigo Reyes Marin/ZUMA Wire/REX/Shutterstock
2.27am BST
02:27
New Zealand man left isolation facility to visit supermarket, tested positive next day
Charlotte Graham-McLay reports for the Guardian:
New Zealand's government has revealed that a man who has tested positive for Covid-19 left his managed isolation facility – by escaping through a temporary fence – in order to visit a supermarket.
All of the country's known cases of the coronavirus are returning travellers who are spending quarantine in government-run isolation facilities. There have been no diagnosed cases of community transmission since the last known patient recovered in early June.
The man, aged in his 30s, had recently returned from India. He absconded from his managed quarantine hotel – the Stamford Plaza in central Auckland – to visit a supermarket.
He was missing from quarantine for just over an hour on Tuesday night. On Wednesday morning he tested positive to Covid-19.
Officials are tracing his movements, and the supermarket he visited has been closed.
Chris Hipkins, the health minister, said the "acts of selfishness" that the man and another earlier escapee had committed were unacceptable and would be prosecuted. They face hefty fines or up to six months in jail.
Updated
at 2.28am BST
2.25am BST
02:25
California reports more than 10,000 cases
California reported more than 10,000 coronavirus cases on Tuesday, a record rise for a single day that also surpassed the number of contact tracers recently trained by the state to detect and prevent potential outbreaks, . reports.
California is one of several US states that have reported surging numbers of new Covid-19 infections over the past week, raising questions about how US President Donald Trump has handled the crisis and impeding state plans to lift lockdowns.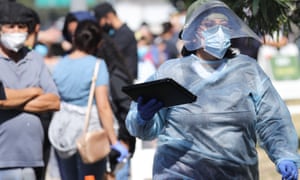 A worker in personal protective equipment helps check in people at a Covid-19 testing centre at Lincoln Park amid the coronavirus pandemic on July 7, 2020 in Los Angeles, California. Photograph: Mario Tama/.
The 10,201 new cases reported on Tuesday took the total number of cases in California since the start of the pandemic to nearly 284,00. In June, California infections more than doubled with over 117,000 new cases.
Only three other US states have reported more than 10,000 cases in a day. Florida reported 11,458 new cases on July 4 and Texas reported 10,028 on Tuesday.
New York recorded 12,847 new infections on 10 April, three weeks after the state implemented a strict lockdown that closed most businesses. Once the epicenter of the US epidemic, New York saw cases rise by about 6% in June – the lowest rate in the entire country.
2.12am BST
02:12
On Tuesday in Brazil, as President Jair Bolsonaro announced he had tested positive for coronavirus, he took off his mask in front of journalists and said: "Just look at my face. I'm well, fine, thank God … Thanks to all those who have been praying for me … and to those who criticise me, no problem, carry on criticising as much as you like."
. news agency
(@.)

VIDEO: Brazil's Bolsonaro removes face mask after testing positive for virus.

Bolsonaro removes his face mask while talking to the media in Brasilia's Alvorada Palace, after announcing that he tested positive for COVID-19https://t.co/7wuacxt67T pic.twitter.com/hjkA79R3nb

July 8, 2020
1.59am BST
01:59
Australian state of Victoria records 134 new Covid-19 cases
The premier of the beleaguered Australian state of Victoria, Daniel Andrews, has announced 134 new cases in the state, down from yersterday's record of 191.
Andrews says only 11 of the new Covid-19 cases are connected to known outbreaks.
There are now 75 cases in the locked-down towers.
Eagle vision Who's next - Isle of Wight - Live in Texas Coffret 3 DVD - DVD Zone 2

avec The Who - (donnée non spécifiée) - Parution : 20/10/2014

Animal Crossing : New Horizons pour Nintendo Switch

Le jeu propose un tout nouveau système d'artisanat : collectez des matériaux sur votre île pour tout construire, des meubles jusqu'aux outils ! Détendez-vous en jardinant, en pêchant, en faisant de la décoration ou encore en nouant des relations avec d'adorables personnages ! Jusqu'à huit joueurs peuvent vivre sur une île; quatre résidents d'une même île peuvent jouer ensemble simultanément sur une seule console Nintendo switch. Huit joueurs peuvent jouer ensemble sur l'île de l'un des joueurs grâce au multijoueur en ligne ou au multijoueur local sans fil !

In the Next World: Actual Narratives of Personal Experiences by Some Who Have Passed on - Autres

- Paru le 01/07/2007

FRANCE 24 - Fire TV

Regardez FRANCE 24 en direct Accédez en différé aux derniers journaux (Monde, Afrique, Economie, Sports et Météo) Découvrez toutes nos émissions à la demande

In the Next World: Actual Narratives of Personal Experiences by Some Who Have Passed on - Autres

-

Mario + The Lapins Crétins: Kingdom Battle

UBISOFT 2 ans 18MARLA2