12.48pm BST
12:48
India's interior minister Amit Shah said on Sunday he had tested positive for coronavirus and had been admitted to hospital.
Amit Shah, a close aide to prime minister Narendra Modi and one of the country's most powerful politicians, heads a key ministry that has been at the forefront of managing India's coronavirus outbreak.
"I request all of you who came in contact with me in the last few days to isolate yourselves and get tested," Shah said in a tweet.
Amit Shah
(@AmitShah)

कोरोना के शुरूआती लक्षण दिखने पर मैंने टेस्ट करवाया और रिपोर्ट पॉजिटिव आई है। मेरी तबीयत ठीक है परन्तु डॉक्टर्स की सलाह पर अस्पताल में भर्ती हो रहा हूँ। मेरा अनुरोध है कि आप में से जो भी लोग गत कुछ दिनों में मेरे संपर्क में आयें हैं, कृपया स्वयं को आइसोलेट कर अपनी जाँच करवाएं।

August 2, 2020
Updated
at 1.09pm BST
12.34pm BST
12:34
Summary
• India has reported nearly 55,000 new coronavirus cases on Sunday and the Philippines recorded another daily high to surpass 100,000 total infections, while Florida braced for a tropical storm that threatened to hamper anti-disease efforts. The World Health Organization, meanwhile, warned that the coronavirus pandemic would be lengthy and could lead to "response fatigue", as the case count in South Africa topped half a million.
• Residents in the Australian city of Melbourne will be subject to an overnight curfew for the next six weeks, and be banned from travelling more than 5km to go shopping or to exercise, as Victoria attempts to get the number of new coronavirus cases under control. The premier, Daniel Andrews, announced that from 6pm on Sunday, residents in the Melbourne metropolitan area would be under curfew for six weeks until 13 September.
• There are nearly 18 million known coronavirus cases worldwide, according to the Johns Hopkins University tracker, with 17,853,948 confirmed. Just over 685,000 deaths have been confirmed so far.
• In the UK, prime minister Boris Johnson is considering new lockdown measures in England should there be a second wave of coronavirus infections. Plans are being assessed after a rise in Covid-19 cases forced the prime minister to slow the lockdown easing on Friday, with proposed relaxations for the leisure and beauty sectors delayed.
• Donald Trump claims Anthony Fauci 'wrong' about cause of Covid-19 surge. Donald Trump launched an extraordinary attack on his own top infectious disease expert, Dr Anthony Fauci, arguing against the doctor's claim that high rates of infection in the US stem from a less aggressive reaction to the virus in terms of economic shutdowns and stay-at-home orders.
Updated
at 12.46pm BST
12.24pm BST
12:24
As Bolivia's health service buckles under a surging coronavirus caseload, Dan Collyns and Mónica García Zea have filed this piece for the Guardian from La Paz on the situation there.
In desperation, they report many Bolivians have turned to homemade quack cures such as consuming chlorine dioxide, a toxic disinfectant, to treat the virus. The country's health ministry warned against it, but last month Bolivia's opposition-controlled congress promoted the chemical and the senate approved a bill for its supply and manufacture.
The daily number of new cases peaked on Thursday as the country of 11.5 million people reported 75,234 cases and 2,894 deaths – although experts suspect the true figure is much higher.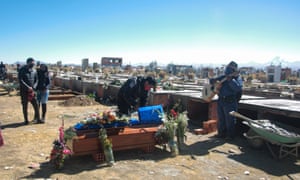 A mourner approaches to the coffin of a deceased while a musician plays guitar at Mercedario Cemetery in El Alto, Bolivia. Photograph: Gaston Brito Miserocchi/.
A special police unit has collected more than 3,300 bodies from their homes or left lying in the street, about 80% of whom are suspected to have been infected with Covid-19.
"Sometimes the patients are already dead when they arrive," said Norma, an emergency nurse in one of La Paz's main public hospitals who didn't want to give her second name. "We feel powerless – we can't give them oxygen because there are so many who need it. To see them die like that is just awful."
Updated
at 12.47pm BST
12.04pm BST
12:04
India has reported nearly 55,000 new coronavirus cases, down from the previous day's record 57,118 but raising the country's total to 1.75 million.
The month of July accounted for more than 1.1 million of those cases.
The major cities of New Delhi and Mumbai might have passed their peaks, said a government expert, Randeep Guleria. Subways, cinemas and other public facilities are closed until Aug. 31.
11.54am BST
11:54
The repercussions of additional lockdown measures implemented in swathes of northern England continue to be felt.
Jennifer Williams, politics and investigations editor for the Manchester Evening News, points out something that many might feel concerned is being lost amid the focus elsewhere:
Jennifer Williams
(@JenWilliamsMEN)

Something that probably needs more highlighting is the fact people who were shielded in Greater Manchester stopped being shielded yday…the day after government brought in new lockdown measures here *bc of high and rising infection rates*. Doesn't make a lot of sense

August 2, 2020
Updated
at 12.48pm BST
11.47am BST
11:47
Thousands take to streets in protest over Israel's pandemic handling
Thousands of demonstrators took the streets outside Benjamin Netanyahu's house over the weekend, in what appeared to be the largest protest to date calling for the embattled Israeli prime minister to resign.
Rallies on Saturday night were held in Jerusalem, home to the official residence of the 70-year-old leader, as well as his beach house in central Israel, near Tel Aviv, and at dozens of road intersections across the country.
Throughout the summer, thousands of Israelis have crammed roads and squares, calling for Netanyahu to resign, protesting against his government's handling of the country's coronavirus crisis and charges of alleged corruption.
While Netanyahu has attempted to downplay it, the movement shows little sign of abating, with gatherings peaking at the start and end of the country's weekend on Thursdays and Saturdays.
Hebrew media speculated that at least 10,000 people demonstrated in central Jerusalem on Saturday night, although it was hard to gauge the true size of the protest at a normally busy intersection.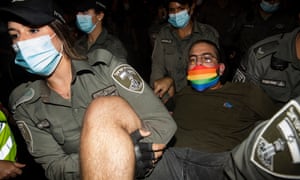 Police officers detain a protester during a demonstration against Israeli Prime Minister Benjamin Netanyahu on Friday. Photograph: Amir Levy/.
Updated
at 12.49pm BST
11.39am BST
11:39

French health officials continue to urge people to follow the Covid-19 distancing and protection advice in response to an increase in positive cases but the message is not being heeded by all.
At least 40 people have been infected across five regions and Switzerland following a wedding party last month. The reception, which took place on a cruise boat on the lake at Annecy in the Haute-Savoie, was attended by 88 guests. Two waiters from a local catering company and three crew were also present.
Although everyone was asked to keep their masks on and respect social distancing advice, only the crew did so.
After the three-hour cruise, 21 of the 93 people on the vessel had caught coronavirus. The three crew members, who wore masks throughout, were not among them.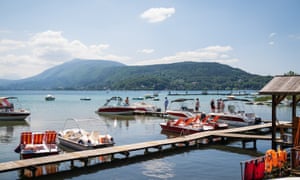 People board a boat in Annecy, France, in May, shortly after lockdown measures were eased. Photograph: Richard Bord/.
The first guest tested positive two days after the wedding reception. It took another three days to alert the catering company and waiters, one of whom tested positive. However, in the interim, he had served at an engagement party 100km from Annecy where he was in contact with 37 people, two of whom tested positive.
Another wedding guest, who later tested positive, had in the meantime celebrated his birthday in a restaurant.
A woman and her daughter were also found to be positive several days after the wedding. By then, the child had visited a leisure centre and had a sleepover with a friend, who also caught the virus. In one week, the child was in contact with 28 people, 25 of them children. Three of them tested positive.
Ignoring the 14-day self-quarantine rules, the mother took her contaminated child to a christening the following weekend during which they were in contact with 30 people.
Updated
at 12.51pm BST
11.34am BST
11:34
A UK minister has also cast doubts on reported plans to introduce more shielding for older people or bespoke measures for London in a bid to prevent a second national lockdown.
When asked about whether new age-related measures were likely, housing secretary Robert Jenrick told Times Radio it was not something that is being actively considered.
Asked whether there were plans to put London under lockdown if Covid rates increased, he added: "Not as far as I'm aware.
"We're taking a very localised approach following the data and I'm working, for example, with each of the directors of public health in the London boroughs who are monitoring the rate of transmission in their own areas very closely."
"There is no plan, as far as I'm aware, to do anything broader in London."
Updated
at 12.52pm BST
11.21am BST
11:21
A California lending company that targets Latinos with high-interest loans is dismissing thousands of lawsuits days after the Guardian questioned the volume of actions against customers against the backdrop of the pandemic's economic and societal impact.
An investigation by the Guardian has revealed that Oportun Inc is one of the most litigious debt collectors in California, accounting for at least 15% of all small claims filings from June 2017 through July 2018. The company advertises a path to the American dream, but an extraordinary number of its clients end up facing punitive legal actions.
According to an analysis of available court records in 20 of California's 58 counties, the San Carlos-based company filed more than 30,000 collections lawsuits in 2019 and at least 14,000 through the first half of 2020, a period in which the coronavirus outbreak shattered unemployment records and pushed millions of Americans to the brink.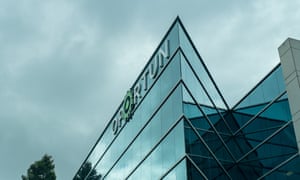 The office of the Oportun financial company in the Silicon Valley, Redwood City, California. Photograph: Smith Collection/Gado/.
"The number is astounding," said Noah Zinner, a consumer attorney at Bay Area Legal Aid. "Why are you suing people in small claims? Why are you suing people during a pandemic?"
The company, which sells unsecured personal loans in 12 states and car loans in California only, declined to provide the total number of lawsuits it filed this year and last in California and Texas, where it has a robust process for filing small claims actions against customers who fall 60 days behind in their payments.
You can read that Guardian exclusive in full here.
Updated
at 12.53pm BST
11.06am BST
11:06

The UK's prime minister, Boris Johnson, is considering new lockdown measures in England should there be a second wave of coronavirus infections.
Plans are being assessed after a rise in Covid-19 cases forced the prime minister to slow the lockdown easing on Friday, with planned relaxations for the leisure and beauty sectors delayed.
Johnson held a "war game" session with the chancellor, Rishi Sunak, on Wednesday to run through possible options for averting another nationwide lockdown that could stall any potential economic recovery.
According to the Sunday Times, measures under consideration include asking the elderly to shield once again and lockdown-like conditions for London should there be a second wave.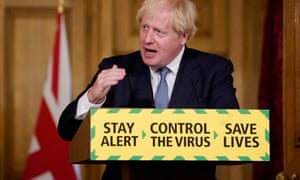 Boris Johnson chairs the Covid-19 update press conference inside No 10 Downing Street on Friday. Photograph: Andrew Parsons/No10 Downing Street
Under the proposals, a greater number of people would be asked to take part in the shielding programme, based on their age or particular risk factors that have been identified since March, said the Telegraph.
It could even lead to those aged between 50 and 70 being given "personalised risk ratings", in a move that would add to the 2.2 million who were deemed most vulnerable and asked to shield themselves from society during the spring peak.
Updated
at 12.54pm BST
10.34am BST
10:34
A senior UK government minister has distanced himself from reports that millions of people over 50 could face tighter restrictions under plans to avoid a second national lockdown.
The communities minister, Robert Jenrick, was asked about the suggestions on Times Radio, tweets the Mail's deputy political editor.
John Stevens
(@johnestevens)

Robert Jenrick insists no imminent plan for all over 50s to face shielding restrictions

The Housing Secretary on @timesradio says government is « considering a range of options » but that extension of shielding is not being « actively considered »

August 2, 2020
Updated
at 10.37am BST
10.30am BST
10:30
The World Health Organization has warned that the coronavirus pandemic would be lengthy and could lead to "response fatigue", as the case count in South Africa topped half a million.
Six months after the WHO declared a global emergency, the novel coronavirus has killed more than 680,000 people and infected more than 17.5 million, according to a tally by the . news agency.
South Africa is by far the hardest hit country in Africa, accounting for more than half of diagnosed infections, although President Cyril Ramaphosa said the fatality rate is lower than the global average.
Health authorities had been expecting a surge in cases after the gradual loosening of a strict lockdown that was imposed at the end of March.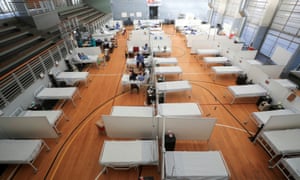 Beds are seen at a temporary field hospital set up in a sports complex by Medecins Sans Frontieres (MSF) in Khayelitsha township near Cape Town, South Africa. Photograph: Mike Hutchings/.
Nigeria on Saturday also announced it would ease a lockdown in the commercial capital Lagos, allowing churches and mosques to reopen next week.
An emergency WHO committee reviewing the pandemic "highlighted the anticipated lengthy duration of this Covid-19 outbreak, noting the importance of sustained community, national, regional, and global response efforts".
"WHO continues to assess the global risk level of Covid-19 to be very high," it said in its latest statement.
The agency also said the effects of the pandemic "will be felt for decades to come".
Updated
at 10.31am BST
9.59am BST
09:59
Covid-19 infections in Philippines pass 100,000
Coronavirus infections in the Philippines surged past 100,000 Sunday in a troubling milestone after medical groups declared that the country was waging a losing battle against the virus and asked the president to reimpose a lockdown in the capital.
The Department of Health reported a record-high daily tally of 5,032, bringing the total confirmed cases in the country to 103,185, including more than 2,000 deaths, the Associated Press news agency reports.
The Philippines has the second highest number of cases in south-east Asia after Indonesia, and has had more infections than China, where the pandemic began late last year.
President Rodrigo Duterte eased a tough virus lockdown in the capital, Manila a city of more than 12 million people on 1 June after the economy shrank slightly in the first quarter, its first contraction in more than two decades. After shopping malls and workplaces were partially reopened and limited public transport was allowed, infections spiked sharply with increased virus testing.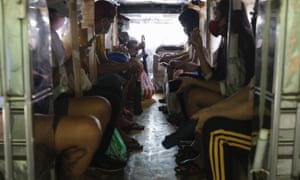 Passengers of a jeepney bus are separated by plastic sheets to help curb the spread of Covid-19 in Quezon city, Philippines, as drivers were recently allowed back on the road after months of not being able to work. Photograph: Aaron Favila/AP
After Duterte further relaxed quarantine restrictions and allowed more businesses, including gyms, internet cafes and tattoo shops, to reopen, leaders of nearly 100 medical organizations held an online news conference Saturday and warned that the health system may collapse as many medical personnel fall ill or resign out of fear, fatigue or poor working conditions.
"We are waging a losing battle against Covid-19 and we need to draw up a consolidated, definitive plan of action," said the groups, which represent more than a million nurses, doctors and other medical personnel.
Updated
at 10.33am BST
9.45am BST
09:45
In the UK, where police have broken up several large dance parties since the lockdown began earlier this year, a warning has been issued to people to stay away from an area in south-west England, where they have been forced to break up a rave attended by a "large volume" of partygoers.
Gloucestershire police sent out this tweet this morning:
Glos Police
(@Glos_Police)

Police are currently in the Forest of Dean near to Speculation Car Park dispersing a rave. People are advised not to attend the area due to safety and Covid risks. This will likely take some time to resolve this issue. pic.twitter.com/rtYrXSqWb3

August 2, 2020
Police told PA Media news agency that they responded to reports of a "large volume" of people in the area. No arrests have yet been made.
Officers clashed with partygoers at an illegal event in north London last month while music from a similar event attended by 3,000 people in Bath last month could be heard five miles away.
Updated
at 9.52am BST
Children of the Revolution: The World on One Stage - Live in Seattle June 16th, 2001 - DVD Zone 1 - DVD Zone 1

Autres - Parution : 14/10/2003

Animal Crossing : New Horizons pour Nintendo Switch

Le jeu propose un tout nouveau système d'artisanat : collectez des matériaux sur votre île pour tout construire, des meubles jusqu'aux outils ! Détendez-vous en jardinant, en pêchant, en faisant de la décoration ou encore en nouant des relations avec d'adorables personnages ! Jusqu'à huit joueurs peuvent vivre sur une île; quatre résidents d'une même île peuvent jouer ensemble simultanément sur une seule console Nintendo switch. Huit joueurs peuvent jouer ensemble sur l'île de l'un des joueurs grâce au multijoueur en ligne ou au multijoueur local sans fil !

Public Education: Royal Commission of Enquiry: Report on the State of Public Education in Victoria, and Suggestions as to the Best Means - broché

- Paru le 01/02/2010

FRANCE 24 - Fire TV

Regardez FRANCE 24 en direct Accédez en différé aux derniers journaux (Monde, Afrique, Economie, Sports et Météo) Découvrez toutes nos émissions à la demande

Public Education: Royal Commission of Enquiry: Report on the State of Public Education in Victoria, and Suggestions as to the Best Means - broché

Pearson, Charles Henry (Auteur) -

New Enjoy English 6e - Workbook

collège|workbook|anglais|english