9.20am BST09:20

France has seen its biggest jump in the number of new confirmed coronavirus cases since 30 May with 1,695 positive diagnoses in just 24 hours. The figures, released daily by the public health authority, Santé Publique France, confirmed the trend of a surge in Covid-19 in the country.
There were 581,779 tests carried out and the latest figures showed 1.6% of them were positive. The number of patients in hospital and i/c dropped but has been going up and down "like saw's teeth" as Le Monde put it, for several days.
9.01am BST09:01
Authorities in Russia reported 5,267 new cases of coronavirus on Thursday, pushing its national tally to 871,894, the fourth largest in the world.
The official death toll rose to 14,606 after officials said 116 people had died across the country in the last 24 hours.
8.35am BST08:35
The Daily Mail is reporting that the UK government will impose a quarantine on arrivals from Belgium after a rise in coronavirus cases.
The Mail said ministers were expected to approve the quarantine at a meeting shortly. The transport department declined to comment on the report.
The UK has already imposed a 14-day quarantine on travellers from Spain and Luxembourg.
Updated
at 8.49am BST
8.32am BST08:32
North Korea is quarantining thousands of people and shipping food and other aid to a southern city locked down over coronavirus concerns, according to officials.
The country has long insisted it is virus-free, but its response to a suspected case is reinforcing doubt about that claim. The Associated Press reports:
In late July, North Korea said it had imposed its maximum emergency system to guard against the virus spreading after finding a person with Covid-19 symptoms in Kaesong city, near the border with rival South Korea.

In a report to the World Health Organization obtained by the Associated Press, North Korea said it has quarantined 64 first contacts of the suspected Keasong case and 3,571 secondary contacts in state-run facilities for 40 days, according to Dr Edwin Salvador, WHO representative to North Korea.

Salvador said in an email to AP that North Korea also informed WHO of the suspected first case, saying that person was tested for Covid-19 but the test results were inconclusive. Salvador said the WHO has requested that North Korea share more information about the person.

Salvador said all North Korea's international borders remain closed, group gatherings are banned, masks are required in public, and all educational institutions, including preschools, are on an extended summer break. Since the end of December, Salvador said North Korea has quarantined and released 25,905 people, 382 of them foreigners.

A major coronavirus outbreak may cause a humanitarian disaster because of North Korea's broken public health care system and lack of medical supplies.
Updated
at 9.18am BST
7.52am BST07:52
Also in the US, Representative Rodney Davis has revealed that he tested positive for Covid-19 on Wednesday, making him at least the 15th US lawmaker to be infected or presumed to have the disease.
. reports:
Davis, a Republican of Illinois, said in a statement that he took the test after running a fever Wednesday morning. His office was contacting constituents he had met with within the previous 48 hours, said the 50-year-old, and he was postponing public events until he had received a negative test.
He said:
If you're out in public, use social distancing, and when you can't social distance, please wear a mask. All of us must do our part. That's what it will take to get through this pandemic.
At least 14 other members of the House of Representatives and Senate, seven Republicans and seven Democrats, have tested positive or were presumed to have had Covid-19 since the novel coronavirus pandemic began earlier this year.
Republican Representative Louie Gohmert, who has steadfastly refused to wear a mask during the pandemic, said a week ago he had tested positive for Covid-19, leading at least three of his colleagues to say they would self-quarantine.
More than 157,000 people have died in the US from Covid-19 and more than 4.7m cases have been reported in the country and its territories, according to . tallies.
Updated
at 7.58am BST
7.36am BST07:36
US secretary of health andhuman services Alex Azar and his delegation will have to be tested for the coronavirus before getting to Taiwan and again when they arrive, and they must wear masks, according to a government official.
It will be the highest-level visit since 1979 to discuss the coronavirus pandemic and to "celebrate the shared values" of the two democracies – prompting China to urge the US not to "send the wrong signals to Taiwan secessionists".
At a briefing in Taiwan Chuang Jen-hsiang, deputy director general of the country's Centres for Disease Control told reporters that members of the US delegation would be tested twice and would only be allowed into the country if all members tested negative.
Chuang said:
They must wear masks at all times […] There are rules on where they can go.
Taiwan's often crowded night markets would not be on the list for private visits, he said, adding that delegation members will also have to maintain social distancing and use dedicated lifts "to avoid any risks".
At the same briefing Taiwan cabinet spokesman Evian Ting said Azar's visit will begin on Sunday. He is scheduled to meet President Tsai Ing-wen as well as health minister Chen Shih-chung.
Here is our full story on the significant visit
My name is Lexy Topping and I'll be at the helm of the global coronavirus live blog for the next few hours. Do get in touch if you have a story you want to share. My email is [email protected] and I'm @lexytopping on Twitter. My DMs are open.
Updated
at 8.00am BST
7.03am BST07:03
That's it from me, Helen Sullivan for today. Thanks for following along.
A reminder that Beirut is struggling with the aftermath of Tuesday's explosion, as well as an economic crisis, in addition to the coronavirus pandemic.
Here is how you can help:
6.47am BST06:47
Summary
Here are the key developments from the last few hours:
Donald Trump on Wednesday repeated that he believes coronavirus will "go away", despite his top public health expert warning that it could take most of 2021 or longer to get the pandemic under control and that it is "unlikely" the virus can ever be eradicated.At a White House briefing, the US president said of Covid-19: "It's going away, it will go away, things go away, absolutely. No question in my mind, sooner rather than later."
Facebook has removed a post from Donald Trump's page for spreading false information about the coronavirus, a first for the social company that has been harshly criticized for repeatedly allowing the president to break its content rules.
Michelle Obama has said she has been suffering from "low-grade depression", prompted by the coronavirus pandemic, racial problems in the US and what she describes as the "hypocrisy" of the Trump administration.
WHO surge team arrives in South Africa. The World Health Organization has deployed a "surge team" of 43 health experts to South Africa to help the country deal with the pandemic, which has seen nearly 530,000 cases confirmed in the country – the fifth-highest in the world – and 9,298 deaths.
In Australia, Victorian state premier Daniel Andrews has announced that 471 new coronavirus cases were confirmed overnight, along with eight new deaths. Both figures are lower than Wednesday's, which marked Victoria's most devastating day of Covid-19 cases and deaths, with a man in his 30s among 15 people who died overnight including many from aged care, and 725 new cases of the virus identified.
Global deaths pass 700,000. The coronavirus pandemic death toll passed 700,000 late on Wednesday, according to the Johns Hopkins University tracker, which relies on official government data.The US accounts for the highest portion of those deaths, with 157,690. The next worst-affected in terms of number of lives lost is Brazil with 95,819.
A fire killed eight coronavirus patients at a hospital in western India early Thursday, fire officials said. Firefighters and 15 fire engines contained the fire to the intensive care unit at Shrey Hospital and it was extinguished in half an hour. The cause of the fire at the hospital in the city of Ahmadabad was being investigated.
Amsterdam enforces face masks in crowded places. Amsterdam and the port of Rotterdam on Wednesday made face masks compulsory in certain busy areas including the Dutch capital's Red Light district, as coronavirus infections showed a worrying spike. The new measures come as the number of infections doubled in a week in the country, where more than 55,000 people have now been infected and some 6,150 have died.
Italy threatens to ban Ryanair for alleged virus rule-breaking. Italy's national civil aviation authority has threatened to suspend Ryanair's permit to fly in the country over alleged non-compliance with coronavirus safety rules, but the low-cost carrier denied flouting them.
France's daily Covid-19 cases highest since end of May.France's daily Covid-19 infections reached the highest in more than two months on Wednesday, with 1,695 new cases. The seven-day moving average stood above the 1,300 threshold for the first time since the end of April, when the country was still in lockdown.
Covid-19 job losses sees record numbers in UK seeking temporary work. Record numbers of people in Britain are looking for temporary work as job losses across the country mount, according to recruitment firms that have been flooded with CVs.The Recruitment and Employment Confederation (REC) and the accountancy firm KPMG said the number of people signing up to find temporary work rose in July at the fastest pace since records began in 1997.
Fears grow in Turkey as daily virus cases top 1,000.Officials have expressed concern over the rising number of coronavirus cases as the daily infection toll exceeded 1,000 for the second day in a row.
Florida tops 500,000 virus cases as testing resumes after storm. The state has surpassed 500,000 coronavirus cases as testing ramps up following a temporary shutdown of some sites because of Tropical Storm Isaias.
Former Colombian president Uribe tests positive for coronavirus. Colombia's former president Álvaro Uribe has tested positive for Covid-19, just a day after he was placed under house arrest as part of a witness tampering probe.
Germany adds Belgium's virus-hit Antwerp to quarantine list. Antwerp province was added to the list of coronavirus risk zones, requiring travellers arriving from the region to go into quarantine for 14 days unless they can produce a negative Covid-19 test.
6.39am BST06:39

Michelle Obama says she is suffering from 'low-grade depression'
Michelle Obama has said she has been suffering from "low-grade depression", prompted by the coronavirus pandemic, racial problems in the US and what she describes as the "hypocrisy" of the Trump administration.
In the second edition of her podcast, which aired on Wednesday, the former first lady reflected on the change her family and others have had to deal with as a result of the pandemic.
"I know that I am dealing with some form of low-grade depression," she said. "Not just because of the quarantine, but because of the racial strife, and just seeing this administration, watching the hypocrisy of it, day in and day out, is dispiriting."
Obama said her sleep has been affected and has been waking up in the middle of the night "'cause I'm worrying about something, or there's a heaviness":
6.18am BST06:18
Officials in Scotland ordered bars, cafes and restaurants in the city of Aberdeen to close Wednesday, reimposing anti-virus restrictions after a cluster of 54 Covid-19 cases in the area was linked to a single bar, AP reports.
Scottish First Minister Nicola Sturgeon said the new cases raised wider alarm of a significant outbreak of the coronavirus emerging in the northeastern port city.
Aberdeen officials published a list of 28 bars and restaurants, three golf clubs and a soccer club visited by about 200 people so far traced from the cluster.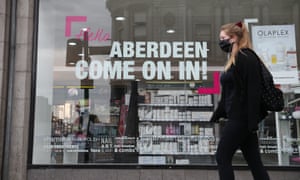 Signage on a shop window on Union Street in Aberdeen after bars, cafes and restaurants have been ordered to close as lockdown restrictions are reimposed in over a coronavirus cluster in the area. Photograph: Andrew Milligan/PA
Sturgeon said all hospitality venues in the city of about 229,000 residents need to be closed by the end of business Wednesday. Visitors were advised not to travel to the city, and residents should not travel more than 5 miles (8km) from their homes unless for work or essential trips.
Entering other people's houses was also prohibited as part of the local lockdown.
Extra police officers will be on the streets in Aberdeen to ensure residents comply with the renewed restrictions, which will be reviewed in one week and may be extended, if necessary.
6.03am BST06:03

Nearly half of the UK's small charities working with the world's poorest people expect to close within the next 12 months due to lack of financial support, a survey has found.
Despite most of them seeing a spike in demand for their services during Covid-19, 15% of the charities will be forced to shut their doors within the next six months, and 45% within a year, according to data from the Small International Development Charities Network (SIDCN).
The pandemic – predicted to force one in 10 UK charities into bankruptcy by the end of 2020 – has delivered a triple whammy to smaller overseas charities, according to SIDCN. British charities working abroad have not been eligible to apply for the UK government coronavirus community support fund, and many British funders have amended their giving criteria to donate to projects based solely in the UK:
Live in South Africa Blu-ray - Blu-ray

scène - Parution : 23/02/2018

Animal Crossing : New Horizons pour Nintendo Switch

Le jeu propose un tout nouveau système d'artisanat : collectez des matériaux sur votre île pour tout construire, des meubles jusqu'aux outils ! Détendez-vous en jardinant, en pêchant, en faisant de la décoration ou encore en nouant des relations avec d'adorables personnages ! Jusqu'à huit joueurs peuvent vivre sur une île; quatre résidents d'une même île peuvent jouer ensemble simultanément sur une seule console Nintendo switch. Huit joueurs peuvent jouer ensemble sur l'île de l'un des joueurs grâce au multijoueur en ligne ou au multijoueur local sans fil !

Live in South Africa DVD - DVD Zone 2

scène - Parution : 23/02/2018

Ring Fit Adventure pour Nintendo Switch

Faites du sport tout en vous amusant avec Ring Fit Adventure ! Munis des accessoires présents dans la boite du jeu partez à l'aventure et réalisez des mouvements de sports pour avancer dans les niveaux. Poussez sur le Ring-Con et vous enverrez un choc sur vos ennemis ! A la fin de chaque exercice, mesurez même votre rythme cardiaque et découvrez le nombre de calories dépensées.

Inconnu Democracy as Death: The Moral Order of Anti-Liberal Politics in South Africa - [Version Originale] - poche

Inconnu (Auteur) - chez Inconnu

FRANCE 24 - Fire TV

Regardez FRANCE 24 en direct Accédez en différé aux derniers journaux (Monde, Afrique, Economie, Sports et Météo) Découvrez toutes nos émissions à la demande