9.57pm BST21:57
Michael Boyd picks me up on my description of Hungary's goal. "Distances can be judged by how the pitch is mowed," he notes. "The pitch appears to have six-yard segments (look at the penalty area and the six yard box). The free kick is in the middle of the third segment outside the area (and a little outside the keeper's right hand post) – that would imply that it is about 33 yards from goal. A great goal but not a 40-yarder." Yes, OK, the free-kick wasn't from 40 yards out. I just felt describing the distance as "30-odd yards", while perhaps a little more factual, underplayed its awesomeness.
9.47pm BST21:47
I know what you're thinking: Faroe Islands 3-2 Malta? True, the last you heard Malta were 2-1 up, but Andreas Olsen equalised in the 87th minute and Brandur Hendriksson won it with a last-minute free-kick!
9.45pm BST21:45
All the final scores!
The games have all now finished, and this is how they ended:
League A, Group 4
Germany 1-1 Spain
Ukraine 2-1 Switzerland
League B, Group 3
Russia 3-1 Serbia
Turkey 0-1 Hungary
League B, Group 4
Bulgaria 1-1 Republic of Ireland
Finland 0-1 Wales
League C, Group 3
Moldova 1-1 Kosovo
Slovenia 0-0 Greece
League D, Group 1
Faroe Islands 3-2 Malta
Latvia 0-0 Andorra
9.43pm BST21:43
GOAL! Bulgaria 1-1 Republic of Ireland!
Shane Duffy pops up in the third minute of stoppage time to rescue a point for the Irish!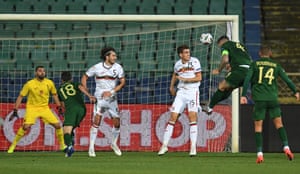 Ireland's Shane Duffy (second right) heads home the equalizer. Photograph: Vassil Donev/EPA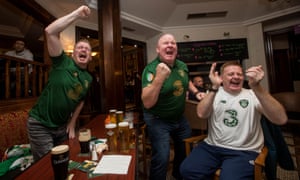 Which pleases Ireland fans Andy Whelan, Patrick Hegarty and Alan Condron watching in Meath. Photograph: Ryan Byrne/INPHO/REX/Shutterstock
Updated
at 9.54pm BST
9.41pm BST21:41
Final score: Finland 0-1 Wales!
The Welsh have snaffled maximum points from this one, scoring with the only shot on target in the match (there were nine other shots, seven of them from Finland).
9.40pm BST21:40
Final score! Germany 1-1 Spain!
The Germans are furious! They think Gaya was offside, and the game should have been over by then anyway. It did look to me like the only defender who might have been playing him onside was actually off the pitch at the time.
9.38pm BST21:38
GOAL! Germany 1-1 Spain!
In the sixth of four minutes' stoppage time, Spain have the ball in the net! Ferran Torres crosses, Rodrigo nods it down and José Gayà turns it in from a yard!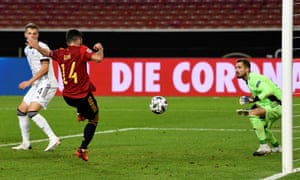 Spain's defender Jose Luis Gaya Pena tuns the ball home. Photograph: Thomas Kienzle/./.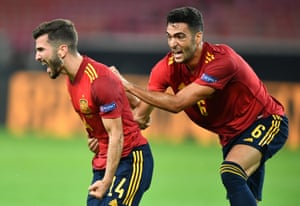 Jose Luis Gaya (left) celebrates with teammate Mikel Merino after Spain's equaliser. Photograph: Philipp Guelland/EPA
Updated
at 9.49pm BST
9.35pm BST21:35
Nearly an equaliser for Spain! Ansu Fati has the ball in the net, but it's disallowed because Ramos, inevitably, had assaulted Ginter as the cross came in.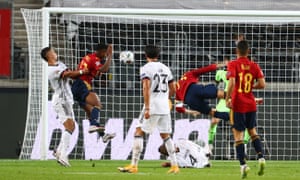 Spain's Ansu Fati heads home but it's chalked off for a foul. Photograph: Kai Pfaffenbach/.
Updated
at 9.40pm BST
9.32pm BST21:32
GOAL! Finland 0-1 Wales!
After 80 minutes, the game gets its first shot on target – and it goes in! Kieffer Moore scores it, tapping in from six yards after a low cross from the left!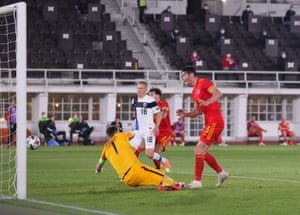 Kieffer Moore of Wales opens the scoring from close range. Photograph: Joosep Martinson/.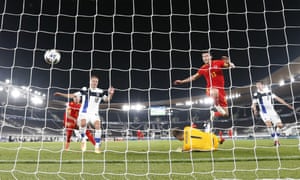 Here's the view from behind the goal. Photograph: Huw Evans/REX/Shutterstock
Updated
at 10.00pm BST
9.30pm BST21:30
GOAL! Russia 3-1 Serbia!
Artem Dzyuba scores his second and his side's third!
9.23pm BST21:23
GOAL! Faroe Islands 1-2 Malta!
Malta have turned it around in Torshavn! The skipper, Andrei Agius, slams in a volley!
9.18pm BST21:18
GOAL! Ukraine 2-1 Switzerland!
Oleksandr Zinchenko has put Ukraine back in front with an apparently very good shot that I am yet to see! However I have now seen the Karavaev goal, and can confirm that it was a very good shot.
9.16pm BST21:16
GOAL! Russia 2-0 Serbia!
A team has gone two goals up! And it's Russia, for whom Vyacheslav Karavaev has cut in from the left and scored with an apparently very good shot that I am yet to see!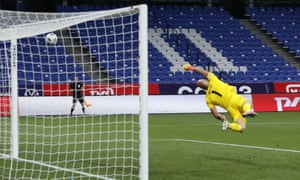 Vyacheslav Karavaev's shot flies past Serbia goalkeeper Marko Dmitrovic for Russia's second goal. Photograph: Pavel Golovkin/AP
Updated
at 9.34pm BST
9.14pm BST21:14
"Re: the extraordinary Finland miss," writes terrible-pun correspondent Peter Oh, "it looks like Väisänen may need to work on his … Finnish-ing."
9.13pm BST21:13
"I feel Alexander Chesneau's pain," writes Matt Dony, as Thiago Alcantara's shot whistles just wide. "There are few things more frustrating than a seeing a team you hate wear a kit you love. I can't adequately describe how much I dislike Arsenal, but their maroon kit from 2006 is a thing of absolute beauty. And tonight, like Kari Tulnius, I'm very taken with Finland's kit. And That's despite watching the match through ultra-biased Welsh eyes." It's a very pleasing kit, no doubt about it.
9.06pm BST21:06
Back in Stuttgart, Leroy Sané has gone off and Matthias Ginter come on. Sané made the traditional finger-spinning sub-me-now-please gesture towards the bench in the moments before, though he seemed happy enough on the way off so presumably he's just knackered. A few moments before he very nearly set up a second for Germany, but his square pass to Werner was a little overstrong and by the time the striker caught up with it he had an acute angle to deal with and hit the side netting.
9.04pm BST21:04
GOAL! Bulgaria 1-0 Republic of Ireland!
And now it's six out of nine! Bozhidar Kraev scores it, after a lovely through-ball finds him scampering through a massive gap in the Irish backline.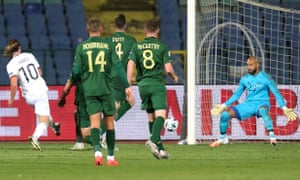 Bulgaria's Bozhidar Kraev slots the ball past Ireland goalkeeper Darren Randolph to open the scoring. Photograph: Kostadin Andonov/INPHO/REX/Shutterstock
Updated
at 9.17pm BST
9.02pm BST21:02
GOAL! Russia 1-0 Serbia!
Another home side goes a goal up – five of tonight's nine have now, none have so far scored a second, and two have conceded equalisers. Anyway, I digress. Artem Dzyuba scored with a penalty, just a few minutes after the break.
8.56pm BST20:56
Extraordinary Finland miss! The ball comes in from the right, it's flicked on, and falls to Leo Väisänen, running all alone towards the far post. He's cool, he's relaxed, he's got an empty goal to aim at, and he sidefoots it into the meat of the post from about two yards!
8.54pm BST20:54
GOAL! Germany 1-0 Spain!
Timo Werner has put Germany ahead in the 51st minute! He collects Gosens' infield pass from the left, jinks inside a couple of defenders and shoots low and hard, back to his left and past De Gea!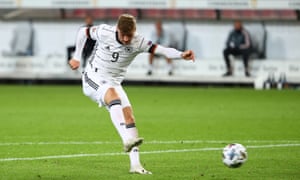 Germany's Timo Werner shoots … Photograph: Kai Pfaffenbach/.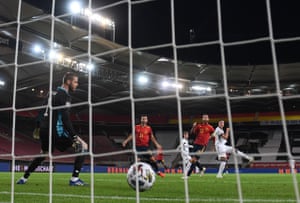 And scores. Photograph: Matthias Hangst/.
Updated
at 9.59pm BST
8.51pm BST20:51
Alexandre Chesneau has another off-centre kit cross to tell us about, Marseille's home kit of circa 15 years ago (they actually had two different ones in two seasons, as you can see here). "Although I'm myself a fan of rivals OL, I have to hand to the Marseillais for designing a rather classy shirt on this occasion," he writes.
8.47pm BST20:47
The players are on their way back out in Germany, and Ansu Fati is one of them! He has come on for Jesus Navas for Spain.
8.43pm BST20:43
"I see high-necked, black-bedecked Joachim Low and his assistants are, as always, dressed as a cross between a Velvet Underground tribute band and a Berlin Art Gallery owners convention," notes Justin Kavanagh. "Germany will need to change its backroom staff before the 2026 World Cup in the USA, as they will scare the bejesus out of any Trump supporters who happen to get on planes with them."
8.38pm BST20:38
Wales did, to be fair, have the ball in the net in the opening minutes of their game in Finland, but it was disallowed because Kieffer Moore fouled a defender before heading it in.
8.36pm BST20:36
It is now officially interval o'clock everywhere. "Couldn't Rodrigo have shown a little more imagination on that golden opportunity for an opening goal?" wonders Mary Waltz. Well, he could have had a shot, if that's what you mean.
8.33pm BST20:33
The half-time whistle has blown in Stuttgart, where it's goalless at the interval, and it's not far off everywhere else. There's been one goal in Moldova, one apiece between Faroe Islands and Malta and between Ukraine and Switzerland, and none anywhere else.
8.32pm BST20:32
GOAL! Ukraine 1-1 Switzerland!
A second goal in Lviv, and it's an equaliser! Haris Seferović's low shot screams into the corner of the net from 25 yards or so, and it's all square a couple of minutes before the break!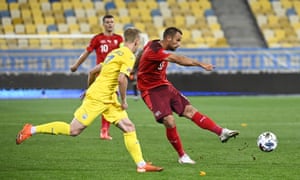 Haris Seferovic, right, thumps the ball goalwards … Photograph: Jean-Christophe Bott/EPA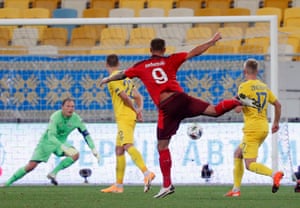 And the ball flies into the net and Switzerland are level. Photograph: Sergey Dolzhenko/EPA
Updated
at 8.45pm BST
8.29pm BST20:29
Half a chance for Spain, after Fabián Ruiz plays in Rodrigo, but instead of shooting he tries to square the ball back to Fabián Ruiz and it's intercepted.
8.26pm BST20:26
GOAL! Faroe Islands 1-1 Malta!
They're flying in in Torshavn! Jurgen Degabriele has equalised for the visitors with a smart finish from the edge of the area!
8.25pm BST20:25
Handbags! Joe Morrell's rather, um, wholehearted attempt to tackle Glen Kamara sparks a bit of bad-tempered posturing in Helsinki. Morrell is eventually booked.
8.20pm BST20:20
GOAL! Faroe Islands 1-0 Malta!
Goals are rare enough this evening to be worth key event status, I think. There's big news coming from Torshavn, where Klæmint Olsen has headed in a bouncing cross.
8.18pm BST20:18
"It's not that Finland-Wales hasn't been interesting, but in the game's quieter moments my eyes have been drawn to the rather fetching kit the Finnish pelaajat are wearing," writes Kári Tulinius. "Off the top of my head, I can't remember a football shirt with an off-center cross like that. Are the Finns trailblazers, or has another national side or a club beaten them to that particular design element?" Here's the kit in full: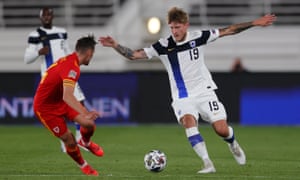 Joni Kauko of Finland during the Nations League match against Wales in Helsinki. Photograph: Joosep Martinson/.
May I refer you to Sweden's 2014 away kit? There may also be others. Finland's kit, while not groundbreaking, is still quite nice.
8.10pm BST20:10
GOAL! Moldova 1-0 Kosovo! Ion Nicolaescu has made the breakthrough in Parma, snaffling the rebound after Carp's header proved slippery.
8.08pm BST20:08
Chance for Spain! It's a cunning training-ground free-kick routine, lifted beyond the far post by Fabián Ruiz where it's headed down to Busquets, whose volley is kept out!
8.06pm BST20:06
De Gea has been in action again, saving Sané's curler. Sané is starting his first game since last season's Community Shield, and looking bright so far.
8.05pm BST20:05
GOAL! Ukraine 1-0 Switzerland! Yarmolenko has given Ukraine the lead in Lviv! A canny back-heel, I'm told.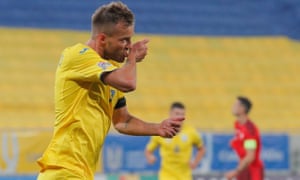 Andriy Yarmolenko of Ukraine celebrates his goal. Photograph: Sergey Dolzhenko/EPA
Updated
at 8.24pm BST
8.03pm BST20:03
"I'm thrilled to see Adam Idah getting the start," gushes JR. "I know it won't fix any of the world's problems but it would give me immense, if brief, pleasure to see Idah score a hat-trick against Bulgaria." It might happen, but it's goalless so far in every game bar one…
8.00pm BST20:00
What a chance for Spain! Trapp comes out to try to beat Rodrigo to Emre Can's rubbish back-pass, fails, leaves Rodrigo with an open goal to aim at, and then gets back in time to nick the ball back with a sliding tackle as the Spaniard dallies!
7.57pm BST19:57
Germany are looking much more threatening than Spain. They've come close to breaking the offside trap a couple of times, and now a cross from the left finds Thilo Kehrer beyond the far post, but De Gea deals with his header.
7.55pm BST19:55
Nearly a chance for Bale! In Finland Hradecky fails to hold on to a deflected shot but the ball rolls just out of Bale's reach.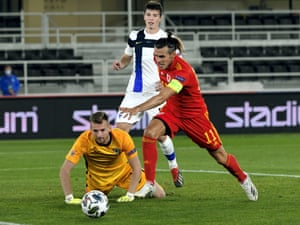 Finland's Daniel O'Shaughnessy and Lukas Hradecky watch as the ball rolls out of the reach of Wales' Gareth Bale. Photograph: Markku Ulander/AP
Updated
at 8.23pm BST
7.54pm BST19:54
Not much by way of early action, it must be said. De Gea has repeatedly blootered the ball downfield for Spain, which isn't very Spanish of him.
Updated
at 7.54pm BST
7.45pm BST19:45
Peeeeeep! Spain get their game against Germany started, as matches kick off across the continent.
7.43pm BST19:43
The bench is a terribly lonely place these days.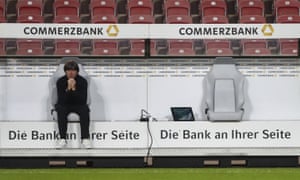 Germany head coach Joachim Low sits on the bench prior to the Nations League match against Spain in Stuttgart. Photograph: Matthias Schräder/AP
7.39pm BST19:39
If I learn nothing else from this evening, I have at least learned that the Finnish for "player" is "pelaaja".
7.29pm BST19:29
Stephen Kenny has a quick chat about his decision to choose Matt Doherty over Seamus Coleman at right-back:
They're two exceptional full-backs, two of the best full-backs in the Premier League, and Matt's had an exceptional season and scored a great header against Denmark. He just gets the decision, a marginal decision really. I think we've got a pace in the team, that's important for us.
7.24pm BST19:24
Ryan Giggs explains why he's given a chance to Welsh debutant Dylan Levitt:
Dylan gets his chance. I think in a Euro campaign, towards the end when every game was a huge game, it was too much of a gamble to pick him, but he impressed in training. He's played a few games in pre-season so he's fit, which was a big part of my selection tonight, trying to get as many players on the pitch who's played minutes. He's a good footballer, he gets the ball down, he's got a good range of passing and I'm looking forward to seeing him play.
7.21pm BST19:21
Warm-ups are in full flow in Stuttgart: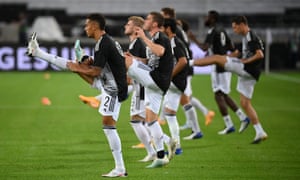 Germany players warm up prior to their Uefa Nations League group stage match against Spain in Stuttgart. Photograph: Matthias Hangst/.
7.08pm BST19:08
And this is what they say about the side Ryan Giggs has selected for Wales:
Manchester United midfielder Dylan Levitt was handed his Wales debut for the opening Nations League game against Finland in Helsinki.

The 19-year-old was one of three changes from Wales' last match against Hungary 10 months ago, a 2-0 win which secured qualification for Euro 2020.

Ethan Ampadu and Jonny Williams also came in as Chris Mepham, Joe Allen and Aaron Ramsey missed out through injury, but Real Madrid striker Gareth Bale started to lead Ryan Giggs' side.
7.07pm BST19:07
Here's PA Media's take on the Republic of Ireland line-up:
New Republic of Ireland boss Stephen Kenny handed teenager Adam Idah a senior international debut in Bulgaria in his first match at the helm.

The 19-year-old Norwich striker and Brighton's Aaron Connolly, 20, who both played under Kenny at Under-21 level, were included in the starting line-up for Ireland's Nations League opener in Sofia, as was Crystal Palace midfielder James McCarthy, who won his first cap since October 2016.

Bulgaria coach Georgi Dermendzhiev made wholesale changes to the side which beat the Czech Republic in their last Euro 2020 qualifier with only keeper Georgi Georgiev, defenders Strahil Popov and Petar Zanev and midfielders Georgi Kostadinov and Kristiyan Malinov surviving.
6.57pm BST18:57
Team news is starting to filter in. Here are the line-ups from Stuttgart:
Germany: Trapp; Kehrer, Gosens, Draxler, Kroos, Werner, Sule, Rudiger, Sane, Gundogan, Can. Subs from: Leno, Baumann, Ginter, Tah, Neuhaus, Brandt, Waldschmidt, Koch, Havertz, Serdar.
Spain: De Gea, Carvajal, Ramos, Pau Torres, Gaya; Thiago, Busquets, Fabian Ruiz; Jesus Navas, Ferran Torres; Rodrigo. Subs from: Kepa, Simon, Diego Llorente, Merino, Olmo, Moreno, Garcia, Rodri, Ansu Fati, Oscar, Reguilon.
Referee: Daniele Orsato (Italy).
Die Mannschaft
(@DFB_Team)

Unsere Startelf! 🇩🇪🇪🇸

1 Kevin Trapp 
2 Thilo Kehrer
3 Robin Gosens 
7 Julian Draxler
8 Toni Kroos (C)
9 Timo Werner
15 Niklas Süle 
16 Antonio Rüdiger 
19 Leroy Sané 
21 Ilkay Gündogan
23 Emre Can#GERESP #DieMannschaft pic.twitter.com/jXcz8Ohke1

September 3, 2020
Selección Española de Fútbol
(@SeFutbol)

⚠️ OFICIAL | ¡¡Ya tenemos el ONCE de España!!

📝 ¡Estos son los elegidos por Luis Enrique para el regreso de la @SeFutbol!#SomosEspaña 🇪🇸#SomosFederación pic.twitter.com/q8Dvww2QVh

September 3, 2020
6.51pm BST18:51
Tonight's first result: Andorra have drawn 0-0 with Latvia, who missed a penalty.
5.31pm BST17:31
Hello world!
International football is back, back, baaaaack! Germany last played on 19 November 2019, thrashing Northern Ireland 6-1 the day after Spain's beat Romania 5-0 in their most recent match. Back then both thought they would have played a European Championships by now, and perhaps have added another trophy to their crowded cabinets. As it happened history threw them a bit of a curveball, but today we take another step towards a vague simulacrum of normality as the 2020-21 Nations League gets under way with a Ibero-Germanic whopper.
Germany and Spain have played nine competitive matches, most recently in the semi-finals of the 2010 World Cup. Germany have four wins and Spain three, but since the 1982 World Cup it's 3-1 to the Spaniards, with a draw in 1994. In those five matches only one side, West Germany (as it was then) in 1988, scored more than one goal.
Jogi Low says that his players will be knackered and rubbish – "Some have been training for weeks but have no match practice, others have just finished playing, others are just back from holidays. I don't think players will last over 90 minutes," he says – but that won't stop me looking forward to it. Big questions set to be answered include: who will click into form? Will Ansu Fati or Ferran Torres make their debuts? And has Sergio Ramos found a razor?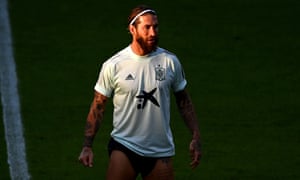 Sergio Ramos during a training session in Stuttgart ahead of the Nations Cup fixture between Germany and Spain.
And if it disappoints, there are eight other evening games for us to keep an eye on as well. Today's fun and games, or at the very least today's games, look like these, with Wales (in Finland) and the Republic of Ireland (in Bulgaria) providing some anglophone interest (7.45pm BST kick-offs unless stated):
League A, Group 4
Germany v Spain
Ukraine v Switzerland
League B, Group 3
Russia v Serbia
Turkey v Hungary
League B, Group 4
Bulgaria v Republic of Ireland
Finland v Wales
League C, Group 3
Moldova v Kosovo
Slovenia v Greece
League D, Group 1
Faroe Islands v Malta
Latvia v Andorra (5pm BST)
Updated
at 5.33pm BST
Unknown League of Nations and the Refugees from Nazi Germany - [Livre en VO] - broché

Unknown (Auteur) - chez Unknown

Le royaume de Kensuké - Folio Junior - A partir de 10 ans

Eastpak Benchmark Single Trousse, 21 cm, Noir (Black)

Un large compartiment principal qui peut contenir des stylos Hauteur : 6 cm, Largeur : 20,5 cm, Profondeur : 7,5 cm Fabrication 100% nylon ultra-résistant

Écouteurs sans Fil Bluetooth 5.0 avec réduction de Bruit, écouteurs Sportifs avec IPX7 Écouteurs stéréo étanches dans l'oreille Intégré HD Mic Casques pour iPhone Android/Airpods/Samsung

🌟♫【BLUETOOTH 5.0+EDR AMÉLIORÉ & APPARIEMENT FACILE】 Connexion automatique des deux oreillettes en les allumant et seulement une étape supplémentaire pour les connecter au téléphone. La dernière technologie Bluetooth 5.0 mise à niveau est plus RAPIDE,offre des connexions PLUS STABLES et une consommation d'énergie PLUS ÉCONOME.Il suffit de les sortir de leur boîte et de les connecter à tous vos appareils compatibles Bluetooth, tels que les appareils iPhone,Samsung,Android,Windows,iPad Pro, etc. 🔋♫【ÉTUI PORTABLE À CHARGE RAPIDE ET OFFRANT 30H DE CHARGE】Les véritables écouteurs sans fils offrent plus de 5 heures de lecture sur une seule charge. En outre,l'étui de charge portable offre 25 heures d'autonomie supplémentaires pour ces écouteurs. Profitez donc de 24 heures de musique en une journée lorsque les écouteurs et le boîtier de charge sont complètement chargés.La fonction de charge rapide permet 2 heures d'utilisation des écouteurs en 15 minutes de charge à travers l'étui portable. 📶♫【APPARIEMENT INSTANTANÉ & SON STÉRÉO HI-FI】 Une fois les écouteurs activés. Pour les utilisateurs Android/iphone, entrez dans le paramètre de fonction Bluetooth, recherchez le nom "TWS-i11". Les écouteurs peuvent être connectés séparément à différents appareils. Son stéréo stéréo et signal Bluetooth solide pour vos jeux,vos appels,vos musiques et vos podcasts. Qualité sonore de qualité supérieure. 📱♫【CONCEPTION ERGONOMIQUE ET LÉGÈRETÉ】 Plus aucun fils ne s'emmêlent. Très léger et donc facile à transporter n'importe où et sans contrainte. Conception ergonomique avec une inclinaison de 65 degrés pour un maintien sûr et confortable adapté à toutes les oreilles. Ainsi, vous ne sentirez aucun inconfort en portant ces nouveaux écouteurs ergonomiques. ☔♫【IPX7 – ÉTANCHÉITÉ & GARANTIE DE 12 MOIS】 Les écouteurs TWS possèdent la technologie IPX5 imperméable adaptée pour les sports comme le basketball, le tennis, le football, etc. Attention, ces oreillettes ne peuvent pas être utilisées pour la natation, la baignade, la plongée ou toute autre activité similaire. De plus, nous vous offrons pour chaque produit une garantie gratuite de 365 jours et nous restons à votre disposition 24 heures sur 24. Contactez-nous si vous avez des inquiétudes.

Eurosport Player

Accès illimité à Eurosport 1 et 2 en direct et aux bonus non retransmis sur nos chaines pour ne rien manquer. Vidéo à la demande des meilleures compétitions d'Eurosport à regarder quand vous le désirez. Vidéos des meilleurs moments, interviews, dernières infos et bien plus encore. Mettez votre sport préféré en favoris et ne manquez rien de l'action. Programme hebdomadaire des compétitions sportives. Streaming en direct de vos évènements sportifs favoris.

Casio Montres bracelet F-91W-1DG

Montre, Garantie, Boîte original Montre Mixte à mouvement Quartz Bracelet en - Résine Noir Type d'affichage : Digital Diamètre du cadran : 33 millimètres Épaisseur du boîtier : 9 millimètres Casio Montre, Garantie, Boîte original