3.58pm BST15:58
Top 10 on stage six
Alexey Lutsenko (Astana Pro Team) 4 hr 32'34"
Jesús Herrada (Cofidis Solutions Crédits) +55"
Greg Van Avermaet (CCC Team) +2'15"
Neilson Powless (EF Pro Cycling) +2'17"
Julian Alaphilippe (Deceuninck – Quick-Step) +2'52"
Bauke Mollema (Trek-Segafredo) +2'53"
Michal Kwiatkowski (Team Ineos) 2'53"
Egan Bernal (Team Ineos) +2'53"
Richard Carapaz (Team Ineos) +2'53"
Adam Yates (Mitchelton-Scott) +2'53"
Updated
at 3.58pm BST
3.51pm BST15:51
Adam Yates (Mitchelton-Scott) remains in the yellow jersey and will wear it tomorrow, for the second day in his career. Primoz Roglic (Jumbo-Visma) sits second, three seconds back, with Tadej Pogacar (UAE Team Emirates) in third, seven seconds off the pace set by Yates.
Updated
at 3.53pm BST
3.49pm BST15:49
Lutsenko, Herrada, Van Avermaet is the top three on stage six. Alaphilippe, it's confirmed, grabbed a second back with that late attack.
Updated
at 3.50pm BST
3.46pm BST15:46
Alaphilippe attacks! He distances the bunch with a strong attack, but only by a few metres. Did he grab a second back in GC? I rather think he did … After what happened yesterday, that looked to be a small statement from Alaphilippe more than anything else – "I am still here."
Updated
at 3.47pm BST
3.45pm BST15:45
Back in the main group, which consists maybe of 100 or so riders, things look fairly calm. Van Avermaet out-sprints Powless for the third and final place on the podium. Powless takes fourth to mark his 24th birthday.
3.42pm BST15:42
Alexey Lutsenko wins stage six!
A seriously impressive performance from the Kazakh man. After successfully making the eight-man break, he was too good for his fellow escapees in the end, and soloed to victory, easily the biggest of his career so far. He blows kisses and lifts his hands above his head as he crosses the finish line. Herrada of Cofidis rolls in second.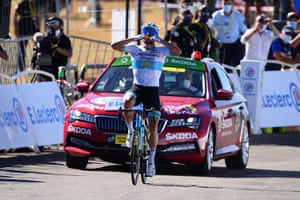 Alexey Lutsenko wins. Photograph: Stuart Franklin/.,
Updated
at 3.47pm BST
3.40pm BST15:40
1km to go: Under the flamme rouge for Lutsenko and no one can get near him …
3.38pm BST15:38
3km to go: It's a very powerful, very impressive ride from Lutsenko who is now nearly a minute clear of Herrada and closing in for the win. Is there a ceasefire among the GC teams today? No one appears to be keen to try and grab some seconds in these closing kilometres.
Lutsenko took eight bonus seconds at the top of the final climb, and will obviously gain time in GC, but he is too far back to be a threat for any of the GC contenders.
Updated
at 3.40pm BST
3.34pm BST15:34
5km to go: We haven't seen Fabio Aru for a while after his attack. And I can't see him on the live race tracker. I think he is back in the main group. Lutsenko is homing in on a stage win – his first Tour stage win – he has previously won a stage of the Vuelta, in 2017.
But will we see any fireworks from the GC contenders behind? Ineos and Mitchelton-Scott are working on the front, holding the gap around 3'19" to the leader.
Updated
at 3.36pm BST
3.31pm BST15:31
6.5km to go: Barring crashes or disasters Lutsenko has this in the bag. He has 28" over the chasing Herrada. Powless and Van Avermaet, much further back, seem to have joined forces but they will not catch Lutsenko. They are 1'42" behind our leader.
Updated
at 3.33pm BST
3.29pm BST15:29
7km to go: Pogacar, in the white jersey, has a problem and has dropped off the back of the bunch of favourites. On commentary, Brian Smith on Eurosport is questioning why Aru attacked from the main bunch, especially. if UAE Team Emirates are trying to look after Pogacar. It did seem completely pointless.
Updated
at 3.29pm BST
3.27pm BST15:27
8km to go: Lutsenko seemed to expect a right-hand turn while negotiating a roundabout, then realised just in time that he was meant to be going straight on. That could have spiced things up if he'd taken a wrong turn. Herrada is about 460metres behind.
3.26pm BST15:26
10km to go: Herrada speeds down a gentle slope having crested the climb, in pursuit of Lutsenko, who crested the category-one ascent a few moments ago. Lutsenko is not showing any signs of weakness. He is stretching his advantage on the main bunch, as they are still climbing. The gap is 3'15".
3.24pm BST15:24
Jim Pavitt emails: "Even without the road rash I don't think Pinot has a chance in the GC. At thirty he still hasn't actually finished that many Grand Tours and has rarely come close to a real challenge. Great guy for a stage win but Pinot romantics need to calm down and accept the guy is not a GC winner."
You may be right, Jim, but would be interesting to see Pinot with a team like Jumbo-Visma riding for him. His main problem seems to be a lack of top-level support.
3.21pm BST15:21
14km to go: Lutsenko continues to eke out a few seconds on Herrada. He just looks too strong, at the moment, and seems very well set for the stage win. His lead is 28 seconds. Back down the mountain, Ineos are pacing the main bunch up the climb, but they look simply to be policing things for Bernal, rather than trying to launch any kind of attack. That may change before they reach the top of the climb …
Updated
at 3.21pm BST
3.18pm BST15:18
15km to go: Lutsenko (Astana Pro Team) gets out of his saddle again and tries to make this advantage stick. The road flattens out a bit. Herrada of Cofidis is 25 seconds behind, riding seated, and does not look as comfortable or as fast as Lutsenko. The Astana man is 3'07" ahead of the chasing peloton.
Updated
at 3.18pm BST
3.15pm BST15:15
16km to go: Lutsenko looks very fresh, but Herrada seems to be making up a bit of ground as he tries to bridge across. The Cofidis faithful must be praying he can get back on terms. Back down the mountain, there is no action from the main group since Aru attacked a few moments ago.
3.12pm BST15:12
16.5km to go: Lutsenko gets out of his saddle and toils up the incline. Herrada has managed to get back with Powless – they are 18 seconds behind the leader, Lutsenko. Still just over three kilometres of climbing until the summit. And Herrada drops Powless now – there will be no birthday stage win for the American rider.
Updated
at 3.13pm BST
3.10pm BST15:10
17km to go: Lutsenko drops Powless! The Astana Pro Team man has distanced his EF Pro Cycling rival. Millar thinks Lutsenko has played this perfectly, sitting back, letting others attack and waiting to make one decisive move. He certainly looks very comfortable right now.
Updated
at 3.11pm BST
3.09pm BST15:09
17.5km to go: Lutsenko joins Powless at the front. There are more and more fans lining the road as they ascend. Van Avermaet, dropped, is not giving up and knows he might be able to get back on after the summit of this climb, even he can't catch up on the final four kilometres uphill.
Updated
at 3.09pm BST
3.07pm BST15:07
18km to go: A stunning helicopter shot gives a sense of the difficulty of this final climb. Switchbacks all the way up. At the front, Van Avermaet sets the pace … and now Powless attacks!
3.04pm BST15:04
But what kind of shape is Pinot in? He said 'it hurts everywhere' after his stage one crash. Personally, I think he will lick his wounds for a while longer, and look to make inroads in weeks two and three.
MaliciousA
(@MaliciousA)

@LukeMcLaughlin definitely a day for Pinot to pull some thrilling heroics and blat up the hills to a stage win. The bonus seconds available will make a huge impact on the GC.

September 3, 2020
3.02pm BST15:02
19km to go: It looks as if Ineos, and the rest of them, may have accepted that they are not going to bring the break back. So the stage winner should be one of the front five riders: Roche, Van Avermaet, Herrada, Lutsenko and Powless.
It's Powless's 24th birthday, if you missed that little fact earlier. What a birthday present this would be for the EF Pro Cycling man.
2.59pm BST14:59
20km to go: Herrada managed to bridge across to the front group so now we have five up there. The gap is back up to 3'00". Fabio Aru attacks off the front of the main group, riding away from the Ineos riders at the front.
2.55pm BST14:55
22km to go: This, from Richard Hirst re: Horner's tweet about Ineos, is spot on.
"He said down three riders, not down to three riders. Very different."
Now, we are on the final climb. The break is about 9km from the summit. They have less than three minutes, the gap is down to 2'43". Powless, Lutsenko, Roche and Van Avermaet have gone off the front together so we have four riders in front.
Updated
at 2.58pm BST
2.52pm BST14:52
24km to go: Breakaway rider Nico Roche of Team Sunweb is still 14 points behind Benoît Cosnefroy in the KOM standings. So even if he takes maximum KOM points on the final climb, he still can't take the jersey today. Bennett in green and Roche in polka-dots would no doubt have seen dancing in the streets of Dublin tonight. Still, maybe it will happen soon … The gap is 2'41".
Updated
at 2.53pm BST
2.47pm BST14:47
25km to go: It's not true to say Ineos are down to three riders, actually. Five if not six are still up there and putting the rest of the peloton under pressure.
Updated
at 2.48pm BST
2.45pm BST14:45
26km to go: Chris Horner – the winner of the 2013 Vuelta – isn't impressed with Ineos right now. We shall see …
The gap is down to 2'48".
Chris Horner
(@hornerakg)

Ineos down three riders already. It's 27k to go and Amador is supposed to be one of their climbers and he's off the back.

September 3, 2020
2.43pm BST14:43
28km to go: Don't forget, in addition to stage win glory at the end, there are also bonus seconds on offer atop the final climb: eight, five and two bonus seconds available for the first three riders across the line at the summit of the Col de la Lusette, after which, we still have nearly 14km of racing to go.
Andrey Amador of Team Ineos has dropped back after a big effort to up the pace on that climb. Up ahead, Roche takes the two points again at the second categorised climb of the day.
Updated
at 2.44pm BST
2.41pm BST14:41
29km to go: We now have three groups on the road, with loads of riders having been dropped by that big acceleration by Team Ineos, Jumbo-Visma et al. So there's a gruppetto, a peloton and an eight-man break.
2.39pm BST14:39
30km to go: Six Ineos riders are stretched out at the front of the peloton as they attack the second climb of the day. The gap has held steady at 3'22" for the past couple of minutes, but soon, Van Avermaet will no longer be our virtual GC leader …
2.35pm BST14:35
32km to go: The pace has gone up considerably at the front of the peloton, with Team Ineos massed at the front. The gap between peloton and break is down to 3'22". The breakaway is on the second climb of the day, the Col des Mourèzes, which is 6.1km long with an average gradient of 4.8%.
"Team Ineos want this to be a hard stage, it's an interesting play by them," says Millar on ITV.
As stated earlier, Bernal has looked happier and more relaxed today than at any point so far in this race. There was clearly some anxiety about the back injury that he carried into the Tour, but perhaps now he is feeling pain-free, in good form and in position to attack. Roglic v Bernal on the final climb?
Updated
at 2.37pm BST
2.33pm BST14:33
32km to go: Roland Marshall, on email, has had an idea!
"Hi there Luke, The vague similarity of bidon chucking with firing of tortoise shells makes me think back to a mis-spent youth playing mario karts tanked up after coming home from the pub. Perhaps they could incorporate bidon-chucking à la Mario Karts shell-firing in order to spice up dull stages like yesterday's (apart from that end bit…)?"
2.32pm BST14:32
33km to go: Thanks to Paddy Delaney for the heads up on this tweet from Bennett, last night:
Sam Bennett
(@Sammmy_Be)

Super happy to get this opportunity to wear the green jersey @LeTour. Big thanks to the @deceuninck_qst boys for the work again today. Never have I had such mixed emotions after a stage. Green jersey but only 3rd in the stage. Still looking for that win.
📸 @GettyImages pic.twitter.com/outIvBWnlu

September 2, 2020
So if you held a gun to his head and asked – 'stage win or green jersey in Paris?' – you reckon he'd say stage win? You are probably right.
Updated
at 2.33pm BST
2.20pm BST14:20
41km to go: Jumbo-Visma take control of proceedings on the climb. Mitchelton-Scott are right there too. The gap between peloton and break is now 4'15" and rather more manageable – the difference in speed on the climb is immediately noticeable, and it's looking more likely that we see a battle royale among the GC guys on that final climb.
Updated
at 2.21pm BST
2.17pm BST14:17
44km to go: Roche takes the two points on offer atop the Cap de Coste, Van Avermaet follows him across the line, and takes a single KOM point.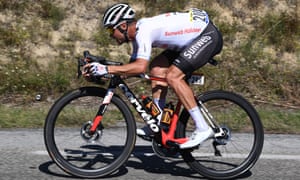 Nico Roche rides in the breakaway. Photograph: Tim de Waele/.
Updated
at 2.23pm BST
2.14pm BST14:14
45km to go: Now, the eight-man break is on the first climb of the day, the Cap de Coste. Nico Roche looks keen – he can go fourth in the KOM classification – and as Kennaugh points out on ITV, he is presumably in the market for taking the points on offer atop the category-one climb later on.
2.12pm BST14:12
45km to go: Some Lance-trivia from Daniel Friebe on Twitter:
Daniel Friebe
(@friebos)

The last man to wear yellow in a major stage-race on Mont Aigoual was Lance Armstrong – in the 2002 Midi-Libre

September 3, 2020
2.06pm BST14:06
49km to go: Deceuninck – Quick-Step's Sam Bennett has extended his green-jersey lead slightly. He took six points at today's intermediate sprint, and now has 129 points overall. Sagan, in second has 117 points, with Norwegian Alexander Kristoff in third, on 93.
As Bennett said, it is tough to go for the green jersey and for stage wins, especially if they've got Alaphilippe gunning for GC too. I wonder where, on his list of priorities, he puts the overall green jersey battle vs. a stage win?
Updated
at 2.09pm BST
2.01pm BST14:01
54km to go: This is a very fair point from the Mitchelton-Scott sports director Matt White via Orla Chennaoui on Twitter, which occurred to me last night. Yates may say he didn't want to take the jersey via a time penalty, but he and the team have worked hard to put themselves in the position to do so. Alaphilippe accepted his punishment, and Yates is surely a very worthy maillot jaune, even if he didn't take the jersey on the road.
Meanwhile, the gap between peloton and break is 5'46". The sun is out and the wind does not seem to be a factor. Is there the time, and the motivation from the peloton to bring this breakaway back? Either way, we are going to see the GC favourites duking it out on those climbs, even if the stage win is not up for grabs.
Orla Chennaoui
(@SportsOrla)

Chatting to Matt White during today's stage, they've shifted from 'no-one wants to inherit the yellow jersey like that' to 'we did the work to put ourselves in that position', and rightly so. Says they've been on the wrong end of decisions in the past, it's how these things go.

September 3, 2020
Updated
at 2.03pm BST
1.58pm BST13:58
59km to go: Dayer Quintana, of Arkea-Samsic, hits a stray discarded bidon which was rolling in the road and goes down. Quintana was looking back over his left shoulder, back down the road, and hence missed the bottle which was in front of him. He looks OK though and is back on the bike.
Shouldn't bidon-chucking be punishable with a time penalty, if taking one inside the final 20km is worthy? It can clearly endanger other riders in the peloton. There was an example in Milan-Sanremo recently, I believe, when the eventual race winner chucked a bidon on the final descent, which might have caused a problem for someone chasing him down the hill.
1.53pm BST13:53
61km to go: The Irishman Sam Bennett, resplendent in his green jersey, wins the 'Best of the rest' sprint at the intermediate. Peter Sagan is there or thereabouts – but can't keep pace with Bennett or a few other rivals.
"It looks like that was a full sprint by Sagan, but he was still only fourth or fifth," says David Millar on commentary.
1.51pm BST13:51
62km to go: As the peloton nears the intermediate sprint point, the pace has slackened off noticeably, with the gap to the break stretching slightly to 5'42".
1.47pm BST13:47
65km to go: The break reaches the intermediate sprint. Boasson Hagen (NTT Pro Cycling) and Oss (Bora-Hangrohe) are the two riders to compete for it, and Boasson Hagen wins it fairly easily. Van Avermaet showed a vague interest, and took third place, with the other five escapees riding tempo behind them.
Roger Kluge (Lotto Soudal), meanwhile, has attacked off the front of the peloton, with seven points up for grabs at the intermediate sprint, which he will reach in three or four minutes. "Maybe he just fancies a stretch of the legs," says Ned Boulting on ITV, because there is no obvious reason why Kluge would want those intermediate sprint points.
Updated
at 1.49pm BST
1.40pm BST13:40
71km to go: The New Zealander Sam Bewley, riding the first Tour de France of his career, is continuing to get through plenty of work at the front of the peloton. His compatriot Jack Bauer is working hard too, along with Chris Juul-Jensen. The peloton is strung out, with Team Ineos still right behind Mitchelton-Scott. There is no let-up in the pace, that's for sure. The gap is down to 5'36".
1.32pm BST13:32
77km to go: The intermediate sprint is coming up in about 12km.
1.24pm BST13:24
84km to go: The gap is hovering at around six minutes. It's going to be tough, at this rate, for the peloton to bring the breakaway back. But Mitchelton-Scott will of course be aiming to narrow the gap sufficiently for Adam Yates to stay in yellow. Will Van Avermaet, the best-placed rider on GC in the breakaway, be harbouring ambitions of wearing yellow this evening?
1.07pm BST13:07
95km to go: Speaking on ITV, Peter Kennaugh thinks the breakaway is perfectly balanced to stay away, with the powerhouses like Oss and Cavagna for the flat, and handy climbers like Roche who will come to the fore when the road kicks up. The gap is 6'28".
1.01pm BST13:01
100km to go: Happier times for Deceuninck – Quick-Step, before those pesky commissaires spotted the bidon infringement last night.
Alaphilippe is clearly in flying form, though. Do you think he'll get back into yellow during this race? Do you think he stands any chance of winning the whole thing?
The gap is 6'36".
Deceuninck-QuickStep
(@deceuninck_qst)

A photo for your scrapbook: #TDF2020 green and yellow on the same team 😃 pic.twitter.com/Sk6ddGjopI

September 2, 2020
Updated
at 1.01pm BST
12.56pm BST12:56
105km to go: The gap between peloton and eight-man breakaway is 6'27".
John O'Gorman emails: "I was under the impression that Roche, Powless, Boasson Hagen, Oss, Cavagna, Van Avermaet, Herrada and Lutsenko were the runners-up in the Nobel Physics prize from 1961 to 1968. Unfortunately, as Churchill said, history is written by the victors so there is no way of confirming whether I am correct or not."
Updated
at 12.56pm BST
12.50pm BST12:50
110km to go: Breakaway rider Boasson Hagen, now with NTT Pro Cycling, has won three stages of the Tour de France in his career – including two for Team Sky during the 2011 Tour. His victory on stage six in 2011 was the first ever stage win for a British-registered team at the race.
"He has massive ability, massive talent," Brailsford told William Fotheringham at the time. "He is so tenacious, he just never gives up. But that is what road racing is all about. You keep knocking on the door, you keep on trying and eventually you get it."
The gap, right now, is 6'19".
12.43pm BST12:43
116km to go: A reminder of the eight-man breakaway: Nicolas Roche (Team Sunweb), Neilson Powless (EF Pro Cycling), Edvald Boasson Hagen (NTT Pro Cycling), Daniel Oss (Bora-Hansgrohe), Rémi Cavagna (Deceuninck-Quick-Step), Greg Van Avermaet (CCC Team), Jesus Herrada (Cofidis Solutions Crédits) and Alexey Lutsenko (Astana Pro Team). The gap is 6'11".
Powless turns 24 today, by the way. So anyone who put a fiver on him to win today's stage, purely on that basis, has an exciting few hours in store …
Updated
at 12.43pm BST
12.39pm BST12:39
117km to go: Read some reaction to yesterday's drama from Adam Yates, the new race leader, and Julian Alaphilippe, who lost the jersey but took his punishment with equanimity:
Updated
at 12.40pm BST
Hirbdieu-maillot de vélo pour hommes I Love France Paris Sport, maillot de cyclisme à manches courtes, vêtements de vélo, France City, Top, HI002, nouveau 2020

Hirbdieu-maillot de vélo pour hommes I Love France Paris Sport, maillot de cyclisme à manches courtes, vêtements de vélo, France City, Top, HI002, nouveau 2020

YouTube

Browse by interest - Discover videos you'll love in categories like music, entertainment, news, gaming, and more. All from the comfort of your couch. Supports multiple accounts - Everyone at home can sign into YouTube with a Google account to see recommendations, subscriptions, and playlists. Play YouTube videos from your phone on the TV - It's easy to enjoy videos with friends and family. Simply find the videos you want to watch on your phone, then send them to your TV with a single tap. Search by voice - Quickly and easily find what you want to watch using voice search. Watch movies and shows - Stay entertained with thousands of movies and TV episodes available to own, rent, or watch for free. Enjoy music on the big screen - Find music videos featuring your favorite artists, songs, live performances and more. Discover new music based on your tastes and what's trending around you. Watch videos in 4K - YouTube is home to the world's largest library of online 4K content. Enjoy high-definition videos on the biggest screen in the house – from scenic nature videos to movie and video game trailers and more. (Requires a 4K-capable device.)

2020 summer men's short sleeve T-shirt European nightclub stage gilding splash ink V-neck vest

n/a - n/a - 2020 summer men's short sleeve T-shirt European nightclub stage gilding splash ink V-neck vest

Mes recettes healthy #2: BAM ! 80 recettes fitfightforever pour te transformer

Beau travail pantalon d'entraînement Quatre points et six fils pantalons de sport pour femmes

Beau travail pantalon d'entraînement Quatre points et six fils pantalons de sport pour femmes

Ring Fit Adventure pour Nintendo Switch

Faites du sport tout en vous amusant avec Ring Fit Adventure ! Munis des accessoires présents dans la boite du jeu partez à l'aventure et réalisez des mouvements de sports pour avancer dans les niveaux. Poussez sur le Ring-Con et vous enverrez un choc sur vos ennemis ! A la fin de chaque exercice, mesurez même votre rythme cardiaque et découvrez le nombre de calories dépensées.