10.32pm BST22:32
That's all for now. We'll be back in about an hour and a half for coverage of tonight's prime-time quarter-final matchup between Japan's Naomi Osaka and Shelby Rogers of the United States. Thanks for following along with us and see you shortly.
10.28pm BST22:28
"I just started playing more aggressive," says Zverev, who rallied from 1-6, 2-4 down before steadying himself. "Because if I had played the way I played, this was not the level for a quarter-final match at a grand slam. I had to start playing better."
Asked about becoming the first German player since Boris Becker to reach the US Open semis, Zverev says: "It's a great accomplishment but I don't want to stop here, obviously. It's great to be in the semi-finals. Unfortunately, we haven't been there in 25 years for a German player. But I know there are going to be many more after me and I hope that I can continue going the way I'm doing."
10.15pm BST22:15
Zverev wins 1-6, 7-6, 7-6, 6-3!
Fourth set: Coric 6-1, 6-7, 6-7, 3-6
Zverev opens with a 114mph ace out wide, but Coric hits back with a pair of winners for 15-30. Zverev levels with a 135mph service winner but Coric pushes it to deuce. A misfire by Coric gives Zverev match point, but Coric saves with with a backhand passing winner. Moments later Zverev earns a second match point and this time he converts, crushing a 133mph serve down the middle that Coric can't return into the court. Zverev is through to the last four, becoming the first German man to reach the US Open semi-finals since 1995!
ATP Tour
(@atptour)

Will Sascha go all the way? 👀

See you in the @usopen semis, @AlexZverev! pic.twitter.com/HFJdj4UKfc

September 8, 2020
Updated
at 10.22pm BST
10.10pm BST22:10
Zverev breaks in eighth game of fourth set!
Fourth set: Coric 6-1, 6-7, 6-7, 3-5 Zverev*
Coric misfires on a passing shot at the net to go down love-15 on his serve. After another unforced error and a double fault, he's down 15-40 and faces a pair of critical break points. He saves the first with a forehand winner at the net, but Zverev rips a gorgeous forehand winner down the line past an onrushing Coric. All of a sudden, Zverev will step to the line to serve for a spot in the US Open semi-finals.
10.03pm BST22:03
Fourth set: *Coric 6-1, 6-7, 6-7, 3-4 Zverev
Zverev cracks his 16th and 17th aces to open the game before cruising to another comfortable hold. Still on serve in the fourth.
10.00pm BST22:00
Fourth set: Coric 6-1, 6-7, 6-7, 3-3 Zverev*
Coric is pushed in a service game for the first time since early in the third, going down 30-40 after his 36th and 37th unforced errors. But he saves a break point with a booming serve down the middle that Zverev dumps into the net, then follows with an ace and another unreturnable serve for the hold.
9.55pm BST21:55
Fourth set: *Coric 6-1, 6-7, 6-7, 2-3 Zverev
A disastrous start for Zverev, who quickly goes down love-40 under a hail of errors including his 11th double fault. But Coric wastes all three break-point chances with three consecutive unforced errors, all off the forehand side, for deuce. After another double fault gives Coric a fourth break chance, Zverev erases that one with a forehand winner, then wins the next two points for a very fortunate hold.
9.50pm BST21:50
Fourth set: Coric 6-1, 6-7, 6-7, 2-2 Zverev*
Coric holds from love-15 down. He's won 24 of the last 29 points on his serve outside of the tiebreaker, where he won just one of four.
Updated
at 9.50pm BST
9.45pm BST21:45
Fourth set: *Coric 6-1, 6-7, 6-7, 1-2 Zverev
Another stress-free hold for Zverev, who's on 44 winners against 40 unforced errors (compared to 29 and 32 for Coric, respectively).
9.43pm BST21:43
Fourth set: Coric 6-1, 6-7, 6-7, 1-1 Zverev*
Coric rights the ship with a love hold after that dodgy tiebreaker, going unreturnable, forehand drop-shot winner, ace, forehand winner from the baseline.
9.36pm BST21:36
Fourth set: *Coric 6-1, 6-7, 6-7, 0-1 Zverev
Zverev opens the fourth with an imperious love hold: his 15th ace, unreturnable serve, 134mph service winner, forehand passing winner. Coric looking deflated.
9.33pm BST21:33
Zverev wins third set, 7-6 (1)!
Third-set tiebreak: Coric 1-7 Zverev
Coric immediately goes down a minibreak after overcooking a backhand from the baseline on his serve. Zverev holds with a forehand winner and a 137mph service winner (upheld by a challenge), then pushes ahead 4-love and a second minibreak when Coric makes another unforced error from the back of the court. Coric holds on his next serve, but Zverev crushes a 134mph ace for 5-1 as the players change ends. He's in total control. Zverev wins the next point behind another massive serve and Coric will serve at 1-6. Facing a raft of set points, Coric sends a backhand into the net early on and Zverev has taken the third-set breaker in commanding fashion.
9.23pm BST21:23
Third set: Coric 6-1, 6-7, 6-6 Zverev
Zverev makes a couple of errors to go down 15-30 on his serve and Coric is two points from the set. But the German responds with a backhand passing winner, an overhand smash and a 135mph second-serve service winner on the next three points to force another tiebreaker.
9.19pm BST21:19
Third set: Coric 6-1, 6-7, 6-5 Zverev*
Coric answers with an easy hold of his own, finishing it off with a deft forehand volley winner at the net. Coric is 8-for-10 on net points after going 15-for-23 in the second (and only 1-for-1 in the opener). Zverev to serve to stay in the third set after the changeover.
9.16pm BST21:16
Third set: *Coric 6-1, 6-7, 5-5 Zverev
Coric leaves the court for a wardobe change yet again. This time with Zverev due to serve. At 4-5 in the third set of a major quarter-final no less. Dubious. If it's gamesmanship, it doesn't appear to have worked. Zverev holds comfortably, sealing the hold with a 136mph ace down the pipe.
9.13pm BST21:13
Third set: Coric 6-1, 6-7, 5-4 Zverev*
Another solid hold for Coric, who's played a far cleaner set in the third after a loose second: 11 winners against six unforced errors.
9.12pm BST21:12
Third set: *Coric 6-1, 6-7, 4-4 Zverev
Zverev goes down love-15 after getting passed by a perfect forehand winner on a net approach. But he wins four quick points from there, including a 132mph ace into the corner.
Meanwhile, the order of play for Wednesday is out with Pironkova v Serena and Rublev v Medvedev slated for the afternoon and Azarenka v Mertens and DeMinaur v Thiem set to play under the lights.
9.04pm BST21:04
Third set: Coric 6-1, 6-7, 4-3 Zverev*
Coric cruises to a drama-free hold. He's won eight of 10 points on his racket since getting broken while serving at 1-all.
9.01pm BST21:01
Third set: *Coric 6-1, 6-7, 3-3 Zverev
Zverev gets it back to deuce on his serve from love-30 down, saving a break point at 30-40. He then rips a 135mph ace down the center, but Coric pushes it back to deuce with a drop-shot winner to cap a 22-stroke rally. After saving another break point, Zverev crushes his 11th ace of the match to escape with the hard-won hold.
8.53pm BST20:53
Third set: Coric 6-1, 6-7, 3-2 Zverev*
A brisk service game for Coric, who punctuates the hold with a 111mph ace out wide.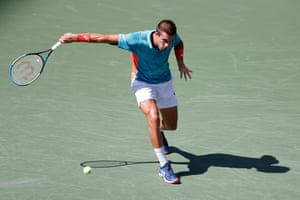 Borna Coric returns a shot during Tuesday's quarter-final. Photograph: Jason Szenes/EPA
Updated
at 8.59pm BST
8.49pm BST20:49
Coric breaks in fourth game of third set!
Third set: *Coric 6-1, 6-7, 2-2 Zverev
Zverev needs to consolidate the break to take this match by the scruff and he starts out miserably with back-to-back double faults, followed by an unforced error off a forehand for triple break point. Coric makes a pair of unforced errors to squander two of them, but Zverev misses an overhand badly on the next point to give the break right back. Not exactly highlight-reel stuff on either side at the moment.
Stephanie Myles
(@OpenCourt)

This is a great graphic, relating to Zverev's double-fault woes.
Tennis needs more stuff like this. pic.twitter.com/S6GMXWWHFk

September 8, 2020
Updated
at 8.50pm BST
8.45pm BST20:45
Zverev breaks in third game of third set!
Third set: Coric 6-1, 6-7, 1-2 Zverev*
Coric falls behind love-15, then 15-30, then 30-40 to give Zverev a break-point chance. And he makes the most of it, converting with backhand winner from the baseline to nose ahead in the match for the first time.
8.44pm BST20:44
Third set: *Coric 6-1, 6-7, 1-1 Zverev
Zverev holds from love-15 and 15-30 down, crushing a pair of blistering service winners along the way.
8.40pm BST20:40
Third set: Coric 6-1, 6-7, 1-0 Zverev*
Coric holds comfortably to open the third set, capping it with an overhand forehand winner at the net.
8.29pm BST20:29
Zverev wins second set, 7-6 (5)!
Second-set tiebreak: Coric 5-7 Zverev
Both men hold their serves over the first four points of the breaker. It's Zverev who blinks first, mixing in his seventh double fault of the afternoon to go down a minibreak. Coric to serve at 3-2. A grueling 30-stroke baseline rally ensues, ending when Coric sprays a backhand. We're back on level terms at 3-all as the players change ends. They continue to hold serve with one short point after another until Coric makes a cruciial unforced forehand error for 4-6, giving Zverev double set point. Coric saves the first, but the second is on Zverev's racket and he converts it with an assist from Coric, who goes for a winner on a backhand and sends it into the net!
8.18pm BST20:18
Second set: Coric 6-1, 6-6 Zverev
Coric is pushed to 30-all in a tense 12th game as Zverev gets within two points of squaring the match at one set apiece. But Coric responds with a pair of clutch serves that Zverev can't return into the court and we're headed to a second-set tiebreaker.
8.12pm BST20:12
Second set: *Coric 6-1, 5-6 Zverev
A quick hold by Zverev to put the pressure right back on Coric.
8.10pm BST20:10
Second set: Coric 6-1, 5-5 Zverev*
Coric holds comfortably, taking all four points at the net. Speaking of, he's come to net 18 times in this set alone (winning 11 points).
8.06pm BST20:06
Second set: *Coric 6-1, 4-5 Zverev
Zverev follows with a commanding love hold to consolidate the break and now Coric will serve to stay in the set after the change of ends. But before he does, Coric has left the court for yet another wardrobe change. It's the second time he's left the court for a change of clothes in the span of four games … and Zverev is not happy about it.
8.03pm BST20:03
Zverev breaks in eighth game of second set!
Second set: Coric 6-1, 4-4* Zverev
A whisper of a chance for Zverev as Coric misfires on a backhand to fall behind love-15 on his serve. Coric rattles off three quick points, but Zverev forces it to deuce with a drop shot that Coric can't retrieve followed by a sharp backhand from the baseline that Coric returns well over the baseline. Coric then misfires badly on a backhand and Zverev will have just his third break-point opportunity of the day … and he squanders it after pushing an easy backhand long. Another break-point chance surfaces moments later and this time Zverev converts it with a forehand passing winner at the end of an 18-shot exchange.
7.53pm BST19:53
Second set: *Coric 6-1, 4-3 Zverev
Zverev rolls through his service game, capping a love hold with his eighth and ninth aces of the day. But he will need to make headway on Coric's serve, and soon, if he hopes to avoid falling into two-sets-to-none hole.
7.51pm BST19:51
Second set: Coric 6-1, 4-2 Zverev*
Coric pops his second ace of the day for 40-love. He then misfires on forehand before making his first double fault for 40-30, but Zverev complies with another unforced error on the next point, allowing Coric to back up the break.
7.45pm BST19:45
Coric breaks in fifth game of second set!
Second set: *Coric 6-1, 3-2 Zverev
With Zverev serving at 15-love, the line judge calls a ball out after Coric hits a return. It should have been Zverev's point for 30-love, but instead they will replay it at chair umpire Eva Asderaki's discretion. Zverev is furious, appealing to Asderaki and then the tournament referee in vain. His initial response is positive as he cracks back-to-back aces for 40-love. But Coric wins the next two points before Zverev double-faults yet again for deuce. A very important moment in this match. Coric wins the next point, outlasting Zverev in the longest rally of the match so far (22 strokes) for a break point. Zverev saves it with an overhead winner, but faces a second break point moments later. This time Coric converts as dumps a backhand into the net for his 20th unforced error of the afternoon. Coric leads by a set and a break as the match enters the second hour.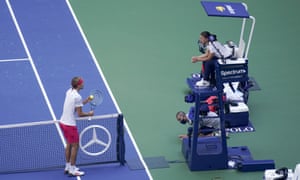 Alexander Zverev pleads his case to the match umpire, Eva Asderaki. Photograph: Seth Wenig/AP
Updated
at 8.59pm BST
7.28pm BST19:28
Second set: *Coric 6-1, 1-2 Zverev
Zverev is pushed to deuce after mixing in his fourth double fault of the afternoon, but he responds with a 137mph service winner to the body and a 134mph ace out wide to get away with the hold.
7.26pm BST19:26
Second set: Coric 6-1, 1-1 Zverev*
Another easy hold for Coric, who has continud to cruise through his service games since getting pushed at 3-1 in the first.
7.20pm BST19:20
Second set: *Coric 6-1, 0-1 Zverev
Zverev needs a stress-free service game after his disatrous opening set and he gets one, going backhand volley winner at the net, 120mph service winner, 136mph ace and 135mph ace to hold at love.
7.17pm BST19:17
Coric wins first set, 6-1!
First set: Coric 6-1 Zverev
Coric breezes through another service game to take the opening set in a brisk 24 minutes. Three double faults (all in the fourth game) and 12 unforced errors for Zverev, who did more to lose it than Coric did to win.
US Open Tennis
(@usopen)

Running away with it 😳@borna_coric takes the first 6-1 over Zverev.#USOpen pic.twitter.com/haqCABSbyx

September 8, 2020
Updated
at 7.22pm BST
7.14pm BST19:14
Coric breaks in sixth game of first set!
First set: *Coric 5-1 Zverev
After only five games, Coric changes his shirt during the changeover. But the conditions are quite pleasant at the moment: 82F with low humidity, no wind and the shade beginning to encroach over Arthur Ashe Stadium. Meanwhile, Zverev's game has come apart at the seams since those three double faults serving at 1-2. After quickly going down love-40 on his serve, he saves two break points before making an unforced error off the forehand side to gift another the break to Coric, who will serve for the set.
7.07pm BST19:07
First set: Coric 4-1 Zverev*
Coric is spraying groundstrokes all over the place and suddenly he's down 15-40 and facing double break point. A huge opportunity early for Zverev to erase an early blunder. Coric saves the first with a 123mph service winner, then the second with a sharply angled backhand early in the point that Zverev can't handle. Moments later Coric escapes, holding from 15-40 down to consolidate the break of serve. A big moment in the early stages of this quarter-final.
7.03pm BST19:03
Coric breaks in fourth game of first set!
First set: *Coric 3-1 Zverev
Zverev makes a couple of double faults for 15-30. Then, surprisingly, makes another for 30-40 and he will face his first break point of the day. Coric wastes no time converting it when Zverev misfires on a backhand volley at the net at the end of a 12-stroke rally. It's the first break of the match and Zverev handed it to Coric on a silver platter with his first three double faults of the day.
7.00pm BST19:00
First set: Coric 2-1 Zverev*
Another easy hold for Coric, who is dialed in on his serve to start the day.
This marks only the second grand slam tournament in the open era (since 1969) with no former major champions in the quarter-finals. The other was Wimbledon in 2003.
6.54pm BST18:54
First set: *Coric 1-1 Zverev
Zverev answers with a love hold of his own: 138mph ace down the middle, 132mph ace out wide, 121mph service winner out wide and a booming forehand winner from the baseline early in the point.
6.52pm BST18:52
First set: Coric 1-0 Zverev* (*denotes next server)
Coric holds at love to start, cracking a 124mph service winner down the pipe along the way.
Though he's yet to crack the ATP top 10 – peaking at No 12 in the rankings toward the end of 2018 – Coric has won 14 career matches against top-10 opponents. The most recent came in the third round of this year's US Open when he rallied from two-sets-to-one and 5-1 down in the fourth set, saving six match points to upset world No 6 Stefanos Tsitsipas.
Updated
at 6.54pm BST
6.48pm BST18:48
The players have taken the court for today's first men's semi-final. Coric holds a 3-1 edge in the head-to-head series with fellow 23-year-old Zverev, including a four-set upset win in the second round the 2017 US Open where he saved 10 of 11 break points.
Their history at Flushing Meadows goes back even further. They faced off as 16-year-olds in the 2013 US Open boys' singles semi-finals with Coric winning 6-4, 3-6, 6-0 en route to the title, which vaulted him to No 1 in the world junior rankings. They grow up so fast!
6.29pm BST18:29
Hello and welcome to Arthur Ashe Stadium for the start of today's US Open quarter-finals. Jennifer Brady of the United States has finished off a 6-3, 6-2 win over Kazakhstan's Yulia Putintseva to reach her first career major semi-final. She will face the winner of tonight's second women's quarter between Naomi Osaka and Shelby Rogers for a place in Saturday's final.
Next on Ashe is the first men's quarter-final match between No 27 seed Borna Coric and fifth-seeded Alexander Zverev. The players should be on court shortly and we'll pick it up with game-by-game coverage from there.
4.55pm BST16:55
Bryan will be here shortly, in the meantime here are his thoughts on the Novak Djokovic saga:
A US Open bound to be remembered for oddities like empty stadiums, social distancing and bubbles within bubbles took its strangest detour yet on a sweltering Sunday afternoon in Queens when Novak Djokovic, the best player in the world and top seed in the men's draw, was defaulted from his fourth-round match with Spain's Pablo Carreño Busta after accidentally hitting a line judge in the throat with a ball struck in a moment of ill temper.
he shock expulsion was, as the USTA's statement quickly clarified, the correct decision regardless of Djokovic's intent, and one that has further rocked a tournament already compromised by absent holders and watered-down fields. We may be through with 2020, but 2020 ain't through with us.
You can read the full story below:
Early Ancient History, or the Ante-Greek Period, as It Appears to Us Since the Most Recent Discoveries in Egypt and Assyria: With References to Wilkin - broché

Menzies, Henry (Auteur) -

Mes recettes healthy #2: BAM ! 80 recettes fitfightforever pour te transformer

Rayne Planche Longboard Rayne Darkside (Skull)

Come join the Darkside with Rayne Longboards For a Freeriding dreamboat of a downhill longboard, it really does not get any better than the Darkside decks from Rayne. Positively smothered in techy delicious details, such as radial drops for downhill leverage and control.

YouTube

Browse by interest - Discover videos you'll love in categories like music, entertainment, news, gaming, and more. All from the comfort of your couch. Supports multiple accounts - Everyone at home can sign into YouTube with a Google account to see recommendations, subscriptions, and playlists. Play YouTube videos from your phone on the TV - It's easy to enjoy videos with friends and family. Simply find the videos you want to watch on your phone, then send them to your TV with a single tap. Search by voice - Quickly and easily find what you want to watch using voice search. Watch movies and shows - Stay entertained with thousands of movies and TV episodes available to own, rent, or watch for free. Enjoy music on the big screen - Find music videos featuring your favorite artists, songs, live performances and more. Discover new music based on your tastes and what's trending around you. Watch videos in 4K - YouTube is home to the world's largest library of online 4K content. Enjoy high-definition videos on the biggest screen in the house – from scenic nature videos to movie and video game trailers and more. (Requires a 4K-capable device.)

Element Skateboard Complet Element Ghostbusters (Slimer)

Take a leap back in time with a complete Ghostbusters skateboard The Complete Ghostbusters Skateboard by Element is paying as a tribute to the classic TV films from the 1980s. It comes in a classic popsicle shape with double kicktail and a medium concave construction.

Ring Fit Adventure pour Nintendo Switch

Faites du sport tout en vous amusant avec Ring Fit Adventure ! Munis des accessoires présents dans la boite du jeu partez à l'aventure et réalisez des mouvements de sports pour avancer dans les niveaux. Poussez sur le Ring-Con et vous enverrez un choc sur vos ennemis ! A la fin de chaque exercice, mesurez même votre rythme cardiaque et découvrez le nombre de calories dépensées.