7.28pm BST19:28
29th over: England 131-4 (Bairstow 64, Billings 28) Oof. Bairstow clouts Cummins over midwicket for a big six, his third in the last five overs. An affronted Cummins ends the over with a stunning delivery that beats Billings.
7.23pm BST19:23
28th over: England 122-4 (Bairstow 57, Billings 27) The offspinner Glenn Maxwell replaces Mitchell Marsh and goes round the wicket straight away. England settle for low-risk milking in his first over: five singles, a two and a bonus wide. England need 174 from 132 balls.
7.19pm BST19:19
27th over: England 114-4 (Bairstow 52, Billings 25) Pat Cummins returns to the attack – and disappears for 15. Billings drives confidently over extra cover for his first boundary, and then top-edges consecutive pull strokes for four and six.
"Not sure if we're allowed to be optimistic on the OBO," says Ben Mimmack, "but if England win it from here, this will be an amazing two hours or so of entertainment."
And we'll see one of the great ODI innings.
7.14pm BST19:14
26th over: England 99-4 (Bairstow 51, Billings 11) Bairstow works Marsh off the pads for two to reach a laborious half-century. He's been in abysmal touch almost throughout, yet has fought like a beast to keep England in the match. And he might have willed his way back into form. His first 25 runs took 60 balls, the second 25 just 18.
Billings then survives another big LBW shout from Marsh. It didn't have much going for it: he was on the walk, probably outside the line, and it looked high.
7.09pm BST19:09
25th over: England 96-4 (Bairstow 48, Billings 11) A long hop from Zampa is walloped over midwicket for six by Bairstow, who was been waiting all night to sweet-spot something like that. Bairstow misses a mighty slog sweep at the next delivery and is almost bowled, then drives sweetly over wide long-on for six more. Great stuff, and an excellent over for England: 15 from it.
7.05pm BST19:05
24th over: England 81-4 (Bairstow 33, Billings 11) Six from Marsh's over.
7.01pm BST19:01
23rd over: England 75-4 (Bairstow 29, Billings 9) Billings survives another big LBW appeal after missing a sweep at Zampa. It looked just outside the line and Aaron Finch decides not to risk Australia's final review. England are in all sorts of trouble here.
6.58pm BST18:58
22nd over: England 70-4 (Bairstow 29, Billings 4) Mitchell Marsh comes on to replace his brother Starc. Billings, like most of the England batsmen, is really struggling to pierce the infield. He can only take a leg-bye off the last ball of Marsh's over, which means he has 4 from 20 balls. The required rate is more than eight an over.
6.53pm BST18:53
21st over: England 69-4 (Bairstow 29, Billings 4) A superb over from Zampa to Billings, who doesn't know which way it's spinning. Australia are all over England like a cheap cliche. It's been a merciless performance in the field, very similar to their demolition job at Lord's during last year's World Cup.
6.52pm BST18:52
Billings is not out! He didn't need umpire's call; ball-tracking showed it was just clearing leg stump. That's fine umpiring from David Millns because it was a seductive appeal.
6.51pm BST18:51
Australia review for LBW against Billings! It was a delicious googly from Zampa, and this looks close. Height should save Billings though, especially as he has umpire's call in his favour.
6.50pm BST18:50
20th over: England 68-4 (Bairstow 29, Billings 3) The tougher the challenge, the greater the opportunity, and a matchwinning century tonight would change Sam Billings' life. He is taking his time to get his eye in, with 3 from 8 balls. Bairstow continues to struggle on, clouting a pull towards cow corner for two. He has 29 from 67 balls.
6.45pm BST18:45
19th over: England 63-4 (Bairstow 26, Billings 1) I've just watched the Labuschagne catch again and it looks clean to me. His hand skidded along the floor but he twisted it so that the ball wasn't touching the ground. That said, my eye prescription gets worse by the year, so for all I know he could have started scrubbing the turf with it.
Bairstow survives a big LBW shout after missing a sweep at Zampa. Outside the line. Bairstow. bless him, is in woeful nick but is fighting so hard. Possibly too hard. He's called for a different bat grip in the hope it will make a difference.
Updated
at 6.46pm BST
6.41pm BST18:41
18th over: England 61-4 (Bairstow 25, Billings 0) Lovely, aggressive captaincy from Aaron Finch, who brings back Mitchell Starc with a view to taking the wicket(s) that would finish England off. Since they slipped to 123 for five halfway through their innings, Australia have been spectacularly good.
"Nobody on the telly has noticed, but Labuschagne dropped that catch off Buttler," says Nail Ashby. "It rolled along the floor before he threw it up, me thinks."
Really? It escaped me as well if so. I'll have a look next time they show a replay.
6.36pm BST18:36
17th over: England 58-4 (Bairstow 22, Billings 0) Billings survives a huuuuuuge shout for LBW from Zampa. I'm pretty sure there was an inside edge; Adam Finch decides not to review. Edit: there was a big inside edge.
"I am no longer looking forward to seeing how the innings pans out," says Matt Dony.
Updated
at 6.36pm BST
6.33pm BST18:33
WICKET! England 57-4 (Buttler c Labuschagne b Zampa 1)
Game over! Zampa has picked up the huge wicket of Jos Buttler. He sliced a lofted drive towards long off, and at first it looked like Labuschagne had misjudged it. But he hurtled towards the ball and dived forward to take an outstanding low catch.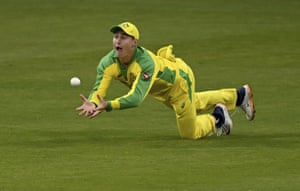 Marnus Labuschagne takes an outstanding catch to dismiss Jos Buttler. Photograph: Shaun Botterill/AP
Updated
at 6.43pm BST
6.31pm BST18:31
16th over: England 57-3 (Bairstow 21, Buttler 1) Hazlewood continues, despite taking some punishment in his previous over, and beats Bairstow on the inside for the third or fourth time tonight.
"I really hope JB gets a ton," says Austin Baird. "It will surely underline what a fantastic player he is even though not everything goes how you want it."
Yes, that's a nice little subgenre – the one-day century that starts with the batsman in poor nick. It takes a lot of mental strength. Mike Atherton scored a great hundred against West Indies in 1995 having been, I think, 0 from 26 balls. At the start he couldn't middle a thing; by the end he was driving Ian Bishop over extra cover for six.
6.27pm BST18:27
15th over: England 55-3 (Bairstow 20, Buttler 0) The new batsman is the in-form Jos Buttler.
6.25pm BST18:25
WICKET! England 55-3 (Morgan c Maxwell b Zampa 23)
Adam Zampa strikes in his first over! That's a huge moment because Morgan was looking so dangerous. He pulled Zampa firmly towards midwicket, where Maxwell took a smart catch.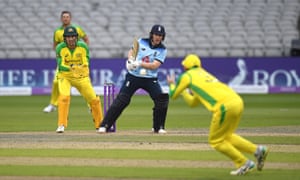 Eoin Morgan hits the ball straight to Glenn Maxwell who takes a smart catch. Photograph: Gareth Copley/.
Updated
at 6.34pm BST
6.20pm BST18:20
14th over: England 48-2 (Bairstow 19, Morgan 23) After conceding five runs from his first six overs, Hazlewood's seventh disappears for 14. It starts when Bairstow finally gets hold of an attacking shot, slapping a short ball through backward point for four. Then Morgan, on the charge, blasts a thrilling six over wide long off. This is an admirable counter-attack, 23 from 16 balls. The other England batsmen have scored 23 from 68 between them.
Updated
at 6.22pm BST
6.16pm BST18:16
13th over: England 34-2 (Bairstow 12, Morgan 16) Morgan steals a quick single to Warner, who misfields and gives England another couple of runs. Morgan is doing everything he can to put pressure back on Australia; it's fascinating to watch. After swaying out of the way of two sharp bouncers – there are two men out on the hook now – he charges Cummins and batters the ball over mid-off for a couple. He has 16 from 13 balls, Bairstow 12 from 42.
6.11pm BST18:11
12th over: England 28-2 (Bairstow 11, Morgan 11) Bairstow plays a one-handed drive off Hazlewood that bounces short of mid-off. Then he mistimes a pull stroke and is hit in the arm. I'd love to hear his internal monologue right now; his facial expression suggests he is not entirely without rage.
Another maiden from Hazlewood, his third of the innings, includes an unsuccessful appeal for caught behind when Bairstow is beaten on the inside by a big nipbacker. It brushed his thigh, that was it. This is pretty awesome from Hazlewood: 6-3-5-2.
6.07pm BST18:07
11th over: England 28-2 (Bairstow 11, Morgan 11) Eoin Morgan wasn't born to die wondering. He has had trouble with the short ball against Australia in the past but still has the conviction to hook Cummins emphatically for four. He has 11 from 9 balls and has changed the mood ever so slightly.
At the other end, Bairstow's innings is verging on the excruciating: 11 from 34 balls, and he has barely middled any of them. To his credit, he still wants to be out there. There are plenty who would have thrown the towel in by now.
"Well, I'd had quite a decent day but these brilliant Aussie quicks are doing their best to curdle my evening, Rob," says Guy Hornsby. "What a fearsome trio they are. If you survive one then the next one's waiting, much like a certain attack in the 80s and 90s. I'm not even going to say these two will find a way out of it, because… I'm not going to be that guy. It certainly sounded a bit eerie as I just passed the ground in the tram home. Still, I've got some Trappist ales lined up at home in case I end up needing something a bit stronger to offset the angst. Praise the lord!"
6.03pm BST18:03
10th over: England 22-2 (Bairstow 10, Morgan 6) Bairstow has 10 from 30 balls and is getting increasingly frustrated at his inability to tonk fours and sixes like he usually does.
6.02pm BST18:02
REVIEW! England 22-2 (Bairstow not out 10)
Jonny Bairstow is given out LBW – but he successfully reviews the decision. He fell over a delivery from Hazlewood that was angled in and would just have missed leg stump.
Updated
at 6.03pm BST
5.58pm BST17:58
9th over: England 20-2 (Bairstow 8, Morgan 6) Morgan rifles Cummins through mid-off for four, a beautifully timed stroke that takes England's run-rate above two an over. The required rate is still fine (6.7); the worry is how many more wickets England will lose in the next hour.
"Hello Rob," says Geoff Wignall. "In the T20s, there was emphasis on having Buttler at the top of the order so as to maximize the overs available to him. Seems England are adopting a different method to allow him plenty of batting time today."
5.53pm BST17:53
8th over: England 14-2 (Bairstow 7, Morgan 1) The new batsman is Eoin Morgan, who will surely try to hit England out of trouble like he did in that Champions Trophy game in 2017. It's easier planned than done against this attack. Hazlewood's figures: 4-2-3-2.
"You're going to appear on an 80s & 90s cricket podcast?" says Matt Dony. "Stepping out of your comfort zone, there, Rob? I jest, of course. Maxwell in full flow is a thrilling sight, but I can see Morgan taking it as a challenge. Looking forward to seeing how this innings unfolds."
That makes one of us. I fear this could be a good old-fashioned doing.
5.49pm BST17:49
WICKET! England 13-2 (Root c Carey b Hazlewood 1)
Root is put out of his misery by another jaffa from Hazlewood. It straightened to take the edge as Root fiddled outside off stump, and Alex Carey did the rest. This is stunning new-ball bowling from Hazlewood, who has two for two from 3.1 overs.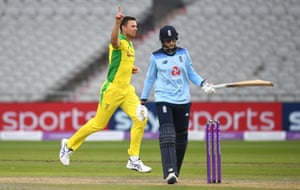 Josh Hazlewood celebrates the wicket of Joe Root. Photograph: Gareth Copley/.
Updated
at 6.27pm BST
5.48pm BST17:48
7th over: England 13-1 (Bairstow 7, Root 1) Pat Cummins replaces Mitchell Starc. Root gets off the mark from his ninth delivery, pulling a single round the corner, but England are going nowhere in a hurry: they're scoring at less than two an over. Australia's bowling has been relentless.
5.41pm BST17:41
5th over: England 11-1 (Bairstow 6, Root 0) A short delivery from Starc is cuffed over cover for four by Bairstow. He needed that, as did England.
"When you did a ball-by-ball report on a football match, you wrote that VAR was making referees wary of making decisions that could be overturned – but this is a criticism that is never levelled by you, or your colleagues, against Hawkeye and its effect on umpires," says Peter Hillmore. "Surely they are the same?"
I don't think they're quite the same – cricket focusses on a few specific decisions, and it also has umpire's call. Plus the pressure on referees is far greater than umpires, which is one of the reasons I think some of them have become afraid of their own shadow. But it has affected some umpires too.
5.35pm BST17:35
4th over: England 7-1 (Bairstow 2, Root 0) Roy made 3 from 12 balls. The new batsman Joe Root is beaten by his first delivery, which completes a wicket maiden from Hazlewood.
5.34pm BST17:34
WICKET! England 7-1 (Roy ct and b Hazlewood 3)
This is the first time Roy has faced Australia since his Ashes horribilis, so maybe that's in his mind as well. He's really struggling to time the ball – and then the moment he does get hold of a shot, Hazlewood takes a blinding return catch! Roy drove the ball back towards Hazlewood, who stuck out his right hand in his follow through to take a super low catch.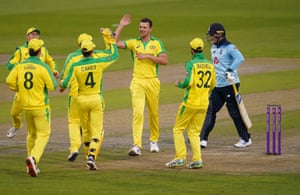 Josh Hazlewood celebrates as Jason Roy walks, out for three. Photograph: Jon Super/./.
Updated
at 5.57pm BST
5.30pm BST17:30
3rd over: England 7-0 (Roy 3, Bairstow 2) Roy muscles a pull through midwicket for three to get off the mark. He didn't time it particularly well, and it's obvious that both these batsmen are straining for their usual fluency.
5.25pm BST17:25
2nd over: England 3-0 (Roy 0, Bairstow 1) Josh Hazlewood starts with a wide to Jonny Bairstow, who is then beaten on the inside by a good nipbacker. England have started with unusual caution, probably for a couple of reasons: the ball is doing a bit and the openers aren't in great form.
5.22pm BST17:22
1st over: England 1-0 (Roy 0, Bairstow 0) Jason Roy hasn't been in great form since lockdown, with 43 runs in six innings across all forms of the game, and he plays and misses three times in Mitchell Starc's first over. A leg-side wide gets England off the mark.
"'Afternoon, Rob," says John Starbuck. "It looks like the ECB should be taking a knee after shooting themselves in the foot (again)."
5.15pm BST17:15
Those of a certain age and/or persuasion may be interested in this. (Full disclosure department: I'll be on it next week.)
The 80's and 90's Cricket Show
(@CricShow80s90s)

Episode 1 is here!

We take a look at the 1990 Tour of the West Indies and assess Ian Botham's career after 1981.

The 80's and 90's Cricket Show https://t.co/8moE7trQCT via @acast

September 7, 2020
5.09pm BST17:09
Thanks Tim, hello everyone. England asked for it and now they've got it: a stiff test on a slowish pitch. Australia only have one full-time spinner, but this looks a big ask even for England. And they asked for it!
Updated
at 5.12pm BST
5.02pm BST17:02
Sky are featuring England's disability cricketers, who won the Ashes 8-0. In Australia! On that happy note, it's time for me to hand over to Rob Smyth, who could be covering anything from a triumphant chase to a twilight rout. Thanks for your company, your quips and your views on taking the knee, which (ECB please note) is opposed by not one of our correspondents.
4.48pm BST16:48
Australia finish on 294
50th over: Australia 294-9 (Starc 19, Hazlewood 0) Before the wicket, Woakes got two slower balls past the bat and over the stumps. But after it, he gets it all wrong with a length ball that Starc can swing for six. Even given their rather constipated last ten overs, Australia can be delighted with that total after being 123 for five. England will need 295, which would be a record chase in an ODI at Old Trafford. The pitch is doing plenty, and I'd say Australia were slight favourites – but Morgan, Buttler and co. are champion chasers. It's still beautifully poised.
Updated
at 4.52pm BST
4.45pm BST16:45
Wicket! Zampa c & b Woakes 5 (Australia 288-9)
England's slower balls prove too much for Zampa, who gives the simplest of return catches.
Updated
at 5.20pm BST
4.39pm BST16:39
49th over: Australia 286-8 (Starc 12, Zampa 4) Wood's last over is another good one, mainly slower balls short of a length. Presented with a run-out chance, Wood takes a left-foot shot that hits the stumps without being sharp enough to bag the wicket. "He'll be talking about that for the foreseeable," says Broad. Wood finishes with three for 54. England's pace aces have both been good, but maybe that means that Australia's pace aces will all enjoy themselves.
Updated
at 4.40pm BST
4.34pm BST16:34
48th over: Australia 282-8 (Starc 10, Zampa 3) Starc takes over as the main man, lofting Archer over mid-on. "He's a powerful striker of the ball," says Stuart Broad – takes one to know one. Archer finishes with three for 57. He's been a different person since he got his hands on the white ball.
4.32pm BST16:32
47th over: Australia 273-8 (Starc 4, Zampa 0) An admirable over from Wood, with a wicket and no boundaries. Marsh was staunch, but he didn't hit many fours – only six off 100 balls.
Updated
at 4.32pm BST
4.30pm BST16:30
Wicket! Marsh LBW b Wood 73 (Australia 273-8)
Out! It was hitting leg, and the last recognised batsman has gone, after an innings that was straight from the 1970s. Well bowled Wood,
4.29pm BST16:29
Wicket? Marsh given LBW b Wood 73
Struck in front, but it could be going down…
4.23pm BST16:23
46th over: Australia 264-7 (Marsh 66, Starc 3) Stuart Broad, commentating, reckons England have had a conference and agreed to bowl every kind of slower ball – knuckle, leg-cutter, off-cutter – to protest that short boundary. Archer nearly picks up a fourth wicket as Mitchell Starc hooks a bouncer up in the air, but Billings racing in from the deep, can't quite cling on. Only five off the over: Archer has three for 48 from his nine.
4.20pm BST16:20
Wicket! Cummins c Morgan b Archer 9 (Australia 259-7)
Another one! A knuckle ball from Archer, a skyer from Cummins, a slight fumble from Morgan at short extra but he holds on, dislocated finger and all.
4.17pm BST16:17
45th over: Australia 259-6 (Marsh 64, Cummins 7) Wood joins Archer, so it's hot stuff at both ends – but Pat Cummins is equal to it, shovelling a pull for four. Nine off the over, so 300 is still on. Morgan, in the infield, is wearing not two caps but three, which may be a record.
Powerslide Roller Freeskate Powerslide One Zoom 100 (Noir)

Grab a set of skates that will make your urban exploring far more fun and exciting! You will always feel in maximum control in a pair of Zoom skates, thanks to the low stand height, hardboot construction, and comfortable dual fit liner. Take them out in the city and enjoy the nimble handling.

YouTube

Browse by interest - Discover videos you'll love in categories like music, entertainment, news, gaming, and more. All from the comfort of your couch. Supports multiple accounts - Everyone at home can sign into YouTube with a Google account to see recommendations, subscriptions, and playlists. Play YouTube videos from your phone on the TV - It's easy to enjoy videos with friends and family. Simply find the videos you want to watch on your phone, then send them to your TV with a single tap. Search by voice - Quickly and easily find what you want to watch using voice search. Watch movies and shows - Stay entertained with thousands of movies and TV episodes available to own, rent, or watch for free. Enjoy music on the big screen - Find music videos featuring your favorite artists, songs, live performances and more. Discover new music based on your tastes and what's trending around you. Watch videos in 4K - YouTube is home to the world's largest library of online 4K content. Enjoy high-definition videos on the biggest screen in the house – from scenic nature videos to movie and video game trailers and more. (Requires a 4K-capable device.)

Life in England and Australia: Reminiscences of Travels and Voyages Over One Hundred Thousand Miles, or Forty Years in the Wilderness[; A Memorial of - broché

McCure, John Bunyan (Auteur) -

Mes recettes healthy #2: BAM ! 80 recettes fitfightforever pour te transformer

The First International Railway and the Colonization of New England - Autres

Poor, Laura Elizabeth, Poor, John A. (Auteur) -

Ring Fit Adventure pour Nintendo Switch

Faites du sport tout en vous amusant avec Ring Fit Adventure ! Munis des accessoires présents dans la boite du jeu partez à l'aventure et réalisez des mouvements de sports pour avancer dans les niveaux. Poussez sur le Ring-Con et vous enverrez un choc sur vos ennemis ! A la fin de chaque exercice, mesurez même votre rythme cardiaque et découvrez le nombre de calories dépensées.