11.38pm BST23:38
"First I want congratulate Vika," says Osaka after becoming the first woman in 26 years to win a US Open final after dropping the opening set. "Actually don't want to play you in any more finals. I didn't really enjoy that. It was a really tough match for me. And, yeah, it's really inspiring for me because I used to watch you play here when I was younger. So just to have the opportunity to play you is really great and I learned a lot, so thank you."
She continues: "And then I want to thank my team – they're over there somewhere – just for sticking with me. I know the beginning of the year wasn't that great. Thank you for believing with me."
Asked what message she wanted to send by wearing seven masks with seven different victims of police violence before her seven matches over the past fortnight, Osaka is to the point.
"What was the message that you got?" she says. "That's more the question. The point is to make people start talking."
She adds: "For me, I've been inside of the bubble so I'm not really sure what's really going on in the outside world. All I can tell is what's going on on social media and for me I feel like the more retweets it gets – that's so lame but … – the more people talk about it."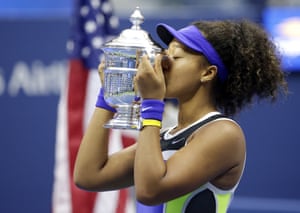 Naomi Osaka celebrates with the championship trophy after defeating Victoria Azarenka on Saturday afternoon. Photograph: Jason Szenes/EPA
11.21pm BST23:21
"I thought the third time was the charm but I guess I'm going to have to try again," an emotional Azarenka says during the trophy ceremony. "Congratulations to Naomi … I hope we can meet in some more finals again."
doublefault28
(@doublefault28)

pic.twitter.com/o7lZh9oHh3

September 12, 2020
11.11pm BST23:11
Naomi Osaka wins 1-6, 6-3, 6-3!
Third set: Osaka 1-6, 6-3, 6-3 Azarenka
Azarenka wins the opening point on Osaka's serve with a sharp forehand her opponent can't wrangle back into play. But Osaka follows with forehand winner, a 101mph service winner and an 81mph second-serve unreturnable for a pair of championship points. A 12-stroke rally follows ended with Osaka overcooking a backhand to waste the first. But she converts the second after another extended baseline rally that ends with Azarenka dumping a backhand into the net. Naomi Osaka is your 2020 US Open women's singles champion!
US Open Tennis
(@usopen)

Take it all in, @naomiosaka.#USOpen pic.twitter.com/7SLODlepn7

September 12, 2020
Updated
at 11.19pm BST
11.07pm BST23:07
Osaka breaks in eighth game of third set!
Third set: *Osaka 1-6, 6-3, 5-3 Azarenka
Azarenka overcooks a forehand on the run on her serve to go love-15 down, then Osaka nets a forehand for 15-all. Azarenka follows with a forehand volley winner at the net for 30-15, her ninth winner of the set compared to Osaka's 10. Osaka then comes to net for another winner and 30-all. Next Osaka outlasts Azarenka over a grueling 14-shot baseline rally for 30-40 and break point. And Azarenka nets a forehand early in the following point to be broken. Oh dear! That could well be curtains. Osaka will step to the line to serve for the championship.
11.01pm BST23:01
Third set: Osaka 1-6, 6-3, 4-3 Azarenka*
Last chance saloon for Azarenka, perhaps, who crunches a return winner followed by a forehand winner for deuce from 40-15 on Osaka's serve. Azarenka follows with a forehand winner, then Osaka chips in a bad misfire off a backhand to gift Azarenka the break. It's Osaka's 24th unforced error of the match against 31 winners. We're back on serve in the third.
10.55pm BST22:55
Third set: *Osaka 1-6, 6-3, 4-2 Azarenka
Azarenka is pushed to 15-all, then 15-30 in an absolute must-hold service game. Another sharply angled forehand by Osaka that Vika can't handle makes it 15-40 and Osaka has two break points to take this match by the scruff. Azarenka saves them both in quick order, but Osaka wins the next point for a third chance at a break. She saves that one, too, when Osaka just misses on an attempted cross-court backhand winner. Another marathon unfolds across a couple more deuce points until Osaka rips another backhand winner for a fourth break-point chance. Azarenka is able to fight it off and escape with the hold after nearly 10 minutes, closing it out with a 91mph second-serve ace.
US Open Tennis
(@usopen)

1-2 punch 👊

Can Vika mount a comeback [email protected] I #USOpen pic.twitter.com/tAKI44pxbP

September 12, 2020
Updated
at 10.56pm BST
10.47pm BST22:47
Third set: Osaka 1-6, 6-3, 4-1 Azarenka*
A very loose service game for Osaka, who quickly goes down love-40 and triple break point on her serve. But she brushes all three of them aside with a forehand winner and a pair of unreturnable serves, then holds comfortably from deuce. What an escape! That hold from love-40 down may well be the decisive moment with Osaka now two games from the title. She's a cool customer, that Naomi. But we already knew that.
10.42pm BST22:42
Osaka breaks in fourth game of third set!
Third set: *Osaka 1-6, 6-3, 3-1 Azarenka
Azarenka goes down 15-30 on her serve, then mixes in her second double fault of the day for 15-40 and double break point. She saves the first with her 23rd winner (against 19 unforced errors), but Osaka gets the break with a punishing backhand winner at the end of a 16-stroke rally that Azarenka can't get back over the net. The 2018 US Open champ noses out in front in this third and deciding set.
10.36pm BST22:36
Third set: Osaka 1-6, 6-3, 2-1 Azarenka*
Osaka holds easily from love-15 down, closing out the game with her sixth ace. She's won 80% of her first-serve points in third set, up from 65% in the second and 44% in the first.
10.34pm BST22:34
Third set: *Osaka 1-6, 6-3, 1-1 Azarenka
Azarenka answers with a business-like hold of her own, pumping herself with a couple of "Come on!" exhortations after winners.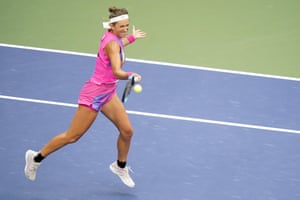 Victoria Azarenka returns a shot to Naomi Osaka during Sunday's final. Photograph: Frank Franklin II/AP
10.31pm BST22:31
Third set: Osaka 1-6, 6-3, 1-0 Azarenka*
Osaka holds comfortably to open the third set, closing out the game with her 23rd and 24th winners (against 18 unforced errors). She's won seven of the last eight games. A complete 180.
10.29pm BST22:29
Osaka wins second set, 6-3!
Osaka breaks in ninth game of second set!
Second set: Osaka 1-6, 6-3 Azarenka
Osaka pushes Azarenka to deuce from 40-15, then overcooks a backhand from the baseline to go break and set point down. She saves it with an assist from another Osaka unforced error, only for Osaka to earn another break chance after a few more deuce points. This time Osaka converts with a crisp backhand winner from the baseline, breaking in a marathon game spanning 16 points over nine minutes, and we're heading to a decider.
10.15pm BST22:15
Second set: Osaka 1-6, 5-3 Azarenka*
Osaka has found her serve. She's pushed to 30-all but then goes 112mph ace down the pipe followed by backhand winner early in the point. Now Azarenka will serve to stay in the second set.
10.12pm BST22:12
Osaka breaks in seventh game of second set!
Second set: *Osaka 1-6, 4-3 Azarenka
A momentary lull in an Azarenka service game and she's quickly down love-40. She saves the first with a big forehand Osaka can't return, but then overcooks a backhand on the approach and now Osaka is up a break.
10.12pm BST22:12
Second set: Osaka 1-6, 3-3 Azarenka*
Osaka breezes through a love hold, going service winner, service winner, forehand winner, 107mph ace out wide.
10.05pm BST22:05
Second set: *Osaka 1-6, 2-3 Azarenka
Azarenka delivers her most imperious hold yet, cracking a pair of aces and an 82mph second-serve service winner.
10.03pm BST22:03
Second set: Osaka 1-6, 2-2 Azarenka*
Osaka holds from love-15, pounding a pair of 109mph aces along the way to consolidate the break for 2-all. Osaka has been serving an average of 12mph faster than Azarenka on the day, but she's got only 70% of her first serves in (compared to 90% for Vika).
wta
(@WTA)

She's finding the fight 👍

After trailing 0-2, Osaka grinds back to pull even at [email protected] | #USOpenpic.twitter.com/bnopxiKGM3

September 12, 2020
Updated
at 10.06pm BST
9.59pm BST21:59
Osaka breaks in third game of second set!
Second set: *Osaka 1-6, 1-2 Azarenka
Osaka pushes back to 40-30 on the serve of Azarenka, who's hit three winners in the game already. But Osaka gets it to deuce with a forehand winner, then rips a forehand that Azarenka can't handle for her first break point of the match. And she converts it with an assist from Azarenka's fourth unforced error of this set – after making only three in the entire opener.
9.53pm BST21:53
Azarenka breaks in second game of second set!
Second set: Osaka 1-6, 0-2 Azarenka*
Osaka's bad day at the office takes a turn for the worse as she falls behind love-15 then 15-40 on her serve, handing Azarenka two points for a break for 2-love. Osaka saves the first with her first ace of the afternoon, 93mph down the middle. But Azarenka converts with a backhand winner on the following point and she's out in front in the second set.
US Open Tennis
(@usopen)

Victoria Azarenka can not be stopped 😤

Up a break in this second set 👀@vika7 I #USOpen pic.twitter.com/1oCikLbcuH

September 12, 2020
Updated
at 9.54pm BST
9.49pm BST21:49
Azarenka wins first set, 6-1!
Azarenka breaks in seventh game of first set!
First set: Osaka 1-6 Azarenka
Osaka chips in unforced error No 13 on her serve and suddenly Azarenka is three points from the set. Osaka responds with a backhand winner and a 93mph service winner, only for Azarenka to push it to deuce. From there Azarenka closes out the set, breaking Osaka for the third time in 26 minutes with a backhand winner.
9.41pm BST21:41
First set: *Osaka 1-5 Azarenka
Osaka continues to fritter the opener away, mixing in her 10th and 11th unforced errors as Azarenka races out to 40-15. Osaka pushes it to deuce with an Azarenka error followed by a forehand volley winner to settle a 10-shot rally. But Azarenka holds easily from there to consolidate the break and Osaka will serve to stay in the first set.
wta
(@WTA)

Championship quality 👏@viak7 leads 5-1 in the opener#USOpenpic.twitter.com/jIrpRpJtZX

September 12, 2020
Updated
at 9.45pm BST
9.36pm BST21:36
Azarenka breaks in fifth game of first set!
First set: Osaka 1-4 Azarenka*
Azarenka pushes it to 30-all on Osaka's serve after Osaka's eighth unforced error (against two winners). Then Osaka mixes in her second double fault of the day for break point … and Azarenka converts it when Osaka pushes a forehand long early in a baseline rally. Vika goes up a double break after only 17 minutes. Osaka's serve far beneath the standard we've become accustomed to seeing in this tournament (or either of her previous two grand slam finals).
Updated
at 9.41pm BST
9.32pm BST21:32
First set: *Osaka 1-3 Azarenka
Azarenka stays out in front after breezing to another easy hold. She's won eight of the nine points on her serve.
9.32pm BST21:32
First set: Osaka 1-2 Azarenka*
Osaka makes her sixth unforced error of the afternoon on a baseline forehand for 15-all, but rattles off the next three points on her serve to close out the straightforward hold and get on the board.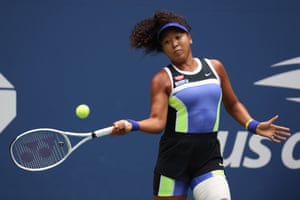 Naomi Osaka returns to Victoria Azarenka during Saturday's first set. Photograph: Al Bello/.
9.26pm BST21:26
First set: *Osaka 0-2 Azarenka
Azarenka backs up the break comfortably with a love hold. A promising start to her first major final in seven years.
9.24pm BST21:24
Azarenka breaks in first game of first set!
First set: Osaka 0-1 Azarenka*
A scratchy service game to start for Osaka, who opens with an unforced error off her forehand at the end of a 12-stroke baseline rally. She hits a baseline winner on the next point only quickly go down 15-40, hands Azarenka a pair of early break-point chances. She saves the first of them, but gifts Azarenka the break with another forehand misfire on the second.
9.19pm BST21:19
The players are finishing their warm-ups and we should be under way momentarily. Osaka came on court wearing a facemask with the name of Tamir Rice, the 12-year old black boy who was shot by Cleveland police in 2014, as part of her fortnight-long tribute.
Bryan Armen Graham
(@BryanAGraham)

Naomi Osaka walks on court for today's US Open final wearing a mask with the name of Tamir Rice, the 12-year-old Cleveland boy who was shot dead by police in 2014. pic.twitter.com/i1rZyhwyTH

September 12, 2020
9.01pm BST21:01
Tale of the tape
Hello and welcome to Arthur Ashe Stadium for today's US Open women's singles final between Naomi Osaka and Victoria Azarenka. The two hottest players on the WTA tour since the sport resumed after a five-month hiatus – both former world No 1s, both two-time grand slam champions – are minutes away from taking the court with each in search of a third career major title.
Here's a look at how today's finalists compare. Osaka holds a 2-1 lead in the all-time head-to-head, winning their most recent meeting at last year's French Open. They were due to meet a fourth time in the final of last week's Western & Southern Open, but Osaka withdrew because of an injured left hamstring.
Osaka v Azarenka
Steve Madden Womens TIDE01S1 Open Toe Casual Slide Sandales Orange 6 US / 4 UK

6 US / 4 UK - Orange - Dotée d'une empeigne à texture grossière, cette sandale est sûre d'être votre nouveau go-to.

YouTube

Browse by interest - Discover videos you'll love in categories like music, entertainment, news, gaming, and more. All from the comfort of your couch. Supports multiple accounts - Everyone at home can sign into YouTube with a Google account to see recommendations, subscriptions, and playlists. Play YouTube videos from your phone on the TV - It's easy to enjoy videos with friends and family. Simply find the videos you want to watch on your phone, then send them to your TV with a single tap. Search by voice - Quickly and easily find what you want to watch using voice search. Watch movies and shows - Stay entertained with thousands of movies and TV episodes available to own, rent, or watch for free. Enjoy music on the big screen - Find music videos featuring your favorite artists, songs, live performances and more. Discover new music based on your tastes and what's trending around you. Watch videos in 4K - YouTube is home to the world's largest library of online 4K content. Enjoy high-definition videos on the biggest screen in the house – from scenic nature videos to movie and video game trailers and more. (Requires a 4K-capable device.)

Sugar Women's Shoes Sgr- Vael 3 Open Toe Casual Espadrille Sandals Tan 11 US / 9 UK

11 US / 9 UK - Tan - Ouvrez le bottillon de talon de bloc d'orteil avec la partie supérieure perforée.

Mes recettes healthy #2: BAM ! 80 recettes fitfightforever pour te transformer

Steve Madden Womens CORE03S1 Tissu Open Toe Casual Slide Sandals Bleu 10 US / 8 UK

10 US / 8 UK - Bleu - Le corey flat dispose d'un talon fermé et orteil ouvert, parfaitement jumelé avec votre paire préférée de jeans.

Ring Fit Adventure pour Nintendo Switch

Faites du sport tout en vous amusant avec Ring Fit Adventure ! Munis des accessoires présents dans la boite du jeu partez à l'aventure et réalisez des mouvements de sports pour avancer dans les niveaux. Poussez sur le Ring-Con et vous enverrez un choc sur vos ennemis ! A la fin de chaque exercice, mesurez même votre rythme cardiaque et découvrez le nombre de calories dépensées.