7.42pm BST19:42
The player are back on the field. Katherine Brunt has the new ball in her hand, Hayley Matthews setting up to face the first ball with Deandra Dottin up the other end. Three seriously aggressive cricketers… buckle up. PLAY!
7.36pm BST19:36
West Indies need 164 to win. Which, as I noted below, is quite a good effort given the England innings was tracking at different stages through Beaumont (62), Knight (25) and Jones (25). But by taking six wickets in the final seven overs, they were able to peg England back well short of the 180/190 they were trending towards. If the visitors are to win it'll require their biggest successful chase in England, but the track looks hard and fast – this should be fun. Back with you shortly.
7.32pm BST19:32
England finish on 163-8
20th over: England 163-8 (Ecclestone 7, Villiers 1) Villiers gets her first runs for England with an unconvincing top edge into the off-side but, importantly, gets Ecclestone back on strike, who we know can hit a ball. Indeed, her first runs in Test cricket back in 2017 were six of them, hooking Ellyse Perry. That's not to be here, missing her pull shot, but she nails a slap inside out over cover for four! It pushes England over 160 – taken as a whole, a pretty good effort. Connell misses a length delivery to finish, well outside the off stump and called a wide. She tries again and Ecclestone gets enough on it to midwicket to race back for two. And that's it!
7.29pm BST19:29
WICKET! Wilson c Henry b Connell 4 (England 155-8)
Wilson, back on strike after leg byes were taken off Ecclestone's helmet, picks out mid-on with a flat bat slap. Another wicket in this final stretch. The Windies were on track for a chase somewhere up around 180, instead they'll need 160-odd.
7.27pm BST19:27
Delay. Ecclestone is hit on the helmet! You don't see that too often in women's cricket but Connell has got one to really take off at the right-hander, beaten for pace and hit on the right side of her lid. She's fine, the helmet changed and so on.
7.25pm BST19:25
19th over: England 154-7 (Wilson 4, Ecclestone 1) Wilson gets a couple away from Matthews' quicker one before lifting a waist-high full toss to deep square leg and it is… dropped! That really should have been called a no-ball on height, with a free hit following, but not to be. Matthews finishes with 2/25. The Windies have pegged this back really well throughout the second half of the innings. One over to go.
7.22pm BST19:22
WICKET! Glenn st Campbell b Matthews 7 (England 149-7)
Another stumping! Glenn, the delivery after smacking Matthews over mid-off, tried to repeat the dose through midwicket but missed the off-spinner's quicker one, Campbelle doing the rest with a very sharp take next to the leg stump. That's a lot more difficult than it loooks, even with the batter well out of her ground.
7.20pm BST19:20
18th over: England 145-6 (Glenn 3, Wilson 0) Well bowled Shakera Selman, picking up 3/26 from her four overs, just two runs with the wicket of Jones from her fourth. Wilson, who sweeps better than anyone, misses the reverse paddle to finish. But the good news for England is they have enough depth for her to bat at No8.
7.18pm BST19:18
WICKET! Jones c Alleyne b Selman 24 (England 144-6)
Caught at deep cover. Not too dissimilar to Sciver earlier: struck it reasonably well, but straight to the sweeper without enough elevation. Still a bit of work to do here.
7.15pm BST19:15
17th over: England 143-5 (Jones 24, Glenn 1) So close to both an effective and efficient over from Matthews but instead Jones completes it with a savvy reverse sweep, racing away for four. She's 24 from 13 with five boundaries.
7.13pm BST19:13
WICKET! Brunt st Campbelle b Matthews 0 (England 138-5)
Brunt stumped first ball! She danced down at Matthews and swung as hard as she could but didn't make contact, Campbelle removing the bails with ease.
7.12pm BST19:12
16th over: England 137-4 (Beaumont 59, Jones 17) Jones keeps the strike with a single down the ground. Four overs to go, plenty of time for the right-hander.
7.11pm BST19:11
WICKET! Beaumont c Fletcher b Selman 62 (England 136-4)
Beaumont falls scooping! Fletcher had plenty of work to do running back off the circle at short third but was up to the task, juggling a clutch catch. The opener's super hand, which included nine fours and a six across 49 balls, comes to an end.
7.06pm BST19:06
15th over: England 132-3 (Beaumont 59, Jones 17) Clever cricket from Amy Jones, down low to shovel Alleyne over her left shoulder for four. As Lydia Greenway points out on telly, if Jones is going to make her mark as a middle/late overs player – as opposed to an opener – she needs to nail more shots like that. She backs it up with another tuck into the gap – four more, excellent. And a gift now, a full toss on leg stump, helped away for a third boundary on the trot! Jones is away. Alleyne misses again with her slower ball, called a wide. Can she close this out without any more damage? She can, a dot to finish, but 14 from it for England. 180/190?
mike selvey
(@selvecricket)

Biggest development in top women's batting in last ten years has been in power through the offside. Time was only real power shot was the bottom hand heave to cow corner.

September 21, 2020
7.00pm BST19:00
14th over: England 118-3 (Beaumont 59, Jones 5) Shot, Amy Jones! First ball out there she jumps on the front foot and nails her cover drive – placed and timed expertly. She sure loves that shot. Oooh, a quick single to follow and Jones is to the danger end taking on Taylor at cover, the throw intercepted by Selman. As Charles Dagnall points out on Sky, if she left the throw and it hit direct, Jones was in strife.
6.58pm BST18:58
WICKET! Knight c Campbelle b Selman 25 (England 113-3)
Knight edges the change of pace! Selman has been around long enough to know when to throw in a wide slower ball, nailing it here. Earlier in the over, Knight smashed her through midwicket to bring up the 50 stand between this paid in 33 balls. But just as they threatened to go large, the partnership is finished.

6.55pm BST18:55
13th over: England 109-2 (Beaumont 59, Knight 21) Aaliyah Alleyne's first opportunity tonight with her medium pace and after a couple of dot balls, Beaumont whips her away for four to bring up her first half-century for England in this format for 16 innings. Super stuff at the first time of asking back at the top of the list, to the milestone in 42 balls. Oooooh and a BIG ONE to finish! That's a massive straight six, a brilliant cricket shot. The first six of the night. Have that!
6.50pm BST18:50
12th over: England 98-2 (Beaumont 49, Knight 20) Taylor to complete her set and beats Knight with an arm-ball, albeit one that's outside the tram tracks on the off-side and called a wide. The captain makes no mistake when getting a look at something a touch fuller on the stumps, getting underneath it on the sweep out to backward square for her third boundary. They should get 170-180 from here.
6.47pm BST18:47
11th over: England 85-2 (Beaumont 47, Knight 11) Fletcher gives Knight a look at a full toss to begin but the England captain is happy with one rather than trying to put it on the moon. Beaumont reaches the boundary for a seventh time when her chance comes, dancing and striking a pristine cover drive into the gap – top batting. She makes it eight from the next ball, this time pulling a flat delivery away through midwicket. It really is great to see her back at the top of the list for England. And Knight's turn to finish, stroking a cover drive of her own after advancing down the pitch, inside out and hammered away. 14 from the over, the home side's best yet.
6.42pm BST18:42
10th over: England 71-2 (Beaumont 38, Knight 6) Taylor to her opposing number, banking two dots to begin when Knight misses her sweep. She gets a third in there to Beaumont later in the over, too. A good one for the Windies, just three off it.
6.41pm BST18:41
9th over: England 68-2 (Beaumont 37, Knight 4) Ohh! For the second time in as many Fletcher overs, Beaumont is nearly run out at the non-strikers' end. It was a fine throw in from Cooper at long-off but needed to be a direct hit. Nevertheless, six singles are collected between the opener and her skipper, the foundation now laid.
6.39pm BST18:39
8th over: England 62-2 (Beaumont 35, Knight 0) The end of another successful over from the skipper. The bad news for the visitors is that Beaumont is looking better and better, putting away a half-tracker with ease before Sciver's demise.
England Cricket
(@englandcricket)

The England and West Indies teams took the knee together ahead of today's game to stand against racism, and to show their united support for diversity and inclusion across sport. pic.twitter.com/Noi2IjfZax

September 21, 2020
6.36pm BST18:36
WICKET! Sciver c Cooper b Taylor 7 (England 61-2)
Sciver holes out to Cooper – straight down her throat. Frustrating for the England No3, hitting it hard enough but lacking the elevation to clear deep midwicket.

6.33pm BST18:33
7th over: England 54-1 (Beaumont 26, Sciver 6) Fletcher with her leg-breaks for the first of the accumulation overs, the field going out. Beaumont and Sciver, so experienced, know the drill here: singles from the first three balls then a couple down the ground from Sciver, completed by Beaumont with a dive to the non-strikers' end. Gosh, but watching the replay back, the opener would have been long gone had the throw been on target – not to be for the West Indies.
6.29pm BST18:29
6th over: England 49-1 (Beaumont 26, Sciver 3) Sciver is off the mark first ball with a single before Taylor misses twice at Beaumont outside the off stump, wides called both times. Back to Sciver later, who gets down low to paddle sweep off middle stump, rewarded with two runs for her bold play. A fine power play for England.
6.26pm BST18:26
WICKET! Wyatt b Taylor 17 (England 43-1)
The captain is into the attack and gets a breakthrough third ball for the visitors! They really needed that. A moment of confusion when the third umpire was called upon to check if Wyatt was stumped, only for it to be revealed that the stump was tickled on the way through, but the result is just the same.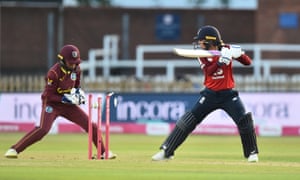 Danni Wyatt is bowled by Stafanie Taylor. Photograph: Nathan Stirk/.
Updated
at 6.39pm BST
6.23pm BST18:23
5th over: England 39-0 (Beaumont 25, Wyatt 13) Connell continues for her third over, and that's perfectly fine with Beaumont, taking the lead of Wyatt by going over mid-off for her fifth boundary. Connell gives has a half-track to put away later as well, carved away with complete ease. Ten from the over. This is turning into a very good power play for the home side, just what their coach wanted.
6.19pm BST18:19
4th over: England 29-0 (Beaumont 16, Wyatt 12) Hayley Matthews into the attack after we were told she was keeping wicket tonight? Sure thing. Her off-spin has been very useful over the years – arguably more useful than her batting – so this makes more sense. Wyatt is down the track to her first ball though, striking sweetly over cover into the gap for four. Good batting with the field up, that. Later , Wyatt advances down the strip again, this time lifting her over mid-off for four more. Too much width to the pocket-rocket when going around the wicket to her early on.
6.15pm BST18:15
3rd over: England 19-0 (Beaumont 15, Wyatt 3) I must admit, I missed a few balls in that over after my baby girl did a projective vomit over her mum – poor little thing! But I did see Danni Wyatt get off the mark crunching Connell through cover for a couple before adding another to third man to keep the strike.
6.11pm BST18:11
2nd over: England 16-0 (Beaumont 15, Wyatt 0) Selman with her handy outswing next up but Beaumont takes control from the get-go, getting down low to play an excellent paddle sweep with fine leg inside the circle. Four runs. She had a go at it earlier in the over but the change wasn't made to the field, the right-hander making no mistake the second time around. Now the field moves, slip coming out, fine leg going back. Beaumont goes the other way later in the over, dancing down the track to clip through midwicket… and she's dropped! Britney Cooper had plenty of work to do coming in off the rope there but it did carry, the replay shows. In keeping with the theme of the eventful over, Beaumont slaps the final ball over mid-off for a third boundary; her fourth of the innings. Meanwhile, Wyatt is yet to face a delivery.
"The juggernaut called the Indian Premier League has begun once more on the other side of the world (my one)," begins Abhijato Sensarma. "Yet, there's immense focus on this series too, considering how some of these matches will be broadcast on the BBC after ages! Nat Sciver is my personal favourite in this English side, and I think her all-round contributions are criminally underrated. That pesky Australian named Perry is perhaps the greatest in the history of the sport, a factor which makes all others pale in comparison. But Sciver keeps chipping in with vital runs and key wickets day in and day out. She's an inspiration, and I would love to see her do well in this comeback match."
Join us in the Nat Sciver Fan Club. If I'm not the No1 member, I must be close.
6.05pm BST18:05
1st over: England 6-0 (Beaumont 5, Wyatt 0) Connell misses by a long way to begin outside the off-stump, a wide called. But two balls later, she beats Beaumont's edge, then cutting her in half with a beauty the delivery after that. The opener keeps her cool though, rocking back to pull a shorter ball that follows. Shot.
6.02pm BST18:02
The players are on the field. Beaumont and Wyatt are walking to the middle set to opening the batting. Shamilia Connell, the veteran seamer of the West Indies attack, is taking the new ball. Before play begins, both teams are taking a knee. And now they're ready to go! PLAY!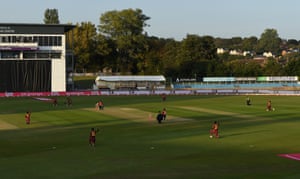 The England and West Indies players take the knee in support of Black Lives Matter. Photograph: Gareth Copley/.
Updated
at 6.30pm BST
5.57pm BST17:57
One to file in the 'things that cost nothing but mean something', folder: Sky have popped this game onto their main cricket channel, shuffling the end of the IPL match to Mix. Of course, this doesn't preclude anybody from watching what they want – you don't have one station without the other – but it reinforces, once again, that Sky are very serious with their ongoing commitment to women's cricket.
5.50pm BST17:50
Lisa Keightley is on Sky. The still-new England coach, who replaced Mark Robinson after last year's Women's Ashes loss, says the main area she wants improvement in from the World Cup is their batting during the power play. With the ball, she believes they are giving away too many boundaries to start and finish overs.
5.41pm BST17:41
England XI: Danni Wyatt, Tammy Beaumont, Nat Sciver, Heather Knight (c), Fran Wilson, Amy Jones (wk), Katherine Brunt, Anya Shrubsole, Mady Villiers, Sophie Ecclestone, Sarah Glenn.
Interesting that Beaumont is back to the top of the list, having been used as a finisher during the T20 World Cup earlier this year. Good call. Mady Villiers, the young gun Essex spinner, also keeps her spot. She's a serious talent.

West Indies XI: Hayley Matthews (wk), Deandra Dottin, Stafanie Taylor (c), Shermaine Campbelle, Chinelle Henry, Britney Cooper, Lee-Ann Kirby, Aaliyah Alleyne, Afy Fletcher, Shamila Connell, Shakera Selman.
Hayley Matthews with the gloves on this tour… a true triple-threat.
5.37pm BST17:37
Knight says she didn't mind what England did first. They've named the same XI that defeated the West Indies by 46 runs at the World Cup back in March. Stafanie Taylor jokes that the hardest part of being in the bubble is not being able to get out and shop so they have been doing so online instead. "Given we have been away for such a long time, just getting back into it is exciting. We want a series win. It's not going to be easy but we just have to go out there and give it our all."
5.34pm BST17:34
England are batting
Heather Knight won the toss. Teams shortly.
5.33pm BST17:33
As we wait for the toss and teams on the telly, a quick reminder that, as always, you can talk to me throughout the evening. Drop me a line, ping me a tweet. And the weather is playing its part for once: it's a lovely evening at Derbyshire.
Nick Friend
(@NickFriend1)

At long last – and against plenty of odds, we have a women's international summer. I'm at bio-secure Derby, which looks an absolute picture. pic.twitter.com/7p0kTz4D1v

September 21, 2020
5.27pm BST17:27
A nice moment in England camp on Sunday. Nat Sciver and Katherine Brunt were going to be married last weekend, if not for everything that has happened and the delay of the women's international season as a result. Well, they didn't tie the knot in the biosecure bubble in Derby but they did have a surprise celebration – a fake wedding, as it was dubbed – instead. Read more about their adorable story from when I talked to them last year, announcing their engagement in our pages.
5.21pm BST17:21
Check out Raf's preview. Heather Knight was excellent in the build up to this series, mindful of how important it is that her take full advantage of the games ahead. Of course, the last time England played (or didn't, as it were) was the semi-final of the aforementioned T20 World Cup in March: rained off without a ball being bowled. As a result, in the absence of a reserve day, India went through as the high qualifier.
5.08pm BST17:08
Preamble

It has been a long time coming. On the 8th of March this year, International Women's Day, some 87,000 spectators were at the Melbourne Cricket Ground to watch the final of the T20 World Cup. The goal, to fill the 'G for the decider of that tournament, was essentially met as the home side thrashed India. And while the Australians were triumphant, it was more than that – a defiant signal to any naysayers left out there that women's cricket was a big deal and big business.
But then, within days, the world changed in ways that could not have been comprehended throughout that joyous fortnight. From a record-breaking high to a desolation, where women's cricket has been not so much on the backburner but out of sight entirely. Tonight, however, that can be put behind England and the West Indies as they play the first women's international between full-member nations of the ICC since Coronavirus played its lethal hand.
For the hosts, this is not what they had on the agenda when their summer schedule was finally announced in July. Back then, this was set to be a tri-series involving both India and South Africa. However, for reasons of biosecurity, both prospective tourists pulled out. The ODI World Cup was pushed back 12 months too, which means Heather Knight's side won't be defending their crown next February after all.
But to the credit of the West Indies, with no more than ten days notice after the Proteas formally pulled the pin, they filled they once again filled the breach for this reconfigued series of five T20s over the next eight days. Sure, they have battled in recent years against England (especially in England) but on their teamsheet tonight are some of the most explosive and talented players in the world, led by all-round superstar Stafanie Taylor. And with that, after 198 days, women's cricket is back.
Skechers Women-apos;s Skechers Side Street Core-Set Trainers en blanc UK 8

UK 8 - Blanc - Womens Skechers Side Street - Core-Set Trainers en blanc. Lacets classiques de rue sportives.- Hauts en cuir lisse avec superposition en cuir synthétique verni aux lacets.- Conception lacée avec des anneaux en métal D.- Col rembourré et languette.- Doublure en cuir synthétique lisse.- Air Cooled Memory Foam

YouTube

Browse by interest - Discover videos you'll love in categories like music, entertainment, news, gaming, and more. All from the comfort of your couch. Supports multiple accounts - Everyone at home can sign into YouTube with a Google account to see recommendations, subscriptions, and playlists. Play YouTube videos from your phone on the TV - It's easy to enjoy videos with friends and family. Simply find the videos you want to watch on your phone, then send them to your TV with a single tap. Search by voice - Quickly and easily find what you want to watch using voice search. Watch movies and shows - Stay entertained with thousands of movies and TV episodes available to own, rent, or watch for free. Enjoy music on the big screen - Find music videos featuring your favorite artists, songs, live performances and more. Discover new music based on your tastes and what's trending around you. Watch videos in 4K - YouTube is home to the world's largest library of online 4K content. Enjoy high-definition videos on the biggest screen in the house – from scenic nature videos to movie and video game trailers and more. (Requires a 4K-capable device.)

Skechers Women-apos;s Skechers Side Street Core-Set Trainers en blanc UK 6

UK 6 - Blanc - Womens Skechers Side Street - Core-Set Trainers en blanc. Lacets classiques de rue sportives.- Hauts en cuir lisse avec superposition en cuir synthétique verni aux lacets.- Conception lacée avec des anneaux en métal D.- Col rembourré et languette.- Doublure en cuir synthétique lisse.- Air Cooled Memory Foam

Mes recettes healthy #2: BAM ! 80 recettes fitfightforever pour te transformer

Skechers Women-apos;s Skechers Side Street Core-Set Trainers en rose UK 3

UK 3 - Rose - Womens Skechers Side Street - Core-Set Trainers en rose clair. Lacets classiques de rue sportives.- Hauts en cuir lisse avec superposition en cuir synthétique verni aux lacets.- Conception lacée avec des anneaux en métal D.- Col rembourré et languette.- Doublure en cuir synthétique lisse.- Air Cooled Memory

Logitech G29 Driving Force Volant de Course avec Pédales, Retour de Force Réaliste, Palettes au Volant en Acier Inoxydable, Volant en Cuir, Rotation du Volant à 900°, Prise EU, PS4/PS3/PC/Mac - Noir

Expérience de conduite parfaite: le volant de course logitech g920 pour ps4, ps3, pc et pc. Fourni avec des pédales. Rendu réaliste du pilotage Retour de force réaliste: volant logitech driving force doté d'un retour de force à deux moteurs pour ressentir la conduite au maximum Volant en cuir: le volant revêtu de cuir cousu à la main confère un certain luxe à tous les véhicules Pédales réglables: maintenez une position de conduite plus vraie que nature grâce à l'unité de pédales séparée intégrant commande des gaz, pédales d'embrayage et de frein Rotation du volant à 900°: avec la rotation de blocage à 900° du volant driving force, vous pouvez faire tourner le volant jusqu'à deux fois et demi