2.24pm BST14:24

A police chief has said breaches of Covid regulations have become "another version of antisocial behaviour" for the service, adding "it's a very difficult area for us to police".
Andy Rhodes, the chief constable for Lancashire Constabulary, told MPs on the home affairs select committee that calls relating to coronavirus breaches made up around 4% of the force's calls and were similar to anti-social behaviour calls with residents complaining about neighbours' behaviour.
But he said the shift from tier 2 to tier 3 had seen some residents have a "last blast" and triggered a surge in incidents over the weekend.
Rhodes said the force was only deploying officers to serious scenarios such as "150 people in a marquee", adding the force was "genuinely not knocking on people's doors and asking how many people you have round for supper tonight".
He went on:
That is not the policing style of British policing. Covid has become like another version of antisocial behaviour for us. That's what people are ringing us about.

Some of the Covid calls we're getting our normal antisocial behaviour calls – there are 20 people in the park and they shouldn't be there because of the Covid regulations.

We are putting in the same policing response to those things as we've always done to some degree … It's very difficult area for us to police.
But he said it was important and legitimate to have an enforcement element to the policing response.
Over the weekend, because we went into tier 3, it was almost like some people thought we'll have a last blast. Our Covid incidents went up 25% and so we issued significantly more tickets over the weekend.

We've got 150 people hiring a marquee to have a wake. That hasn't from day one been an area for confusion. That will attract a £10,000 fine if we can find the organiser. There needs to be a deterrent for people who are clearly and blatantly putting other people's lives at risk in our view.
ACC Owen Weatherill, who is the National Police Chiefs' Council lead for the Covid policing response, told the committee it was "inevitable" there will be a "level of fatigue" with the restrictions.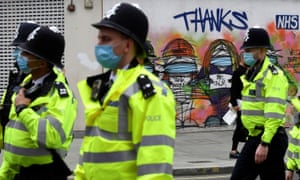 Police officers in masks in London. Photograph: Toby Melville/.
2.11pm BST14:11
Scotland records 28 Covid deaths – highest daily figure since May

Scotland has surpassed 50,000 cases of Covid-19 after recording 1,739 positive cases in the last 24 hours, with 28 deaths of people confirmed to have the virus, the highest daily figure since 21 May.
Nicola Sturgeon, the first minister, said the continuing surge in cases led her government to extend the restrictions on pubs and cafes, on unnecessary travel and on contact sports across central Scotland for a further week.
She said Scotland had now recorded 50,903 positive cases since March, with the numbers in hospital rising again by 49 to 873 and the numbers in intensive care up by three to 73.
The data came as National Records of Scotland, the government public records agency, said that 75 deaths with Covid-19 mentioned on the death certificate last week, up by 50 on the previous week, and the highest weekly figure since early June.
Sturgeon added, however, that the latest data suggested the rate of increase in cases was slowing, giving her "cautious optimism" the existing restrictions were having an impact on the latest surge in cases.
1.58pm BST13:58
Andy Burnham, the mayor of Greater Manchester, is launching legal action against the imposition of tier 3 restrictions on the hospitality sector in the region. This is from Sacha Lord, his night-time economy adviser.
Sacha Lord
(@Sacha_Lord)

LATEST: Last night we started the Judicial Review into the legality of implementing emergency restrictions on Greater Manchesters hospitality sector, without scientific evidence.

A pre-action letter has been filed and we await the Health Secretary's response.

The fight goes on.

October 21, 2020
1.52pm BST13:52

The Welsh health minister has criticised people who spread false stories about coronavirus via social media and called for platforms to do more to stop lies being disseminated.
Vaughan Gething spoke after a tweet falsely claiming one Welsh hospital was so empty that its doctors were able to take time off to play golf gained traction and made headlines. Gething said:
It's incredibly frustrating to see direct lies being told about what is taking place within our health service, Our health service is under significant pressure.
He said people had to think before sharing wrong and damaging information but also said social media platforms needed to take responsibility. "We are not in a game here. We are in a really serious position."
Speaking at the Welsh government's press conference, Gething said it was not possible to say what Christmas would look like in Wales, calling such a prediction a "mug's game".
Gething said there were 894 people in hospital with Covid – up 26% on the same time last week and the highest number since June.
Updated
at 2.03pm BST
1.48pm BST13:48
MPs debate Labour plan for economic support for areas under Covid restrictions
MPs are now debating a Labour motion calling for "fair" economic support for areas under Covid restrictions.
It says:
That this house calls on the government to publish clear and fair national criteria for financial support for jobs and businesses in areas facing additional restrictions, to be voted on in parliament; and calls on the government to make good on its claim that workers faced with hardship who are subject to the job support scheme extension will receive at least 80% of their previous incomes.
Angela Rayner, the Labour deputy leader, is opening the debate.
She says people in Greater Manchester have been offered support worth the equivalent of just £8 per head. She says that is just what a test and trace consultant earns in 30 seconds.
And now the government is seeking to play councils in the area off against each other, she says. (See 1.36pm and 1.43pm.)
She says people in the city have been "dismayed" by how the democratically elected mayor has been treated by the government.
1.43pm BST13:43

Greater Manchester is no longer a city region united after the only Conservative-run council announced it was willing to consider a bespoke deal for its hospitality workers.
David Greenhalgh, the leader of Bolton council, said he was "willing to look at" a Bolton-only package, breaking away from the rest of the cross-region negotiating block and distancing himself from Andy Burnham.
He said he had spoken to Robert Jenrick, the communities secretary, this morning, after hearing that the £60m offered by government to Greater Manchester on Tuesday was still up for grabs for individual councils.
Greenhalgh said:
It is clear the amount on the table, which is what has been accepted in Liverpool, Lancashire and now South Yorkshire, and I am not prepared for Bolton businesses to miss out on this extra financial help.

This is not the time for posturing and politics. This is about getting the best deal available for Bolton business, and those who work in the sectors worst affected.

I hope to have further discussions later today with government officials and ministers, and progress as a matter of priority to enable a scheme to be worked up that targets those most affected.
Unsurprisingly, his Labour counterparts are fuming.
1.39pm BST13:39
The latest episode of the Guardian's Politics Weekly podcast is out. Heather Stewart and Peter Walker run through a cantankerous week in Westminster. Rajeev Syal speaks to the chair of the women and equalities committee, Caroline Nokes. Plus, Heather chats to the comedian and former Labour party member Matt Forde, about his new book, Politically Homeless.
1.36pm BST13:36
Government invites Greater Manchester council leaders, but not Burnham, to discuss allocation of £60m

Robert Jenrick, the communities secretary, has written to all 10 Greater Manchester council leaders inviting them to come forward individually to claim their share of the £60m still on offer.
The move appears to be a deliberate attempt to cut Andy Burnham, the Greater Manchester mayor, out of the discussions following the dramatic breakdown of talks on Tuesday.
In the letter, seen by the Guardian, Jenrick says it was "with regret" that he had to inform the prime minister that they had been unable to reach a deal. But he adds:
Though our discussions with the mayor were unable to reach agreement, the government remains committed to providing people and businesses in Greater Manchester with the support they need as we move into the next phase of action against coronavirus.

I am therefore writing to restate our offer of business support to your areas. This funding of £60m is for the people and businesses of Greater Manchester and with your help, we will ensure it reaches them as swiftly as possible and ensure this support can go to those who need it. Our officials stand ready to work quickly and closely with their counterparts to ensure this can happen – starting today.

I have valued the conversations I have had with you in recent days. I do not underestimate how challenging it is to lead your councils and communities through this period. Please do not hesitate to contact me if you wish to discuss further.
Josh Halliday
(@JoshHalliday)

Here's the letter from Robert Jenrick. Clear deliberate attempt to cut Andy Burnham out of the picture. pic.twitter.com/H2eUM9YVXN

October 21, 2020
Updated
at 1.40pm BST
1.25pm BST13:25
Starmer says 'miserly' treatment of Greater Manchester defining moment for government
Here is the quote from Sir Keir Starmer at PMQs where he claimed that Boris Johnson's treatment of Greater Manchester was a defining moment for the government. He said
This is a prime minister who can pay £7,000 a day for consultants on track and trace, which isn't working, can find £43m for a garden bridge that was never built but he can't find £5m for the people of Greater Manchester.

I really think the prime minister has crossed a Rubicon here, not just with the miserly way that he's treated Greater Manchester, but the grubby take-it-or-leave-it way these local deals are being done.

It's corrosive to public trust to pit region against region, mayor against mayor, council against council, asking them to trade away their businesses and jobs.
My colleague Helen Pidd, the Guardian's north of England editor, came up with a similar analysis in a tweet posted this morning.
Helen Pidd
(@helenpidd)

I think the way the government treated Greater Manchester yesterday will be one of those rare things which linger in voters' minds long after the fact — bit like the Lib Dems and tuition fees. Some very flimsy Tory majorities up here.

October 21, 2020
Updated
at 1.31pm BST
1.16pm BST13:16
Downing Street clearly thinks Michel Barnier's comments to the European parliament this morning (see 10.55am) were significant. In response a No 10 spokesperson said:
We note with interest that the EU's negotiator, speaking to the [European parliament] this morning, has commented in a significant way on the issues behind the current difficulties in our talks.

We are studying carefully what was said.

David Frost will discuss the situation when he speaks to Michel Barnier later today.
That may be a hint that the trade talks will formally resume soon.
1.11pm BST13:11
PMQs – Snap verdict
Who won? is the standard question after PMQs. Sometimes it's obvious, sometimes it isn't, but Westminster conventional wisdom normally demands an answer more or less immediately. Today Boris Johnson and Sir Keir Starmer both seemed happy to leave it for a month or two. They are both auditioning for the role of "Captain Foresight", betting their credibility and authority on an assumption about whether or not the government's tier 3 strategy will work.
Neither of them committed to a firm timetable, but the gist of it was clear. Starmer was saying that areas going into tier 3 would be stuck there for months. He said:
There's a stark choice: carry on with the prime minister's approach, which will lead to weeks and weeks and months and months of prolonged agony in all your constituencies for millions of people in tier 2 and tier 3, with no exit, or put in place a two to three week time-limited circuit-break to break the cycle and bring the virus back under control.
And Johnson insisted tier 3 measures would work, implying areas could be out within a month or so. He said:
I made it absolutely clear that part of the country going into tier 3 is only in there for 28 days, we will review it after 28 days and areas that have gone into tier 3, I believe, are already making progress. Areas where there are restrictions in place are also showing signs of progress. We are pursuing a local, a regional approach, which is the sensible approach for this country.
Ultimately, of course, time will tell – or at least up to a point, because it may well be the case that within a month or so the tier 3 framework has been revised. Most other government Covid strategies end up being rewritten within weeks. Starmer's forecasts sounded considerably more plausible than Johnson's. But he should also remember that being proved right is not a sufficient, or even perhaps a necessary, key to electoral victory. It probably counts less than pundits assume.
As for who "won" this afternoon, it was more even than in most recent weeks. Starmer's question about what regions have to go to get out of tier 3 was very good because it was a real question, pertinent to millions, and not just a clever, gotcha trap. But it was that too, because Johnson did not have a very good answer, and Starmer was entitled to say his response sounded confused. Starmer also produced a reasonable hit on the £7,000-per-day consultants and the garden bridge.
But Johnson, although probably losing on points, had a vivid turn-of-phrase as he rounded on Labour's plan for a short, national lockdown. He told MPs:
I think it's the height of absurdity that [Starmer] stands up and attacks the economic consequences of the measures we're obliged to take across some parts of the country when he wants to turn the lights out with a full national lockdown.
Although polls, like this one, suggest that the voters clearly back Starmer on this issue, none of these decisions and there must be a good chunk of people listening to Johnson minded to agree.
12.37pm BST12:37
Helen Hayes (Lab) asks why consultants are getting £7,000 a day to work on test and trace.
Johnson says NHS Test and Trace has tested more people than any other system in Europe.
He says we need to get through this without going back into the social, psychological and economic disaster of further lockdowns.
And that's it. PMQs is over.
12.35pm BST12:35
Julian Sturdy (Con) asks what can be done to get the infection rate down in York.
Johnson says the guidance is having an effect. If it were not for the restrictions, R would be at three, he says. He says it won't take much to get it below one. It would not be sensible to have a sustained series of national lockdowns.
Updated
at 12.41pm BST
12.34pm BST12:34
Lilian Greenwood (Lab) asks for more help for Nottingham businesses.
Johnson says he sympathises with businesses. But in Nottingham the infection rate is running at 815 per 100,000. We must get that down, he says.
12.33pm BST12:33
Johnson says the UK will use its Cop26 presidency to promote female education around the world.
12.32pm BST12:32
Sarah Olney (Lib Dem) asks about reports that the congestion charge in London is going to be extended. That is unfair on Barnes residents who cannot use Hammersmith Bridge because it's closed, she says.
Johnson says the bridge is closed because of Sadiq Khan's incompetence. He says the Tory candidate for mayor, Shaun Bailey, would reopen it.
Updated
at 12.33pm BST
12.31pm BST12:31
Stephen Metcalfe (Con) calls for suitable enforcement against people who flout the rules.
Johnson agrees. He says people must follow the guidance.
12.30pm BST12:30
Sir George Howarth (Lab) says extending free school meals (over the holidays) to Easter is the moral thing to do.
Johnson says free school meals will continue during term.
Dali Phantom H-50 - Prix unitaire - PRIX A NÉGOCIER SUR LE SITE

Enceinte Encastrable Dali Phantom H-50 The compact PHANTOM H-50 delivers impressive clarity, and despite its size, it manages to generate a great deal of bass. It will easily fill small rooms with great sound in a stereo or surround setup in smaller rooms. The PHANTOM H series: The DALI PHANTOM H series is an

FRANCE 24 - Fire TV

Regardez FRANCE 24 en direct Accédez en différé aux derniers journaux (Monde, Afrique, Economie, Sports et Météo) Découvrez toutes nos émissions à la demande

Radar Skis Radar Edge 2 Person Tube (Bleu)

Soft water tube for one or two persons The Edge water tube will add great fun to days on the water. This one is made with a soft top for a more comfortable ride. The side bolsters will bring support and keep you in a better position even when sliding sideways. Measurements 58" x 62"

Mystic Star Surf Travel (20/21)

Afraid of scratching up or putting dinks in your surfboard? Then grab the Star Surf Travel bag from Mystic The Star Surf travel bag is perfect for those of you who travel a lot with your gear, but will also be a nice way to store your gear in one practical and ready-to-go solution.

Hamilton: The Revolution

Livre