2.42pm BST14:42
Stoke-on-Trent, Coventry and Slough moving into tier 2 restrictions, Hancock tells MPs
Hancock says some areas will have to move from tier 1, the medium risk level where the nationwide rules apply, to tier 2, the high risk level where stricter restrictions apply. They are: Stoke-on-Trent, Coventry and Slough.
In all of these areas there are over 100 cases per 100,000 people, he says.
He says cases are doubling every fortnight. And there is a "concerning increase" in cases amongst the over-60s.
He says the new restrictions here will come into force at 00.01am on Saturday.
The main change is that people will not be allowed to mix with other households indoors.
2.38pm BST14:38
Hancock says people can suffer from long Covid even if original infection asymptomatic
In the Commons Matt Hancock is speaking now about long Covid. He says a clinic has been set up in London to help people suffering from this condition (long-term after-effects after a coronavirus infection).
He says that around one person in 20 suffer from this. But amongst younger adults it is one in 10, he says.
And he says people can suffer from long Covid even if they are asymptomatic when infected.
2.34pm BST14:34
Here is our full story on today's NHS Test and Trace performance numbers, from my colleague Haroon Siddique.
And here is some reaction.
From Labour's health spokesperson Justin Madders
To have over 40% of people not even being contacted by the test and trace system is an interstellar sized black hole in the government's plan to reduce transmission.

How much longer are we expected to put up with this dangerous failure before ministers admit that the likes of Serco just aren't up to the job?
From the Lib Dem health spokesperson Munira Wilson
We already knew that national contact tracing is an utter disaster – but it has now reached rock bottom. The figures released today show the test and trace system has had the lowest weekly figure of contacts traced since the scheme began back in March, not to mention the fact they're being forced to draft in untrained staff to cope with the level of rising cases.
2.30pm BST14:30
Steve Baker, a Conservative, asks Hancock to confirm that the disease is not progressing in this way in the way that it was in the first wave. There has been no increase in excess mortality, he says.
"And I want to keep it that way," says Hancock.
2.27pm BST14:27
Hancock says there are two advantages as the government tackles the second wave.
First, it is more regional, he says. That means not all parts of the NHS are under the same pressure.
And, second, we know a lot more about the virus, he says.
2.26pm BST14:26
Matt Hancock opens Covid debate
Matt Hancock, the health secretary, is opening a Commons debate on coronavirus.
He says every day his confidence in the ability of science grows.
But until then, we must show resolve, he says.
2.23pm BST14:23
Internal market bill not compatible with human rights protections, says committee
The government's internal market bill undermines human rights protections, a committee of MPs and peers has said.
In a report (pdf), the joint committee on human rights said the legislation would allow ministers to ignore the Human Rights Act when making regulations. It said:
The committee are concerned that the bill still seems to envisage ministers not being bound by the Human Rights Act duty to act compatibly with convention rights when making regulations.

It also seeks to prevent the courts striking down regulations that are incompatible with human rights.

The committee conclude that these changes undermine human rights protections, which is very hard to reconcile with government statements that the bill is compatible with human rights.

As such, the committee recommends that the bill is amended to ensure that human rights are protected.
2.17pm BST14:17
Sadiq Khan, the mayor of London, has described today's Treasury beefed-up economic support package as "a sticking plaster solution". He said:
The changes announced today are a welcome improvement to the flawed and narrow job support scheme announced last month.

These should have been in place from the start – instead, businesses and workers have been put through weeks of uncertainty.

This latest announcement is just a sticking-plaster solution that still fails to match the true scale of the problem.

The collapse of tourism into London has impacted heavily on footfall and left many hospitality, retail and leisure businesses without any prospect of returning to normal levels of business for many months to come.
2.05pm BST14:05
From Sky's Sam Coates
Sam Coates Sky
(@SamCoatesSky)

Table sent to Tory MPs about the tiers

(Note how even CCHQ don't bother with the madly confusing medium / high / very high labels and just use tier 1, 2, 3) pic.twitter.com/3FRKFw9tQI

October 22, 2020
"Job support scheme open" and "job support scheme closed" are two different versions of the same scheme (according to whether or not the premises is legally required to close) – not two phrases that contradict each other, as some readers might assume.
1.59pm BST13:59
Caroline Ansell, a Conservative MP who defied her party to support Labour's vote for free school meals during school holidays, has resigned from her government post as a parliamentary private secretary, my colleague Heather Stewart reports.
1.49pm BST13:49
These are from Kate Nicholls, the chief executive of UKHospitality, which represents businesses in the hospitality sector.
Kate Nicholls
(@UKHospKate)

Huge and very welcome intervention by Chancellor – JSS scheme evolves significantly to reflect changed circumstances. Sees employer minimum hours of at least 20% and top up of 5% (down from 55% previously). Just saved hundreds of thousands of jobs in hospitality and supply chain

October 22, 2020
Kate Nicholls
(@UKHospKate)

Crucially securing help for our teams but also giving biz a lifeline to remain viable through continued trading where possible and a quicker and easier return to growth as restrictions ease. Thanks for listening and continuing to support the 3rd largest employer @RishiSunak

October 22, 2020
Updated
at 2.10pm BST
1.46pm BST13:46

During the Manchester public health briefing (see 1.25pm) the city council's director of public health, David Regan, said the infection rate among older people was high and rising.
There were 339 cases per 100,000 people among the over-60s, he said, adding:
That is where we've got our greatest concern because, unfortunately, our older population are more at risk of developing complications from Covid, which may result in hospital admissions.
Regan said there had been a marked drop in the infection rate among those aged 17 to 21 – falling from 3,350 cases per 100,000 people on 3 October to 568 cases per 100,000 currently.
This was due to the influx of 74,000 university students into Manchester in September, he said, although they had been able to bring the virus under control in part by quarantining at least 1,700 younger people in halls of residence – a measure which led to criticism at the time.
Regan urged Mancunians to abide by tier 3 restrictions that come into force overnight but said the evidence "isn't there fully yet" that local lockdowns had worked. He went on:
Where the evidence is really clear is that the national lockdown did work in terms of suppressing the virus. I think we know that [with] these local lockdown arrangements, the evidence isn't there fully yet.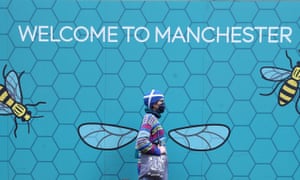 A person wearing a face mask walks past a Welcome to Manchester mural. Photograph: Martin Rickett/PA
Updated
at 2.12pm BST
1.38pm BST13:38
Sturgeon suggests children should avoid trick-or-treating

Nicola Sturgeon has suggested that children should avoid going guising, or trick-or-treating, during Halloween this year, because it is unsafe for people to have unnecessary contact with others.
She said the Scottish government was issuing guidance for Halloween over the weekend, and urged families to devise different ways of celebrating. She said:
It's not safe right now to do these things as normal. It wouldn't be fair of me or right of me to say otherwise. To parents, to children: think of ways you can celebrate in a way that's safe and doesn't have children or others coming into unnecessary contact with others.
Sturgeon also backed up Jason Leitch's warnings about Christmas being abnormal this year (see 9.39am), but said the intensity of any controls in force in December rested largely on how well people observed the current restrictions, suppressing the spread of the virus. She said:
I'm not going to stand here and give people false assurances I can't deliver. It does depend on people doing the right thing now, so by Christmas we can ease up a bit.
Earlier this month Downing Street was non-committal at a briefing when asked if trick-or-treating would have to be abandoned this year in England, although the Department of Health and Social Care later said it should not happen in places where household mixing is banned.
Updated
at 2.13pm BST
1.25pm BST13:25
Manchester's Nightingale hospital to reopen next week as Covid cases rise

Manchester's Nightingale hospital will reopen "towards the end of next week" to help relieve the strain on the NHS from the second wave of coronavirus, senior health figures have confirmed.
Prof Jane Eddleston, Greater Manchester's medical lead on coronavirus, said the large makeshift facility would take recovering Covid patients from hospitals across the badly hit north-west of England.
In a briefing designed to counter some of the "selective statistics" released by Downing Street earlier this week, Eddleston said 35% of critical care beds in the region were currently occupied by Covid patients.
During the April peak there were more than 300 patients filling critical care beds in Greater Manchester, of whom 260 had coronavirus. The latest figures, for Wednesday this week, showed 218 patients in critical care beds, of whom 95 were being treated for Covid.
Eddleston, who appeared alongside Boris Johnson at a Downing Street press conference last week, said that although this number was "significant", the region was "in a different position now" and would bring in additional capacity where needed.
She said that during the April peak there was capacity for more than 400 critical care patients and that the service could reach this figure again. She said:
I don't want to belittle the fact that this is a very serious condition and it's challenging for the system …

[But] we are prepared and we are determined as a system that we will move in the system together. We won't allow any one of our providers to unintentionally have an increase in pressure in their system.
Eddleston said, however, that the number of non-critical Covid patients in Greater Manchester was approaching the level of the first peak. There were currently just over 600 coronavirus patients in acute hospital beds, she said, compared with just under 900 in April.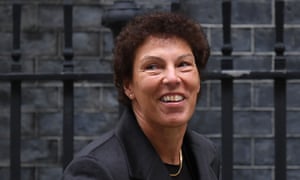 Prof Jane Eddleston. Photograph: Daniel Leal-Olivas/./.
Updated
at 2.16pm BST
1.11pm BST13:11
These are from Daniel Tomlinson, an economist at the Resolution Foundation thinktank. They explain why the new measures should make it more worthwhile financially for employers to retain staff.
Daniel Tomlinson
(@dan_tomlinson_)

What just happened?

The Chancellor's economic support package caught up with the reality that restrictions – whatever the Tier – are tough for some businesses. He's:

Reduced the hours worked requirement (33% to 20%)
And slashed the employer contribution (33% to 5%) pic.twitter.com/ikzzP28Tru

October 22, 2020
Daniel Tomlinson
(@dan_tomlinson_)

This has, pretty much, fixed the JSS.

The incentive to keep two people on part-time rather than one on full-time, with the other made redundant is here.

Crucial for keeping unemployment down this winter. pic.twitter.com/kqKmcKoYqv

October 22, 2020
Daniel Tomlinson
(@dan_tomlinson_)

And, when you add in the impact of the Job Retention Bonus the incentives are even stronger – particularly at lower wages.

Chart shows cost of keeping people at various wage levels working half-time for six months. pic.twitter.com/OzKlpkaw1d

October 22, 2020
Daniel Tomlinson
(@dan_tomlinson_)

Still some concern that firms not told to close but effectively forced into doing so by social distancing won't be able to manage 20% of usual hours worked. But as far as support for jobs this winter goes, the Chancellor has sorted it out.

*This should have happened weeks ago.

October 22, 2020
1.03pm BST13:03

The Scottish Retail Consortium, which represents the country's largest shopping chains, has urged people to "shop early, start wrapping" after Nicola Sturgeon's public health adviser warned Christmas would be severely impacted by the Covid crisis. (See 9.39am.)
The SRC, the Scottish wing of the British Retail Consortium, said Jason Leitch's warning that large family gatherings would be highly unlikely to be approved this year added to its anxieties about the impact coronavirus controls were having on shops.
David Lonsdale, the director of the SRC, said:
Whilst celebrations will be a little different this year, we know shoppers will want to keep Christmas special. That's why we're encouraging people to shop early and prevent the last minute rush so their fellow customers and all the store colleagues, warehouse workers and delivery drivers working behind the scenes, have the space they need to stay safe and well.
Updated
at 1.21pm BST
12.59pm BST12:59
And this is from Frances O'Grady, the TUC general secretary, on Rishi Sunak's beefed-up economic support package. She said:
Unions have been calling for a more generous jobs support scheme to help workers and businesses hit by the impact of coronavirus restrictions across the country.

Today's measures are a step forward. But there are still big holes in the government's plan.

Low-paid workers will face real hardship if they have to get by on less than 80% of their wages and the support for the self-employed is still too low.

The chancellor should have increased support for all workers to at least 80%. And we still need decent sick pay for people forced to self-isolate.
Adidas Boy-apos;s adidas Originals Children Superstar Trainers en noir UK 2

UK 2 - Noir - Children Boys adidas Originals Superstar Trainers in core black.- Premium leather upper.- Triple hook and loop closure for easy on-off.- Classic rubber shell toe.- Padded collar and tongue.- Synthetic leather 3-Stripes to sides with tonal print 'Superstar' to side.. - Débossage de la marque Trefoil à la

FRANCE 24 - Fire TV

Regardez FRANCE 24 en direct Accédez en différé aux derniers journaux (Monde, Afrique, Economie, Sports et Météo) Découvrez toutes nos émissions à la demande

Reebok Chaussures d'entraînement Reebok Flexagon en noir Noir-blanc UK 3.5

UK 3.5 - Noir-blanc - Chaussures d'entraînement Reebok Flexagon pour femmes en fixation en dentelle noire- Toit en maille conçue pour la respirabilité- Best for Mutlidirectional workouts agility drills HIIT workouts and light runs- Dynamic outsole with increased flex grooves for flex- Stretch straps for upper support- Flexagon

Timberland Women-apos;s Timberland Newport Bay Bumper Toe Ox Trainers en violet Lilas UK 5

UK 5 - Lilas - Womens Timberland Newport Bay Bumper Toe Ox Trainers.-Women-apos;s Oxford-style canvas shoe.- Breathable canvas upper.- Rubber toe bumper.- Lace up construction.- Cushioned EVA footbed for support and shock absorption.- Rubber outsole keeps things steady underfoot.- Timberland Branding to the back.- Cotton

Hamilton: The Revolution

Livre