2.30pm BST14:30
Declan Rice speaks. "It's a great point. We've been in fantastic form. In the first half we were excellent, they only had one shot on target and we nullified their main players. Mic scored a great goal. In the second half, it's something we need to work on, we started a bit sloppy after sitting down at half time. Phil scored a great goal and we had to dig in. They're a possession-based team and we're trying to cover our lines, and it doesn't help when they bring De Bruyne on with 20 minutes to go! I thought the lads were excellent. It shows we're building something, the manager's been brilliant. We've found a formation that suits our players, and that's what West Ham fans expect."
2.26pm BST14:26
That leaves both teams in mid-table on eight points. West Ham are tenth, City 11th. The Hammers deserved their point. City were dominant, but the resilient hosts hassled them into missing a series of good chances. Also, Michail Antonio's splendid first-half overhead kick deserved some reward. It's a much better point for them than City, who will be slightly concerned by the ground they've already given up in the title race. "Problem with City in big games and defining moments is that there second striker so to speak is Sterling, and he won't get you that goal if he has time to think about it," argues Paul Fitzgerald.
Updated
at 2.27pm BST
2.22pm BST14:22
FULL TIME: West Ham United 1-1 Manchester City
Gundogan slips Mahrez into the box down the left. He opens his body for a shot. Fabianski turns round the post. Nothing comes of the corner, and after a dogged second-half defensive display, West Ham have their hard-earned point! City drop two precious ones.
2.20pm BST14:20
90 min +2: City still pressing. West Ham still holding out.
2.20pm BST14:20
90 min +1: Balbuena, of all people, chases a loose ball up the West Ham right. He slides in on Dias and is booked for his trouble. A better-timed challenge, though, and he'd have been free down the wing! I strongly suspect David Moyes would rather he stayed back, but there it is.
2.18pm BST14:18
90 min: There will be three additional minutes. Can City find a winner and claim all three points?
2.17pm BST14:17
89 min: The dreadful Yarmolenko gifts possession to Sterling, who dribbles down the left in acres. He hesitates as he reaches the box, though, and is eventually crowded out by Ogbonna and Balbuena.
2.16pm BST14:16
88 min: Mahrez dribbles clear down the right but strangely runs the ball straight out of play with options in the middle. West Ham suddenly look extremely tired.
2.15pm BST14:15
87 min: Rodri sends a wild shot miles over the bar from 25 yards. It's a daft effort, releasing the pressure that had been building on West Ham. On the touchline, Pep spins and waves his arms in the frustrated fashion.
2.14pm BST14:14
86 min: Now it's City's turn to spurn a fine chance! De Bruyne slips Sterling into the box down the inside-left channel. He's one on one, but slaps straight at Fabianski, who smothers at his feet! Breathless drama here.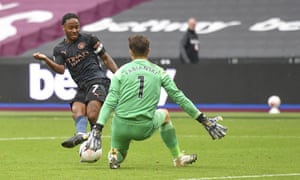 West Ham's goalkeeper Lukasz Fabianski thwarts Manchester City's Raheem Sterling. Photograph: Justin Tellis/Pool/AP
Updated
at 2.23pm BST
2.13pm BST14:13
84 min: From the corner, West Ham break and Fornals is sent clear! The flag stays down – correctly, as he'd made his run from the halfway line – and he's one on one with Ederson! But he panics, and in attempting to chip the keeper, merely scoops softly into his arms. What a chance to complete an amazing smash-and-grab!
2.12pm BST14:12
83 min: City want all three, though, and go again. De Bruyne, deep on the left, shovels a diagonal pass towards Mahrez, who chests down and prepares to shoot from close range. Ogbonna lashes clear just in time. Corner.
Updated
at 2.12pm BST
2.10pm BST14:10
82 min: A welcome breather for West Ham as Fornals chases a long ball down the left and draws a clumsy foul from Dias. He takes his sweet time to get up. West Ham load the box. Cresswell takes. Dias clears. But time ticks on, and West Ham are closer to a hard-earned point.
2.09pm BST14:09
80 min: Ogbonna clatters into Sterling, and this is a free kick in a very dangerous position, 25 yards out, just left of centre. De Bruyne's eyes light up. He sends a dipper over the wall, towards the top left. But it's not quite high enough, and Fabianski claims.
2.07pm BST14:07
79 min: Zinchenko has finally been sent on, by they way. He arrived between those corners, replacing Walker, Cancelo switching flanks.
2.06pm BST14:06
78 min: Cancelo works his way down the left and crosses low and hard. Balbuena is forced to stick out a leg and nearly turns the ball into his own net. One corner leads to another, which leads to a De Bruyne dribbler that Fabianski claims.
2.05pm BST14:05
77 min: An almighty tangle of bodies in the West Ham box, De Bruyne, Cancelo and Sterling all pressing hard. Not sure how it didn't lead to either a shot on goal, or a penalty. But here we are.
2.04pm BST14:04
76 min: City continue to stroke it around at half pace. West Ham hold their shape.
2.02pm BST14:02
74 min: City's tempo has dropped a little. West Ham will be more than happy about that, given the amount of chasing they've had to do this afternoon.
2.01pm BST14:01
72 min: More time and space for Yarmolenko on the right. Once again he over-complicates things when a simple ball inside for Haller was on. Cancelo and Foden combine to strip him of possession. Yarmolenko has been pretty poor since coming on. West Ham miss the livewire Antonio.
1.59pm BST13:59
71 min: Mahrez and Sterling make a nuisance of themselves on the edge of the West Ham box. The ball breaks left to De Bruyne, who sends a low fizzing ball across the face of goal. Nobody in City black makes a move.
1.57pm BST13:57
69 min: That's Bowen's last act of the afternoon. He's replaced by Haller. Meanwhile on comes De Bruyne, who takes the place of Bernardo Silva. It's going to be an interesting final 20 all right.
1.56pm BST13:56
68 min: A more progressive sequence by West Ham, and Bowen has the chance to shoot from the right-hand edge of the D. He sends his effort screaming over the bar.
1.54pm BST13:54
66 min: West Ham manage to string a few passes together, but it's all very timid stuff in the middle of the park, and the move unravels quicksmart when they try to advance into City territory. City are in total control … and Kevin De Bruyne is preparing to come on. Worrying times for West Ham.
1.53pm BST13:53
64 min: The corner's worked back to the excellent Cancelo, who opens his body and sends a curler not too far wide of the top left. You don't need to be an experienced lip-reader to understand the subsequent effing and jeffing.
1.51pm BST13:51
63 min: Mahrez spins free in the middle before sending Sterling away down the inside-left channel. Sterling's probing pass, intended for Foden, is deflected out for a corner.
1.48pm BST13:48
61 min: Ederson claims with great authority amid a bustling box. That's a really confident claim. City go up the other end, Walker sending a piledriver goalward from 25 yards. It's straight into Fabianski's midriff.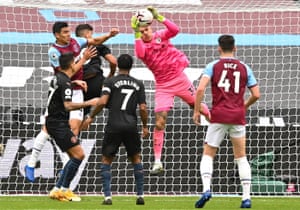 City kepeer Ederson claims the ball. Photograph: Justin Tallis/Pool/EPA
Updated
at 2.20pm BST
1.48pm BST13:48
60 min: This is better, though, as Bowen drives down the inside-right channel to win a corner.
1.47pm BST13:47
59 min: Mahrez slips Walker away down the right. Walker shanks a woeful cross deep into the stand behind the goal. City continue to dominate. West Ham are yet to react.
1.46pm BST13:46
57 min: Foden latches onto a simple long ball down the middle and tries to hoick spectacularly home from 30 yards. He doesn't quite catch it and it's an easy claim for Fabianski. City are causing West Ham all sorts of problems now. "Is there a more error prone referee in the Premiership than Anthony Taylor?" wonders Ian Burch. "With his indecisiveness and poor decision making he's the refereeing equivalent of Porridge's Mr Barrowclough. He pales into comparison with Mike Dean's Mr Mackay act."
1.44pm BST13:44
56 min: Yarmolenko is sent scampering into space down the right. He's got options in the middle, but overdoes the fancy footwork and eventually falls over, the ball rolling apologetically out for a goal kick.
1.43pm BST13:43
54 min: Gundogan pings a glorious ball down the inside-left channel for Cancelo, who has sprung the offside trap. He's clear, but miscontrols and lets the ball squirt out for a goal kick. He puts his head in his hands and screams. What a great chance that was. City have clearly been given the hairdryer treatment at half-time.
1.41pm BST13:41
53 min: And it's a double blow for the Hammers, because Antonio has picked up an injury and makes way for Yarmolenko.
1.40pm BST13:40
GOAL! West Ham United 1-1 Manchester City (Foden 51)
Cancelo has had the beating of Coufal all day, and he zips past him down the left again. His low cross finds Foden on the left-hand corner of the six-yard box with his back to goal. He swivels, sorts his feet, and lashes into the bottom left. What an impact by the sub!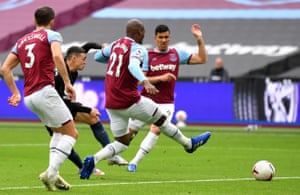 Phil Foden fires home. Photograph: Justin Tallis /Pool/.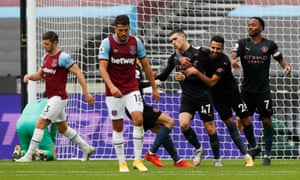 Manchester City's Phil Foden is congratulated by Riyad Mahrez after putting City back on level terms. Photograph: Paul Childs/.
Updated
at 2.31pm BST
1.39pm BST13:39
51 min: Coufal is booked for leaving one on Cancelo. He has the good grace to give the ref a nod of acceptance.
1.38pm BST13:38
50 min: It's been all City since the restart. Looks like they might be preparing another change, though, with Zinchenko warming up.
1.36pm BST13:36
48 min: Rodri has a belt from 25 yards. It's deflected wide right for a corner. Rice blooters clear. Antonio tries to zip past Walker but the City defender holds firm. Just as well, as Antonio would have been free otherwise.
1.35pm BST13:35
47 min: Balbuena knocks the corner clear. Dias tries to launch a new phase of attack by working his way down the right, and he's shoved over by Masuaku, but the referee doesn't give anything for that either. Very strange.
1.34pm BST13:34
City get the second half underway. They've made a change at the break, replacing Aguero with Foden. They've also been yammering at the referee en masse, presumably still going on about the Soucek hand-ball that wasn't. But they snap into business mode the second the whistle goes, Foden driving down the left and winning a quick corner.
1.32pm BST13:32
Controversy corner. Replays of the build-up to the goal show the ball hit Soucek on the hip, not the arm. So that one's out of the way. Let's replace it with the Garcia challenge on Antonio (25 min). In the opinion of Joe Cole and Joleon Lescott on BT Sport, there was contact before he touched the ball, and it should have been a penalty. The channel's resident refereeing expert, Peter Walton, then performed an Olympic-standard gymnastic routine, jumping through a series of hoops to explain why the ref wasn't at least called to the VAR monitor for a second look. "We don't want them to be forensically analysing the game," is what comes off the top of his head. This guy's good.
1.20pm BST13:20
Half-time entertainment … and a reminder that when this match is done, Barry Glendenning will be at the helm for MBM coverage of El Clásico.
Barcelona v Madrid: a silent clásico for teams with little to shout about
1.18pm BST13:18
HALF TIME: West Ham United 1-0 Manchester City
The Hammers lead thanks to Michail Antonio's marvellous overhead kick. They've looked dangerous in attack, while restricting City to speculative efforts. Much to think about for Pep. Plenty of time to put it right, of course. No flipping!
1.15pm BST13:15
43 min: Fabianski pumps long. Cancelo takes a heavy touch and allows Bowen to race down the right. That sets West Ham up for a series of speculative shots and crosses. City hold firm, blocking efforts by Masuaku and Soucek, but they're in panic mode all of a sudden. West Ham's confidence has ballooned after that slow start.
1.12pm BST13:12
42 min: Cresswell dinks it down the inside right again, but this time Antonio's there. He takes down well, but can't get a shot away, as he's quickly swarmed by defenders.
1.11pm BST13:11
41 min: A free kick for West Ham midway into City territory. The hosts line up on the edge of the box. Cresswell takes, and plays a ball down the inside-right channel to nobody. What a waste. But they'll get another chance, because Fornals has just been barged over in exactly the same place. Take two.
1.09pm BST13:09
39 min: Cancelo has the beating of Coufal. He drops a shoulder to make space down the left and curls in. Fabianski claims. This match continues to flow freely.
Football Sac à dos Manchester City 45 cm - 2 compartiments CM1/Collège Bleu

Design branché et original à l'effigie du club Manchester City, conception légère en polyester, panneau arrière matelassé, sangles moussées et réglables, fond solide, double compartiment zippé

FIFA 21 (PS4) - Version PS5 incluse

Créez-vous plus d'occasions de but que jamais avec les tout nouveaux systèmes offensifs dynamiques mis au service de la jouabilité FIFA la plus intelligente à ce jour. La Personnalisation du placement élève encore plus l'intelligence de jeu pour la rendre encore plus réaliste avec une meilleure analyse du temps et de l'espace. Gérez chaque moment dans le mode Carrière de FIFA 21 avec des innovations qui renforceront la richesse et la profondeur des matchs, des transferts et de l'entraînement afin de vous donner encore plus de maîtrise pour faire triompher votre équipe et faciliter vos débuts dans votre carrière d'entraîneur.

Pop! Vinyl Figurine Pop! Ederson Santana de Moraes - Football - Manchester City

Ederson, le gardien de but de Manchester City en Premier League et de la séléction brésilienne "La Seleçao" est désormais disponible en figurine Funko Pop!Cette figurine Funko Pop mesure environ 9cm et vient dans sa boîte fenêtre Funko.Veuillez noter que le produit final peut être différent du concept-art

Eastpak Benchmark Single Trousse, 21 cm, Noir (Black)

Un large compartiment principal qui peut contenir des stylos Hauteur : 6 cm, Largeur : 20,5 cm, Profondeur : 7,5 cm Fabrication 100% nylon ultra-résistant

English Premier League Premier League anglaise Liverpool Mohamed Salah Pop! Vinyle

EPL Football (Soccer) - Mohamed Salah Liverpool Pop Vinyl Figure La saison 2017/18 de Premier League est bien entamée, et pour célébrer, Funko vient d'annoncer une nouvelle vague d'EPL Pop Vinyl Figures br Featuring players from three of the league's most popular teams; Liverpool, Chealsea et Manchester

Prime Video

Avec X-Ray, consultez les données d'IMDB concernant les acteurs, la bande-son et les anecdotes de vos films et séries pendant la lecture. Grâce à Prime Video Channels, les membres Amazon Prime peuvent s'abonner à plus de 150 chaînes haut de gamme et spécialisées comme HBO, SHOWTIME, STARZ et Cinemax. Payez uniquement les chaînes que vous désirez ; aucun abonnement au câble n'est requis ; vous pouvez annuler à tout moment (cette option n'est pas disponible dans tous les pays/régions). Achetez ou louez des vidéos parmi plus de 100 000 titres, dont les dernières sorties de films et les émissions de télévision actuelles (cette option n'est pas disponible dans tous les pays/régions).