2.50pm GMT14:50
Louise Taylor was at St James' Park, and her verdict has landed. You know what to do: clickety click. Thanks for reading this MBM.
Tammy Abraham strike seals victory at Newcastle and sends Chelsea to the top
2.45pm GMT14:45
Steve Bruce talks. "We got off to an awful start … first half in particular maybe we were a bit too passive … second half was much better but you open up and they can pick you off … our best spell in the game was unfortunately when we conceded the second one … we had one or two opportunities but didn't quite take them … maybe we were too deep in the first half and gave them a bit too much respect … they're a very good side and can expose you … there's always grumbles … it was a difficult afternoon." He also reports that Lascelles' injury is "a strange one … he ran out to test his knee then felt his thigh … but we hope he's not too bad".
2.36pm GMT14:36
Frank Lampard talks to BT Sport. "We played well … the second goal was so important and we hand chances to score it earlier … but you can't have it all your own way … we put the game away very well in a professional performance … in the first half we were great … we had control and penetration … the result is key because the Premier League is tough and relentless … I'm very pleased … I'm not going to get excited about going top for five minutes, it's time to stay humble … it's a long race."
2.26pm GMT14:26
Tammy Abraham speaks. "It's a fantastic result. We dug deep. It's never an easy place to come and get three points, but we did that today. We didn't let the international break distract us. We had to come out all guns blazing and that's what we did. We kept our confidence and kept going. Obviously top is where we want to be. We need to keep getting the three points and hopefully we'll stay there."
2.22pm GMT14:22
FULL TIME: Newcastle United 0-2 Chelsea
Newcastle usually give Chelsea a hard time at St James' Park. Not today. They were utterly impotent. Chelsea didn't have to get out of third gear to cruise to the top of the Premier League. Frank Lampard has turned his side, seven games unbeaten now, into genuine title contenders.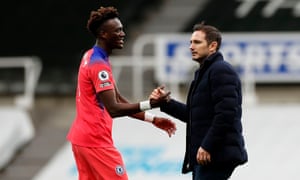 Tammy Abraham celebrates Chelsea's win with his manager Frank Lampard after the final whistle. Photograph: Lee Smith/NMC Pool/PA
Updated
at 2.38pm GMT
2.21pm GMT14:21
90 min +2: Carroll romps down the left. He hasn't scored in the Premier League for two-and-a-half years … and the wait goes on as his low shot is deflected into the side netting. Nothing comes of the resulting corner.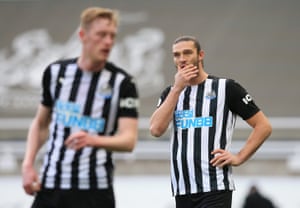 Newcastle United's Andy Carroll reacts. Photograph: Lindsey Parnaby/NMC Pool/.
Updated
at 2.27pm GMT
2.18pm GMT14:18
90 min: There will be three extra minutes … but this has been over for a long while now.
2.17pm GMT14:17
89 min: James loops in from a deep position on the right. Giroud sticks out a leg, hoping to steer a volley into the bottom right, but it's always screwing wide and the flag goes up in any case.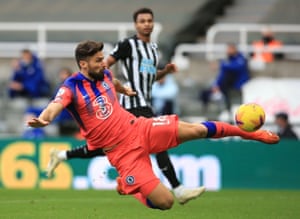 Chelsea's Olivier Giroud attempts a shot on goal. Photograph: Lindsey Parnaby/PA
Updated
at 2.36pm GMT
2.16pm GMT14:16
88 min: James stands on Longstaff's toe. Free kick to the left of the Chelsea box. Longstaff stays down a while, grimacing with pain. But eventually he springs back up again. Newcastle load the box. Almiron looks for Carroll but James gets in the road and nuts clear.
2.15pm GMT14:15
87 min: Ziyech comes off, in his own sweet time, to be replaced by Giroud. Meanwhile corner for Newcastle on the left … but it's a complete non-event.
2.14pm GMT14:14
86 min: Newcastle ping it around in Chelsea's half, but don't really build any pressure.
2.13pm GMT14:13
84 min: Lewis crosses from the left, but the ball flies high above Carroll. Newcastle have barely threatened Chelsea today.
2.11pm GMT14:11
83 min: James slips Ziyech into space on the right. Corner. Zouma tries to get another header away but can't connect properly this time.
2.07pm GMT14:07
79 min: Almiron opens his legs down the left and batters a rising shot towards the top left. The ball takes a nick off Zouma, forcing Mendy to turn around the post for a corner.
2.06pm GMT14:06
78 min: A long Kovacic pass down the right. Mount spins Fernandez with absurd ease, and should make it three, clear in the box. But he scuffs his shot across Darlow and wide left. Chelsea have passed up some chances today.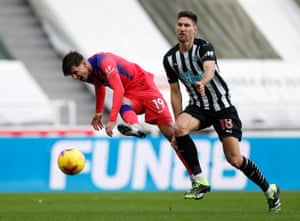 Chelsea's Mason Mount (left) attempts a shot on goal. Photograph: Lee Smith/NMC Pool/PA
Updated
at 2.18pm GMT
2.04pm GMT14:04
76 min: That's Werner's last act of the afternoon. He's replaced by Hudson-Odoi.
2.04pm GMT14:04
75 min: Ziyech draws three players before slipping a pass down the inside-left channel to release Werner. The striker rounds Darlow on the left and slots home. But he'd gone too early, and the flag correctly goes up for offside.
2.02pm GMT14:02
74 min: Saint-Maximin has been uncharacteristically quiet today. He's replaced by Carroll.
2.01pm GMT14:01
72 min: Sean Longstaff nearly scores one of the goals of the season. A corner on the right is worked back up the flank. Longstaff takes a touch, 30 yards out, and sends a fierce short-backlift riser towards the top left. Mendy is beaten all ends up, but the ball pings off the top of the crossbar. So close to an absolute stunner.
1.59pm GMT13:59
71 min: Schar romps down the middle and trips over his own feet. The ref gives him a free kick. There haven't been any hugely controversial calls today … but there have been some strange decisions.
1.57pm GMT13:57
69 min: Almiron's first act is a saucy dummy that sends Joelinton romping down the right wing. Joelinton wins a corner off Zouma, but the flag goes up for an absurd offside decision – the striker was clearly on – and it's a free kick to Chelsea.
1.55pm GMT13:55
67 min: Chelsea are heading for the top of the table, for a few hours at least. It's not all great news, though, because James is down again. Once more, he decides he's good to continue, but let's see how much longer he lasts. No point taking risks. Meanwhile Newcastle replace Manquillo with Almiron.
1.54pm GMT13:54
GOAL! Newcastle United 0-2 Chelsea (Abraham 65)
Chelsea counter at lightning speed. Werner drives with extreme prejudice at Schar, eating up the yards down the left channel. He's got Schar on toast, scooting past him, then rolling to his right for Abraham, who batters a shot off the base of the right-hand post and in. What a scintillating break!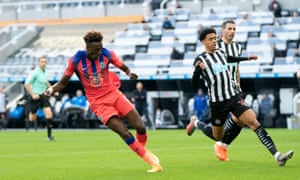 Tammy Abraham slots home Chelsea's second. Photograph: Jon Super/NMC Pool/The Guardian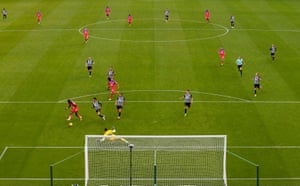 Here's the view of Abraham's goal from up in the stands. Photograph: Lee Smith/NMC Pool/.
Abraham celebrates. Photograph: Jon Super/NMC Pool/The Guardian
Updated
at 2.41pm GMT
1.52pm GMT13:52
64 min: Manquillo drives at Chelsea but can't find Saint-Maximin in acres of space on the left. A big mistake, because …
1.51pm GMT13:51
62 min: Abraham glides down the inside-left channel. He's got Werner in the middle, but opts to continue probing himself. Not the correct decision, as it pans out.
1.49pm GMT13:49
61 min: James goes down holding the back of his leg. He springs back up and gets on with it, but doesn't look totally comfortable.
1.49pm GMT13:49
60 min: Saint-Maximin comes in from the left and tees up Joelinton, on the edge of the D. Joelinton has time to sort his feet and open his body up, but his attempted curler towards the top right is high and wide. Chelsea are beginning to ship chances here.
1.48pm GMT13:48
58 min: Hayden bustles down the middle and loses control. Rudiger attempts to boot clear, but slams the ball straight at Hayden, who suddenly breaks free into the box! He must score, but leans back and hoicks over. No matter, as the referee had blown for hand ball. That might give Newcastle some heart, though.
1.45pm GMT13:45
57 min: Chilwell whips from the left to the far post. Ziyech is romping in, planning to meet it with his head. Lewis gets there first, though, eyebrowing the ball away from the Chelsea man just in time.
1.43pm GMT13:43
55 min: James wins a corner down the right. Zouma rises to win a header, flashing wide right from eight yards. Had that been on target, Darlow was rooted and beaten. Chelsea should be out of sight by now.
1.42pm GMT13:42
53 min: Schar takes receipt of a poor long Chelsea punt. He dallies and dallies, and allows Werner to steal it away. Werner enters the box from the left. He's one on one with Darlow, and scoring looks a simple job, but he decides to roll across to tee up Ziyech, allowing Clark is able to intercept and clear. What a chance! Not the first time Werner's decision-making has been a bit suspect today. He should really have two.
1.39pm GMT13:39
51 min: Newcastle have enjoyed 56% possession since the restart. Incremental improvements. Chelsea seem fairly comfortable, mind.
1.37pm GMT13:37
49 min: Stop. Start. Stop. Start. Neither team has found any rhythm yet. A series of petty fouls not helping.
1.35pm GMT13:35
47 min: A slow start to the half. Fernandez breaks the space-time continuum to take half an hour over a throw.
1.33pm GMT13:33
Newcastle get the second half underway. Just before the restart, Lascelles took to the pitch but quickly decided he wasn't fit to continue. Schar comes on in his place.
1.24pm GMT13:24
Half-time entertainment courtesy of Oliver Lewis. "Apologies to go on a bit of a rant, but can you answer me, watching Steve Bruce's football, why Newcastle fans are constantly called entitled for daring to suggest the absolute garbage he serves up regularly is not what we want to watch? It is effective, we get enough points to stay up but it is dreadful.
"It is constantly brought up that we were no more attacking under Rafa. Yes we were fairly negative the majority of Rafa's time. However for his last six months, Rafa had finally found a more exciting system that may have been counter attacking but led to us scoring plenty of goals and playing the best football we have for years.
"Rafa walks as Ashley finally commits to spending £40m but only on Joelinton rather than the cheaper and proven Rondon and reinforcing. That does not look so unreasonable a call now does it? Bruce comes in. Gets financial backing. Drops all our players who can pass the ball and serves up utterly dreadful football, continually blaming Rafa for training our players to be too effective defensively.
"No Newcastle fan 'expects' us to be challenging for anything more than midtable considering the investment involved. We are continually patronised as if hoofing it up the pitch is all we should rightly expect. I am reminded of when Brendan Rodgers brought his Liverpool to Sunderland and said he thought the people of the north east would be honoured to see the football he brought.
"I am tired at looking enviously at clubs coming up from the Championship on half the budget looking like Barcelona compared to us. Good football brings joy and excitement. Functional hoofing our way to 15th does not.
"Everyone says Bruce is a nice guy, it's why a lot of pundits have a lot of time for him. He is also not the root cause at all. But Newcastle are entitled to call BS that Bruce is doing a 'brilliant job'. This is the endless modern limbo of Newcastle: utterly joyless, utterly sapping and utterly hopeless.
"Rant over, and of course now Bruce will go on to score a fluky win to make me look stupid."
1.17pm GMT13:17
HALF TIME: Newcastle United 0-1 Chelsea
Chelsea have been dominant and deserve their lead … but they got a little bit sloppy towards the end of that half, giving up possession and a couple of half-chances that'll give Newcastle a little succour. More soon!
1.16pm GMT13:16
45 min +1: Lascelles is down again, feeling the back of his knee. Don't bank on him coming back out for the second half.
1.15pm GMT13:15
45 min: Murphy is booked for barging into the back of Mount. There wasn't too much in that one, either, but the referee is in an uncompromising mood this afternoon.
1.14pm GMT13:14
44 min: Saint-Maximin slides Lewis into space down the left. Lewis crosses deep. Murphy heads down to nobody in particular. Chelsea clear.
1.13pm GMT13:13
43 min: All a bit scrappy now, as both teams take turns to give the ball away.
1.11pm GMT13:11
41 min: Ziyech curls it towards the far post. Too high, too floaty. Easy for Darlow.
1.11pm GMT13:11
40 min: Hayden is booked for getting both ball and man as he slides in on Kovacic. He's not happy. That looked nothing more than a garden-variety foul. Free kick, anyway. A dangerous position for Chelsea out on the right.
Jeune Premier Cartable Jeune Premier It bag Midi Cherry Pink 38 cm CE2 rose

Cartable pour fillettes, imprimé enfantin cerises, revêtement solide, bretelles et dos renforcés, deux compartiments, doublure intérieure, attaches métalliques, fond renforcé

HELLY HANSEN Veste polaire coupe-vent CHELSEA - 72049

Brecrest Boys Football mis bébé enfants Newcastle 3-6 Months

3-6 Months - Newcastle - Équipe Football ensemble bébé garçons#!!#Téléchargez votre tout-petit aimer le jeu avec ce jeu de Football. Fabriqués avec aileron et coton ultra doux...

None Occasion Samyang 16mm f/2.0 ED AS UMC CS - Monture MFT

Cet objectif est en excellent état et ne présente que des signes d'usure minimes. Les éléments optiques sont propres et ne présentent aucune marque ou rayure. Il est probable que l'objectif contienne une quantité minime de poussière. Le fût de l'objectif comporte quelques légers défauts aesthétiques. La bague

Plafonnier de football -Design, verre, blanc noir, LEMMI