9.06pm GMT21:06
Dominic Thiem's runner up speech:
"Of course I'm disappointed, but at the same time I'm also proud of the performance, of all the week. Daniil really deserves it. Amazing match, congrats for, in general, another great year as well. Amazing month, November, with the Bercy title here and I hope we have many great matches to come. It was a pleasure today even though I lost.

And thanks also to my team for all the support without the crowd, even more important. Thanks a lot, we had an unbelievable year as well. Thanks for taking care of me in all the bubbles and I can't wait for other great years with all of you."
8.58pm GMT20:58
Daniil Medvedev recovers to defeat Dominic Thiem 4-6 7-6(2) 6-4 and win the ATP Finals
An incredible effort from Medvedev, who becomes just the third player in history to beat the top three players (Novak Djokovic, Rafael Nadal and Dominic Thiem) in one event. He is also the second Russian to win the title after Nikolay Davydenko in 2009.
He did so with such an impressive recovery that underlined why he is one of the best problem solvers in the sport. After being outplayed for a set and a half and at the mercy of Thiem's superior weaponry, Medvedev switched things up by embracing the net. He shortened points and forced Thiem to find a quality passing shot time and time again. Thiem could not.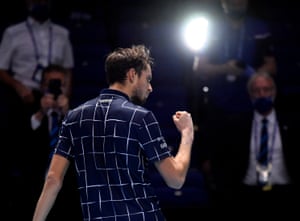 Medvedev celebrates winning. Photograph: Toby Melville/.
Updated
at 9.04pm GMT
8.54pm GMT20:54
Dominic Thiem 6-4 6-7(2) 4-5* Daniil Medvedev.
A very good response from Thiem after falling down 15-30 and standing two points from defeat. From 15-30, he unloaded on two magnificent point-winning down-the-line backhands in a row. He finished the game with a big inside out forehand winner.
At 2:39 and counting, this is the longest three-set ATP Finals final of all time and Medvedev will now serve to win it.
8.51pm GMT20:51
Dominic Thiem 6-4 6-7(2) *3-5 Daniil Medvedev.
A great hold to love by Medvedev to move to within a game of the biggest title of his career. He finished by forcing a Thiem error by flitting into the net behind a beefy backhand at 30-0, then he opted for a serve and volley attempt at 40-0, finishing the game with a lovely backhand volley winner.
"He's transformed himself into Pat Rafter," says Amazon Prime commentator Nick Lester.
8.46pm GMT20:46
Dominic Thiem 6-4 6-7(2) 3-4* Daniil Medvedev.
Thiem keeps himself in the match with a much needed quick hold to love. From 30-0, he finished the game with an ace and a service winner.
Updated
at 8.48pm GMT
8.45pm GMT20:45
Dominic Thiem 6-4 6-7(2) *2-4 Daniil Medvedev.
Medvedev was dragged back from 40-15 to deuce, but he escaped with ease. At deuce he produced a big first serve that Thiem could not return, then he attempted another serve and volley off his second serve. Medvedev's volley sat up for Thiem, but the Austrian sent a routine forehand passing shot long.
8.40pm GMT20:40
Dominic Thiem 6-4 6-7(2) 2-3* Daniil Medvedev.
After a long, tight game, Medvedev breaks! Down break point at 30-40, Thiem once again tightened his focus and produced his best tennis. He saved it with a serve-forehand combination, crushing a crosscourt forehand winner.
Thiem produced two game points, with Medvedev cancelling out both before Thiem netted a forehand to give Medvedev his second break point. Thiem saved it with a forehand winner.
He could not save a third. Medvedev snuck into to the net after striking an unthreatening backhand down the middle – an outrageous move – and he nailed his volley to take the break.
Updated
at 8.42pm GMT
8.29pm GMT20:29
Dominic Thiem 6-4 6-7(2) *2-2 Daniil Medvedev.
No problems at all for Medvedev, who breezed through a 69 second love hold behind some enormous serving.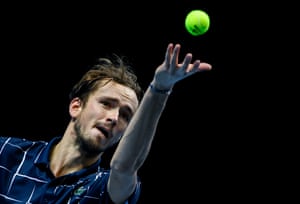 Daniil Medvedev of Russia serves against Dominic Thiem of Austria. Photograph: TPN/.
Updated
at 8.34pm GMT
8.27pm GMT20:27
Dominic Thiem 6-4 6-7(2) 2-1* Daniil Medvedev.
It looked like Thiem was tiring as he threw down three errors to immediately face a 0-40 deficit. Instead, he found his first serve and elevated his forehand. Thiem saved the first break point at 0-40 with a serve-forehand 1-2 punch and he found an unreturned serve on the second. On the third, he produce another winning forehand behind a big serve. At deuce, he finished the point with his third serve-forehand combination of the game. Thiem then closed off a brilliant hold with an unreturned serve.
Thiem had many chances in the first half of the second set and his level dropped a little by the tiebreak. We'll see if this quality tennis under pressure will help his level to rise again.
Updated
at 8.27pm GMT
8.21pm GMT20:21
Dominic Thiem 6-4 6-7(2) *1-1 Daniil Medvedev
Thiem pulled Medvedev to 30-30 by drawing a forehand error from a trusty slice. At 30-30, after a long exchange Thiem just overcooked a forehand. Medvedev tried to serve and volley at 40-30, but a Thiem defensive lob sent him moving backwards and another long, thoughtful exchange ensued. With both players scrambling around the court, Medvedev landed the finishing blow with a vicious winning inside-in forehand.
8.15pm GMT20:15
Dominic Thiem 6-4 6-7(2) 1-0* Daniil Medvedev
Good work from Thiem to hold after a tight deuce game. Thiem was dragged to deuce after long 30 stroke exchange, spraying a forehand wide on the final shot. From deuce, he landed an unreturned serve and then finished with a volley into the open court after a big overhead.
Updated
at 8.16pm GMT
8.12pm GMT20:12
It just was very enjoyable to watch Medvedev problem solve throughout that set. He faced ample trials early on and saved break point but he kept on searching for solutions, at one point even throwing in a series of moonballs and coming away with the point.
In the end, the breakthrough came in an unexpected part of the court: the net. In the second half of the set, he continually moved forward, doing so behind first and second serves, meaty groundstrokes and even after a second serve return in the tiebreak. He may not be the most natural net player in the world, but that doesn't matter when your opponent is also uncomfortable.
8.06pm GMT20:06
Daniil Medvedev draws level with Dominic Thiem at 4-6 7-6(2)
From 0-2 down, Medvedev breezed through seven points in a row to snatch the tiebreak with ease. After sealing a second mini break with some great defence, at 5-2 Medvedev slotted away a forehand winner after a great serve. He finished with an ace down the T. We're off to a third set.
8.03pm GMT20:03
Dominic Thiem 6-4 6-6 (*2-4) Daniil Medvedev
Medvedev did very well to dig himself out of a 0-2 hold. At 0-2, he swept into the net and played a really nice backhand volley. At 1-2, a hooked crosscourt topspin forehand forced an error from Thiem. He then slammed down an unreturned serve to take the lead before forcing a Thiem error by sweeping into the net behind a strong backhand return.
8.01pm GMT20:01
Dominic Thiem 6-4 6-6 Daniil Medvedev
Thiem moves through a strong final hold of the set, sealing the game to 15. A bit wasteful from Medvedev, who produced with three high risk forehand errors – two forced errors and one unforced – from 15-15. This second set will be decided on a tiebreak.
7.55pm GMT19:55
Dominic Thiem 6-4 *5-6 Daniil Medvedev
Medvedev is finishing this second set very well and he is mixing things up by coming to the net frequently. After a very nice winning forehand drop volley at 15-15, he produced two game points with an ace down the T. On the second game point, he again threw in a serve and volley behind a second serve, slotting his forehand volley away. He will do no worse than a tiebreak in set two.
7.52pm GMT19:52
Dominic Thiem 6-4 5-5* Daniil Medvedev
So much for extra pressure. A very strong hold from Thiem, who served extremely well. He finished with a winning overhead off a big serve at 30-15, sealing the game with an unreturned serve.
7.48pm GMT19:48
Dominic Thiem 6-4 *4-5 Daniil Medvedev
Good work from Medvedev to hold to 15 with few problems. At 30-15, he threw in a serve and volley, nailing the high volley, then he landed a big unreturned serve on game point. A little bit of scoreboard pressure for Thiem as he serves to stay in the set.
7.46pm GMT19:46
Dominic Thiem 6-4 4-4* Daniil Medvedev
A strong hold by Thiem, who recovers from break point to keep the set on serve. The danger arrived via the most peculiar rally. At 30-30, Medvedev threw in a series of comical forehand moonballs, completely slowing down the pace of the rally before accelerating with a stunning angled crosscourt forehand winner on the 24th shot. Thiem saved the break point well, piecing together a serve-forehand 1-2 punch. On game point, Medvedev netted a backhand.
From the serve and volley in his previous service game to the moonballing in this game, Medvedev is trying to disturb Thiem's rhythm and give him no sense of what is coming next. We'll see whether it works.
7.38pm GMT19:38
Dominic Thiem 6-4 *3-4 Daniil Medvedev
A huge opportunity missed by Thiem, who generated multiple break points but just could not get it done. At 30-30, Medvedev overhit a loose forehand error to give Thiem another break point.
It turned a huge opportunity for Thiem after an ill-advised serve and volley from Medvedev off his second serve but Thiem bunted his passing shot wide. Another Medvedev forehand error produced a second break point, which he saved with an ace.
Medvedev eventually escaped after Thiem missed a forehand passing shot at deuce, screaming in frustration afterwards. On game point, he slammed down an ace. Medvedev is living dangerously, but he is alive.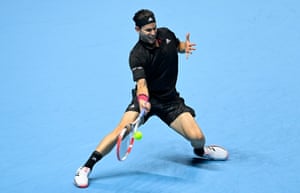 Dominic Thiem of Austria hits a forehand. Photograph: TPN/.
Updated
at 7.56pm GMT
7.31pm GMT19:31
Dominic Thiem 6-4 3-3* Daniil Medvedev
Great serving from Thiem to breeze through a hold to love, sealed with an unreturned serve. He is into a very good rhythm on serve, which is not a good sign for Medvedev.
7.29pm GMT19:29
Percentage of topspin and slice backhands from Dominic Thiem:
Today: 23% topspin, 77% slice
Rest of tournament: 66% topspin, 34% slice
7.27pm GMT19:27
Dominic Thiem 6-4 *2-3 Daniil Medvedev
Medvedev comes through a really good hold to keep himself ahead, saving a break point in the process. After a couple of dire errors to fall down 30-40, he responded by slamming down an ace at 30-40 and then a quick serve-forehand 1-2 punch at deuce. Thiem saved the first game point with a spectacular passing shot and the second with a drop shot winner. On the third, a Thiem backhand slice drew an error from Medvedev.
But Medvedev kept on attacking. He finally closed it off with a very good move to the net, landing a good finishing volley, before finding an unreturned serve on game point.
7.20pm GMT19:20
Dominic Thiem 6-4 2-2* Daniil Medvedev
An easy, spectacular love hold for Thiem. He produced a blazing backhand down-the-line passing shot at 15-0, then he returned to a tactic that has served him very well against Medvedev by unexpectedly injecting pace into a searing backhand down-the-line winner after a series of slices. He held with an unreturned serve.
7.17pm GMT19:17
Dominic Thiem 6-4 *1-2 Daniil Medvedev
Very good serving from Medvedev to hold to 30 with few issues. He closed it off with his third winning serve plus one (winning groundstroke off the serve) of the game. Efficient work.
7.14pm GMT19:14
Dominic Thiem 6-4 1-1* Daniil Medvedev
Thiem handles a bit of pressure on his serve to hold with ease. After being dragged to 30-30 by some strong net play from Medvedev, the Russian missed a second serve return. At 40-30, Thiem landed an unreturned first serve to hold.
7.10pm GMT19:10
Dominic Thiem 6-4 *0-1 Daniil Medvedev
Medvedev lands a strong hold to start the second set. At 15-15 he triumphed in an incredible exchange, eventually sweeping to the net and doing just enough with his volley. At 30-15, he landed an inside in forehand winner directly of a Thiem backhand slice. He closed it off with an unreturned serve.
7.05pm GMT19:05
Dominic Thiem takes the first set 6-4 against Daniil Medvedev
An extremely good set from Thiem, who served so well in important moments, battered Medvedev's forehand with his slice and also found a bit of fortune.
After digging out of a 15-30 deficit, on set point Thiem's forehand passing shot clipped the net and Medvedev could do nothing.
6.58pm GMT18:58
Dominic Thiem *5-4 Daniil Medvedev
Thiem will serve for the first set after a quick, uneventful love hold for Medvedev. Great serving. After a winning backhand down-the-line off a big serve, he finished with two consecutive unreturned serves.
6.57pm GMT18:57
Dominic Thiem 5-3* Daniil Medvedev
Three unreturned serves and a first love hold for Thiem at the perfect time. In the blink of an eye, he is now a game from snatching the first set.
6.52pm GMT18:52
Dominic Thiem *4-3 Daniil Medvedev
A quick hold for Medvedev, who produced a really nice backhand drop volley winner at 15-15 before dismounting with two consecutive unreturned serves.
6.51pm GMT18:51
Dominic Thiem 4-2* Daniil Medvedev
Thiem was strolling to a hold at 40-15, only to overcook two consecutive forehands. At deuce, he found another huge unreturned serve. Medvedev saved the game point by sneaking to the net behind a big forehand and executing a very nice drop volley winner.
But Thiem is just so confident right now. At deuce, he pulled off an absurd 92mph forehand down the line winner off a high ball from far behind the baseline, then he finished with another unreturned serve.
Thiem is serving well, landing forehand blows on the big moments and killing Medvedev with his backhand slice early on. Things are going well for him.
6.44pm GMT18:44
Dominic Thiem *3-2 Daniil Medvedev
We have our first break. Medvedev eased to 40-0 and looked en-route to another hold, but then he threw in a couple of loose errors. At 40-30, he brilliantly constructed the point and moved forward, only to net the final overhead.
After some great defence throughout the game, Thiem came up with a moment of brilliance at deuce, delicately placing a drop shot winner after a brutal forehand. On break point, Medvedev double faulted.
6.37pm GMT18:37
Dominic Thiem 2-2* Daniil Medvedev
Thankfully for Thiem, simpler hold keeps him level. From 15-15, Thiem pieced together a serve-forehand 1-2 punch. Medvedev then missed a forehand wide at 30-15. The Austrian dismounted with a big unreturned serve. He is serving very well in these early days.
6.32pm GMT18:32
Dominic Thiem *1-2 Daniil Medvedev
After a couple of sloppy errors, this time Medvedev digs himself out of a hole with aplomb. From 0-30 down, he produced a quick serve-forehand 1-2 punch, an unreturned serve and then he moved into the net, forcing a lob error from Thiem at 30-30. On game point at 40-30, Thiem shanked a forehand long.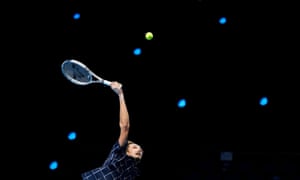 Daniil Medvedev in action Photograph: Toby Melville/.
Updated
at 7.02pm GMT
6.29pm GMT18:29
Dominic Thiem 1-1* Daniil Medvedev
A brilliant hold for Thiem to put himself on the board, saving two break points in a 10 minute service game.
It has not taken long for both to get up to speed with long, high octane rallies peppered across Thiem's first service game. Thiem eventually netted a forehand at deuce to give Medvedev his first break point, which the Russian saved with a serve-forehand 1-2 punch. Faced with a second break point, Thiem slammed an ace down the T. After failing to convert another game point, Thiem found consecutive unreturned serves to hold.
6.17pm GMT18:17
Dominic Thiem *0-1 Daniil Medvedev
Medvedev moves through a hold to 30 in his opening service game. At 15-0, he constructed a beautiful point, eventually moving to the net and finishing with a drop volley winner. After a double fault and sloppy forehand error, Medvedev slammed down consecutive aces from 30-30 to hold.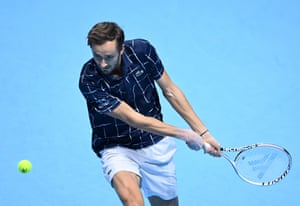 Daniil Medvedev of Russia in action Photograph: Andy Rain/EPA
Updated
at 6.28pm GMT
6.08pm GMT18:08
The players have arrived on court. Dominic Thiem won the toss and chose to receive first.
5.40pm GMT17:40
Some Dominic Thiem stats:
Dominic Thiem is the second player to beat Novak Djokovic, Rafael Nadal and Roger Federer at least 5 times.
He is 5-7 vs Djokovic, 6-9 vs Nadal, 5-2 vs Federer.
Thiem's win over Djokovic was his 300th ATP win and 5th win over a current No 1.
5.37pm GMT17:37
A few Daniil Medvedev stats thanks to the ATP stats team:
After going 0-3 at last year's edition, Daniil Medvedev is looking to become to first player to win the title after being winless in his debut.
Medvedev would also be the second Russian champion in the history of the tournament.
Medvedev's top 10 wins in November 2019-October 2020: 0 Medvedev's top 10 wins in November 2020: 6. He is also on a 9 match winning streak.
4.48pm GMT16:48
If Daniil Medvedev wins, he will be just the fourth player in history to beat the top 3 players at one event.
4.47pm GMT16:47
There will be 6 ATP Finals champions in 6 years: Novak Djokovic, Andy Murray, Grigor Dimitrov, Alexander Zverev, Stefanos Tsitsipas and Dominic Thiem or Daniil Medvedev.
The only other time this happened was between 1974 and 1979.
4.45pm GMT16:45
So, what should we be looking out for today? I am particularly interested in how both players return today. For all of his great results this year, Thiem has only broken serve in 4/55 (7%) of return games this week, an astonishing stat. He broke Nadal and Novak Djokovic just once in each match while Medvedev managed to do so 7 times against them in total.
Firstly, this reflects how well Thiem's served this week. He is by no means the biggest server in the world, but his variety on serve, with heavy topspin, slice and precision, is excellent. His plus-one shot (forehand) after his serve has also been sublime as usual.
This stat also reflects how clutch he has been in the big moments, keeping hold of his serve and then backing himself to elevate his level when it matters. Against Nadal, he recovered from 2-5 down in the first set tiebreak, saving one of Nadal's set points with an 100mph inside out forehand bomb. Against Djokovic he recovered from 0-4 in the third set tiebreak with some magnificent ball-striking. Can he continue to live on the edge tonight?
It will be tough. Medvedev handled both Djokovic's and Nadal's serves far better than anyone else in the tournament and he has also served extremely well. He did also show against Nadal that he can sometimes lose his serving rhythm as he did at 3-4 in the first set.
In the end, Medvedev should be extremely disappointed if he doesn't put Thiem's serve under pressure and introduce a different dynamic than in the previous matches this week.
Also keep an eye out for how much Thiem decides to use his slice backhands in order to make Medvedev's flat groundstrokes uncomfortable. At the US Open, he sliced the majority of his backhands and it worked well. Last night, Medvedev had plenty of practice against Nadal's backhand and he showed that he can adjust after initially struggling.
3.05pm GMT15:05
A big tennis birthday today. Billie Jean King is 77. Here is my interview with her from September.
Updated
at 3.05pm GMT
2.39pm GMT14:39
Here are highlights from their most recent meeting at the US Open
11.20am GMT11:20
Preamble
Hello! Welcome to our coverage of the final final of the ATP Finals in London. It does feel quite fitting that this last edition at the O2 Arena has produced what feels like a notable shift. Both Rafael Nadal and Novak Djokovic started this tournament in good health and decent form, neither played badly but they were both beaten by Daniil Medvedev and Dominic Thiem, tonight's finalists.
At least four generations of challengers have come and gone since Roger Federer and Nadal first faced off at a Grand Slam tournament in 2005 but finally there is an indication that, as Nadal and Federer tread deeper into their 30s, at least Thiem and Medvedev are prepared to compete with and beat them consistently. Still, doing so over best of 5 sets at Grand Slams is a completely different challenge and the coming years will be fascinating to see just how long the top two players continue to dominate in the tournaments that really matter.
Today, we will focus on a budding new rivalry between Thiem and Medvedev. They have played four times in the past, with Thiem taking a 3-1 lead in the head-to-head, but really only their most recent meeting is relevant here. Medvedev had not yet broken through when he was edged out 7-6(5) in the third set by Thiem in 2018 and of their two matches in 2019, Thiem demolished Medvedev on clay in Barcelona and then Medvedev picked a part a sick Thiem in Montreal.
When the pair played in the semi-final of the US Open this year, at the time it really felt like a de-facto final. Medvedev's performance was extremely disappointing. He led 5-3 in the second set and 5-2 in the third set but he ended up falling in straight sets to Thiem, 6-2 7-6(7) 7-6(5).
Updated
at 2.10pm GMT
Ecuphar Equi-atp Vitamines Energie et Souplesse des Muscles Cheval de Sport Poudre Orale 1kg

Equi ATP est une formule unique pour le cheval athlète, elle apporte de l'énergie et assouplit les muscles du cheval avant, pendant et après l'effort. Cet aliment complémentaire pour chevaux est particulièrement recommandé chez le cheval athlète à l'entrainement ou pour préparer une grosse séance ou une

YouTube

Browse by interest - Discover videos you'll love in categories like music, entertainment, news, gaming, and more. All from the comfort of your couch. Supports multiple accounts - Everyone at home can sign into YouTube with a Google account to see recommendations, subscriptions, and playlists. Play YouTube videos from your phone on the TV - It's easy to enjoy videos with friends and family. Simply find the videos you want to watch on your phone, then send them to your TV with a single tap. Search by voice - Quickly and easily find what you want to watch using voice search. Watch movies and shows - Stay entertained with thousands of movies and TV episodes available to own, rent, or watch for free. Enjoy music on the big screen - Find music videos featuring your favorite artists, songs, live performances and more. Discover new music based on your tastes and what's trending around you. Watch videos in 4K - YouTube is home to the world's largest library of online 4K content. Enjoy high-definition videos on the biggest screen in the house – from scenic nature videos to movie and video game trailers and more. (Requires a 4K-capable device.)

Suspension Beat Light Fat D24 cm - Noir - Noir - Noir

Beats Ecouteurs Sport BEATS Powerbeats Pro Ble

Les Powerbeats Pro sont des écouteurs sans fil, haute performance, avec un confort optimal et une autonomie allant jusqu'à 9h pour vous accompagner pendant vos entraînements les plus intenses. DES ÉCOUTEURS CONÇUS POUR BOOSTER VOS PERFORMANCES Grâce aux Powerbeats Pro, vos séances de sport sont plus

FIFA 21 (PS4) - Version PS5 incluse

Achetez fifa 21 sur Ps4 avant la sortie de fifa 22, et passez à la version Ps5 de fifa 21 sans frais supplémentaire. Consultez ea.Com/nextlevel pour plus d'informations. Achetez fifa 21 sur xbox one avant la sortie de fifa 22, et passez à la version xbox series x de fifa 21 sans frais supplémentaire. Consultez ea.Com/nextlevel pour plus d'informations. Offre de précommande: voir visuel pour plus d'informations

Mitigeur d'évier de cuisine pliant Nobili Live LV00117/71CR | Chromé