12.38am GMT00:38
67th over: India 141-3 (Pujara 33, Vihari 4) A maiden from Hazlewood to Vihari.
12.34am GMT00:34
66th over: India 141-3 (Pujara 33, Vihari 4) Lyon bowling and Vihari is able to get on the back foot for the most part, then comes forward to knock a run towards mid-off. Lyon is trying to force the batsmen to play everything to the leg side, where his field is set. Pujara is equal to it for now, using his feet again and whipping two runs through the leg. He tries to repeat the dose but finds Pucovski at square leg. There's also a midwicket and a backward square, all quite straight, the three quite close together to block that part of the field.
12.31am GMT00:31
65th over: India 138-3 (Pujara 31, Vihari 3) Hazlewood continues and this time Pujara drives him for four. He's moving against both forms of bowling. That ball was full at the stumps and Pujara plays an economical push through the line of it, down through mid-off and it beats the chase. Hazlewood brings in a short straight midwicket to stand alongside the short straight mid-on, starting to build a reverse cordon in front of the wicket. Hazlewood bowls a couple down the leg side.
12.27am GMT00:27
64th over: India 134-3 (Pujara 26, Vihari 3) Lyon to Vihari, who takes a couple of runs with a glance down the leg side, darts back for the second. Then another edge over Wade! Vihari pushing hard it, looking to score, edging into pad and on a finer angle than Wade could cover at short leg, again diving back but not getting a touch.
Updated
at 12.30am GMT
12.20am GMT00:20
Colum writes in – and to be fair to him, this was just before Pujara went after Lyon.
"If India are to get close to Australia's total, I think Vihari and Pujara are going to have to take Lyon on and attack his bowling as Rahane managed to do fleetingly and as Smith managed to do against Ashwin. Easier said than done on a turning pitch and Lyon flighting the ball beautifully but Australia don't have the spin back-up that India have with Jadeja."
If he keeps bowling with four catchers, certainly.
12.19am GMT00:19
63rd over: India 132-3 (Pujara 27, Vihari 1) Thank goodness that's over. Pujara reverts to type, playing out a maiden against Hazlewood. No risks against the Menace of Adelaide. Drinks break.
Updated
at 12.31am GMT
12.15am GMT00:15
62nd over: India 132-3 (Pujara 27, Vihari 1) Four around the bat for Pujara again, so he takes them on! Skips down and on-drives along the ground for four. He recognises that he has to force that field back, and that he has opportunities with the gaps out there. The same again as Lyon drops short, and Pujara cuts him for four! Not too short, but Pujara uses his weight transfer to rock back and nail it between the two catches on the off side. Next ball, Pujara comes down the wicket again, and Lyon drifts it wider of off stump, so Pujara ends up flicking across the line hockey style, through midwicket for three more runs. He insists on the third and Vihari has to motor. 11 from the over!
Pujara had 16 from 100 balls, then scored 11 from four balls.

Updated
at 12.25am GMT
12.10am GMT00:10
61st over: India 121-3 (Pujara 16, Vihari 1) Hazlewood to Vihari now, who has been facing spin. Vihari leaves on length and the ball sails over the off stump. Hazlewood thinks that he might be getting some reverse swing, you can see on the pictures that he's hiding the ball as he runs in to bowl so that no one can see which side is facing which way. Vihari gets one away off his pads but Pucovski dives at midwicket to prevent a run. This is suffocating from the Australians, another maiden, India going at less than two runs per over right now.
12.06am GMT00:06
60th over: India 121-3 (Pujara 16, Vihari 1) Slip, leg slip, short leg for Lyon, as well as a midwicket and a backward square leg to cut off the scoring. Vihari has 'TON' on his bat. He made one here against Australia A a couple of weeks ago. And he gets off the mark here with a push into a vacant cover region. For Pujara, the Aussies bring in the bat-pad on the off side as well, four catchers. Pujara advances, therefore, and kicks the ball away with the knee roll of his pad, bat tucked safely away.
12.03am GMT00:03
59th over: India 120-3 (Pujara 16, Vihari 0) Hazlewood bowls on the leg stump, and I'm not sure if that was a tactic but there's a cry of excitment as Pujara glances it away in the air, the way he's got out before. Australia have a leg gully in place but that shot goes much squarer, safely for two. There's protection back on the rope to save it. He's also got a short straight mid-on standing near the non-striker, just to mess with Pujara's footwork and eyeline.
11.59pm GMT23:59
58th over: India 118-3 (Pujara 14, Vihari 0) Lyon has a shot at Vihari now. Bowls a full over to him, the standard off-break over the wicket, lots of flight and shape. Vihari is consistently stepping across outside off stump, accounting for the turn and playing with it to the leg side, but he has the catcher waiting there and the field set to stop him scoring. Lyon will be feeling very confident that if this keeps going, eventually he can spin one more to take the inside edge, or a straighter one to the outside edge.
11.57pm GMT23:57
57th over: India 118-3 (Pujara 14, Vihari 0) Josh Hazlewood on now to replace Cummins, curious after the latter just took a wicket. Pujara is very watchful here, as you'd imagine, sizing up the new opponent. Only gets to leave a couple, plays the rest, until he gets a bouncer last ball and goes underneath it. A typical JH maiden to begin.
11.55pm GMT23:55
56th over: India 118-3 (Pujara 14, Vihari 0) Nathan 'Nathan' Lyon continues, and they go upstairs for a DRS when a bat-pad appeal against Pujara is given not out. Tim Paine is really getting stroppy about that being given not out, because there's general background movement on the audio graph as the ball passes the bat, but there's movement on the graph the whole time. Someone really needs to train the umpires and players in how sound signatures actually work. Paine is probably cross because he was given out in similar circumstances, but that time there was a more distinct movement on the graph. It still definitely wasn't ball hitting bat, because that sound signature is much sharper, but umpires are not audio engineers. The experts running the tech would have known it wasn't out, but they don't get to advise on the decision. Pujara glides away a single from the final ball and keeps strike.
11.49pm GMT23:49
55th over: India 117-3 (Pujara 13, Vihari 0) The big news of that over was going to be that Pujara had scored a run from Cummins, but then Rahane got out. Pujara did want to come back for a second and got turned down, then the wicket fell next ball. Hanuma Vihari next to the middle.
11.44pm GMT23:44
WICKET! Rahane b Cummins 22, India 117-3
Cummins gets him! He's bowled so well, last night and this morning, and gets reward with his second wicket. He bowls back of a length, Rahane wants to play a little late dab without a cordon of slip catchers waiting for him, but he doesn't account for the seam movement that Cummins can generate. This ball jags back in sharply, taking the bottom edge of the diagonal bat, very close to Rahane's body, and down onto the stumps. He left himself nowhere to go playing that shot. The captain is gone, with India still 221 behind.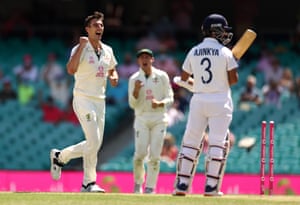 Pat Cummins celebrates the wicket of Ajinkya Rahane. Photograph: Ryan Pierse/.
Updated
at 11.47pm GMT
11.41pm GMT23:41
54th over: India 116-2 (Pujara 12, Rahane 22) Lyon comes back for Starc, the changes keep rolling. Not a bad idea from Paine to give Starc a quick burst and see if he could do something, with Lyon always available to return to. Rahane tries to turn over the strike, flicking firmly towards midwicket but the ball is saved. Then he's missed at short leg! The shortness being too short in this instance. Lyon gets the classic off-spinner's zip into the pads, takes an inside edge on the way and loops over Wade's lid. The fielder leaps up and back, and gets the slightest phantom of a fingertip to it as he cranes back with his arm well behind his body, but he was no chance of keeping it. Rahane decides to assert authority back over the contest, and two balls later comes down to hit down the ground for six. A neat lift of the ball over long-on, contained and controlled. That's probably the right idea, can't just keep defending or there'll be more catching chances.
11.36pm GMT23:36
53rd over: India 110-2 (Pujara 12, Rahane 16) More good stuff from Rahane: flicks a couple of runs off his pads, then hooks another single. Cummins has fine leg and deep backward square on the rope now, the classic bouncer field. Pujara sees out the rest, including a really fierce bouncer that has the crowd getting vocal as Pujara sways away, calm as a monk.
11.31pm GMT23:31
52nd over: India 107-2 (Pujara 12, Rahane 13) Starc in to bowl, back over the wicket, and there's the first boundary of the day! Lovely from Rahane, he sees the overpitched length angling across him, just outside his off stump, and he's ready to make use of it. Just leans minimally onto the front foot and eases a cover drive through it, short backlift and short follow-through, but timed and using Starc's pace to zoom to the boundary. Starc sends a couple of short ones in at Rahane's armpit in response. But when one gets a touch shorter than those, up to shoulder height, Rahane hooks a single along the ground to long leg. This is excellent batting.
11.27pm GMT23:27
51st over: India 102-2 (Pujara 12, Rahane 8) Cummins in at the pads, and Rahane slants away a single behind square leg. He's been clever at this so far, Rahane, finding a run here and there to make sure it's not entirely a defensive exercise. Considering how hard it might become to face Lyon later, it won't be a big help to block out the quicks without scoring. Pujara sees out the next five balls.
11.24pm GMT23:24
50th over: India 101-2 (Pujara 12, Rahane 7) Now Starc comes around the wicket to angle in at the right-handers. He's also using the bouncer approach, with a couple of fuller balls thrown in for variety. Pujara though does what Pujara does: waits, watches, endures.
11.21pm GMT23:21
49th over: India 101-2 (Pujara 12, Rahane 7) Cummins now sends down a full over back of a length, in at the body of Rahane. The one proper bouncer that he bowls goes astray, down leg side and easily ducked, but the last ball of the over is nasty at the gloves, and you can see Rahane relax his back-foot defensive push at the last instant to try to make sure that the ball falls softly to ground rather than skewing into the air. It does, after smashing his top hand against the handle, but luckily it hits him flush on the padded part at the front of the fingers and doesn't seem to have done him any damage. No run.
11.15pm GMT23:15
48th over: India 101-2 (Pujara 12, Rahane 7) Now it's Mitchell Starc to bowl, left-arm fast. Interesting, in that things already looked tasty for Lyon in the one over he bowled. Starc is similarly bowling with a leg-side field, left-arm over the wicket, with his natural swing into the pads of the right-handers. Rahane takes four balls to size it up and then works him square for a single.
India's deficit is currently 237 runs with eight wickets in hand.
11.13pm GMT23:13
47th over: India 100-2 (Pujara 12, Rahane 6) Pat Cummins to bowl from the other end, and already Australia have gone with a very leg-side field. One slip in, but there's a short midwicket and a leg gully and a short leg. Cummins bowls full at the stumps, some threatening deliveries with a bit of shape through the air. Seeing if he can get Pujara to play off the pads in the air, but Pujara bats out a maiden. Pujara did make 193 last time he was here, batting for about two days. It looks like harder work this time around.
11.09pm GMT23:09
46th over: India 100-2 (Pujara 12, Rahane 6) Nathan Lyon will start proceedings for the day, Australia's off-spinner who Ric was writing about in the previous post. He has plenty of company around the bat: short leg, slip, and a roadblock as Jim Maxwell calls it, at bat-pad on the off side of the pitch. Rahane knocks away a single and then it looks like Pujara has decided that he doesn't want to be a duck in a shooting gallery today with those catchers waiting: twice he moves away from the line and forces through the off side, first for a brace and then for a single. Raises India's hundred, and that was much more positive already than the defensive play – the necessary defensive play – of last night.
10.58pm GMT22:58
I mean, the stat is great but the best part is seeing ABC statistician Ric Finlay adopt the usage of "shout-out".
Ric Finlay
(@RicFinlay)

A shout-out to NLyon, who is playing his 77th consecutive Test, equal 15th in the list who have done this the most. The other 15 are all pure batsmen, except Gilchrist and Sobers, who can be selected for their batting alone. Lyon thus top of specialist bowlers, great achievement!

January 8, 2021
10.54pm GMT22:54
It was especially interesting yesterday to welcome back Steve Smith to the runs list. It wasn't like his last year and a bit was terrible – he still made three fifties in eight Tests and averaged 30. For a lot of players that would constitute a career. But by Smith's standards it was a long stretch. Since his first Test century, the longest gap without one was four matches. Yesterday he made 131, equalling Allan Border with 27 Test hundreds. Border played 156 Tests, Smith is in his 76th.
10.35pm GMT22:35
If you'd care to get into a bit more detail interspersed with a bit less seriousness about the second day, Adam Collins and I went on a giant ferris wheel to talk about it. Why? I don't have an answer to that.
10.33pm GMT22:33
For the main points of yesterday's day of play, here's our wires report.
10.32pm GMT22:32
Get in touch
The communication game. Yodel from the hills, twirl the rotary telephone. Or just send me an email. Details are in the sidebar box.
4.25pm GMT16:25
Preamble

The Sydney Test, day three, match three, and it's still all to play for. The Australians got themselves out on day two for a moderate kind of score of 338, but it's going to take a lot of hard work if the Indians are to match it. They scored 96 runs in 45 overs, barely 2 per over, against some extremely good bowling. Nathan Lyon looked dangerous throughout, Pat Cummins did too, and the pitch looks pretty difficult to score on. A few bits of misbehaviour, with some balls leaping or creeping, but mostly just slow and hard to time shots. So, 338 for India is a long way away.
Cheteshwar Pujara and Ajinkya Rahane make up the pair to resume, the two most reliable and senior players for India. They'll need to do a lot of the spadework.
Australia will be feeling very cheered up by Steve Smith's return to the runs after his century on day two. India will be cheerful after another influential performance from Ravindra Jadeja, who was sensational with four wickets and the final thrill of a ridiculous run out to end Smith's day and Australia's innings.
The deficit is 242, eight wickets in hand, and the forecast chance of rain has dropped to 20%. Here's hoping. Shall we?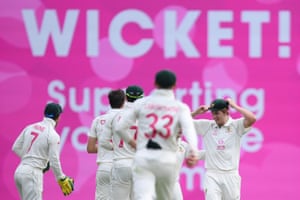 The third Test is finally poised at the start of day three at the SCG. Photograph: Dean Lewins/EPA
Updated
at 10.29pm GMT
Suavinex Bouteille de Sport Third Anti-fuites - Bleu

Achetez Bouteille de Sport Third Anti-fuites - Bleu (303616) de la marque Suavinex avec L'Armoire de Bébé, la boutique puériculture des futures mamans branchées et leurs bébés tendances.

YouTube

Browse by interest - Discover videos you'll love in categories like music, entertainment, news, gaming, and more. All from the comfort of your couch. Supports multiple accounts - Everyone at home can sign into YouTube with a Google account to see recommendations, subscriptions, and playlists. Play YouTube videos from your phone on the TV - It's easy to enjoy videos with friends and family. Simply find the videos you want to watch on your phone, then send them to your TV with a single tap. Search by voice - Quickly and easily find what you want to watch using voice search. Watch movies and shows - Stay entertained with thousands of movies and TV episodes available to own, rent, or watch for free. Enjoy music on the big screen - Find music videos featuring your favorite artists, songs, live performances and more. Discover new music based on your tastes and what's trending around you. Watch videos in 4K - YouTube is home to the world's largest library of online 4K content. Enjoy high-definition videos on the biggest screen in the house – from scenic nature videos to movie and video game trailers and more. (Requires a 4K-capable device.)

ren Crème V-Cense Youth Vitality Day - Crème de jour -

Une crème de jour multi-active qui aide à ralentir le processus de vieillissement de la peau. La formule hydrate, protège contre les influences externes nocives et adoucit les ridules et les rides. La crème stimule l'énergie de la peau et renforce. La peau est protégée, reste hydratée et rayonne. Conseils

Mario Kart 8 Deluxe

Mario Kart 8 Deluxe

adidas Maillot Third Adulte 20/21 - XL OL - Foot Lyon

Maillot Third Olympique Lyonnais 20/21 PORTE FIÈREMENT LE MAILLOT DE L'OL POUR SOUTENIR TON ÉQUIPE ! Coupe standard : mi-ample mi-slim, ultra confortable Col rond Manches courtes Matière AEROREADY qui évacue la transpiration. 100 % polyester recyclé FLOCAGE: Vous pouvez floquer ce maillot avec le nom d'un

T12S - Transformation 12 semaines: 20 minutes de sport à la maison 4 fois par semaine, sans régime, pour perdre le gras définitivement